For this week's Shooting Challenge, you captured one of the quintessential photographs: the sunrise/sunset. And you did it extremely well.
Perfect Circle

Canon 7D, EF 70-200mm f/2.8L IS II USM, AE Mode, Aperture f/2.8, Shutter hit 1/4000
Just a lake down the street from me, one that I ride by on my bike pretty much daily. When I heard about the challenge this week I rode over there and waited for something decent, and I think I got probably the best sunset of the week (at least in my location.) That's not to say I didn't try every night for the rest of the week, but nothing else was really poppin'. :(
[Ed note: Excellent color, great use of depth of field.]
-Joshua Winkelmann
A Picture About Taking Pictures
G/O Media may get a commission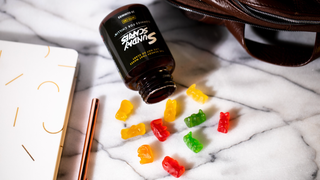 10mg CBD Gummies (22-Count)

Leica X1, f/16 at 1/30 ISO 320.
I was out walking when i saw a group of people standing on top of a hill taking pictures of the sunset, and it made me think of the shooting challenge for this week. Maybe they were taking pictures for this challenge too? I will certainly look for the same sky among the submissions!
[Ed note: Love how the photographers in the shot are like a mini Easter Egg.]
-Loui Nydelius
SUN!!!!

Nikon D200, Vivitar 100-500mm manual focus @ 500mm, f11, iso 100, shutter 1/8000.
I just moved into an apartment in Jersey City and finally have a view of the sunset. This was taken from my window. This challenge reminded me that I have an old 500mm lens that I rarely use, so I decided to bust it out. And thats a sun spot in the upper left of the sun, not dust.
[Ed note: That's where a 500mm lens can get you...close enough to melt.]
-Adam Kopelman
Sun, Water, Tree, Fence

Canon EOS 7D, Tamaron 10-20mm f/4.0, Shutter speed: 1/1000 sec, Aperture: f/7.1, ISO: 100
Took this picture on a little photo trip to Abalone Cove in Rancho Palos Verdes (Los Angeles County). When I planned the trip, I wanted to get a photo of the sun on the water, but when I got there I realized that the geography was such that the sun would be setting behind the land, which left me disappointed. There was a thick marine layer off in the distance though, so I thought I'd try to use that as my new "horizon," and I ended up with this.
[Ed note: It's clearly a sunset, but instead of a rich orange you just get a touch of general warmth.]
-Viet Nguyen (Jon)
Tatooine

Nikon D90, Nikkor 70 - 300mm f/4.5-5.6 VR, Exposure: 1/180, ISO: 100, Aperture: f/9.5, Focal Length: 300mm
Location: Armstrong, British Columbia, Canada
With one last available sunset prior to the shooting challenge deadline, I decided to take the plunge.
My wife and I are visiting relatives in BC's Interior (where there are currently more than a few forest fires)
Once I set up for the shot from my in-laws balcony I realized that the sunset would light the smoke from the nearby fires (those aren't clouds unfortunately). I took many shots as the sun was setting behind a mountain to the west, and thought I'd pick the best one out of them and sent it out. It was as I was looking over them, that I decided to fuse a couple of the exposures together to indicate the partial progression of the suns path that night. (Also it's my attempt at a tribute to the two suns of Tatooine — granted these two are much closer but I thought I'd go for it anyway)
-Richard Morrison
Pond

This was shot with my Canon 7D and a Canon 70-200mm f/2.8 IS lens this morning, actually. I was driving down the highway and noticed a large pond facing the direction of the sunrise, so did a u-turn and soon as I could, turned around again and jumped out of my truck and snapped this.
-Eric Hines
Blast Off

My boyfriend and I had some friends visiting from out of town so we took them to the top of the Stratosphere in Las Vegas, NV for their last night in town. My boyfriend thought this would be a great opportunity to take some pictures for this contest. I just ordered a DSLR camera so I wanted to get some practice before it was shipped to me. I grabbed his camera and took some practice shots but apparently I had better luck with my shots and was able to get a great one!
Camera/Picture Info: Canon EOS DIGITAL REBEL XSi, 55mm lens, 100ISO f/5.6
[Ed note: The semi-complementing lights on the ride make it for me.]
-Ashley Richardson
Lady Liberty

Shot this with my T2I with the Canon EF 28-135 mm IS lens at 135 mm, f13, 1/500, iso 200. This picture was taken on the Staten Island ferry headed towards Staten Island at about 7:45 pm on Saturday 07/31. The ferry gives you one of the best and cheapest (its free) views of the Statue of Liberty. Minor color correction adjustments were made in Lightroom to try and even out the lighting.
-Timothy Schubert
Sunset Preset

Nikon D5000 55-200mm VR lense F8 iso 200 1/3200s. This is right from my door at my apartment complex in okc. They have some awesome skies here! Tried a couple different setting but ended up going with the sunset setting. I did have to ps the power lines out... I can't get away from them.
[Ed note: If this is the result, I have no qualms with using presets!]
-Sam Katz
On the Water

Went out to eastern Long Island and looking for a good area to capture a full sunset. Just before we came upon Wildwood State Park up on the north shore. With minutes to spare I was able to get this one. Out of all the pictures I was able to get I liked this one the most. Shot with a Canon EOS Rebel T2i, EF0S 55-250mm f/ 4-5.6 IS lens focal length of 96mm. Shot using aperture mode at f16, shutter speed 1/500 sec at 100 ISO. Exposure bracketed at -2.
-John McNamara
Unintentional Flag Burning

Sunrise, 5:03 a.m. Lake Koshkonong, Edgerton, WI. I woke early to a
calm morning at our lake house. While setting up the tripod for the
sunrise shot and looking at the best angle, the flag just happened to
get between me and the sun - happy accident!
Canon 50D, ISO 100, f18, 1/40 sec, EF-S 18-200mm F3.5-5.6 IS @80 mm
-Paul Konopacki
Paradise

This photo was taken with a Rebel XTi with kit lens (18-55) on our 10th anniversary trip to St. Lucia last week. I shot this in Manual mode using the "Faithful" setting in the menu. I had to size up the larger photo to meet your minimum requirement as I took this photo before I knew there was a contest this week. I was on vacation after all and reading my usual tech stuff was restricted.
-Willie Sanchez
Surfin' USA

Camera : Canon EOS 7D
Lens : Canon EF 100-400mm f/4.5-5.6L IS USM
Settings: f/32 1/160 secs 100ISO @ 135mm, Daylight white balance
Location: Crystal Cove State Park, Huntington Beach, CA
Photographer's Note:
It was my friend's birthday so I took him out for dinner in Huntington Beach. Later, we stopped by at Crystal Cove State Park to watch a sunset. Another photographer came in later and setup a tripod right in front of me. People interrupted me to take their pictures for them. Joggers cut right in front constantly. I didn't think it was going to happen so I decided to work with it and included two joggers and the other photographer. Meanwhile, the birthday guy was on his cell phone yapping away, missing the sunset entirely.
-Bundid Niyomtham
The Sailboat Shot

This is the photo taken at the Sisters bay WI,
Nikon D5000
Nikor 55-200 AFS
ISO-200
Exposure 1/1600 and f/10
[Ed note: I'm a sucker for a sailboat in the sun shot.]
-Sathish Kumar
Point & Shoot Pefection

I love reading Gizmodo quite a bit and saw this contest for the sunset, and figured since I'm on vacation and had such beautiful shots as the one in the picture, I'd snap it and try submitting. Alas, being a dummy forgot my better camera at home, and it doesn't seem you take non digital camera entries, might be odd to submit a roll of film. No special lenses, filters or anything, just a crappy Sony Cybershot that belonged to a friend. Took the picture after some weather came through, was glad for the pictures. Information for the Sunset Contest:
1. This is a picture I took on vacation
2. Taken 7/29/2010
3. Crappy Sony Cybershot camera, decided it was a beautiful scene from the beach where we were sitting. Wasn't able to change too many settings for the camera itself
so let it do an auto setup and shot the picture, set the camera on the beach chair I was on so it wouldn't shake. Learned that after the third or fourth attempt.
4. This is to the contest and not the Mark Wilson man, though I bet it'd be fun to mail stuff to him...
5. The image included is the only image I have, as that was the maximum resolution on the camera.. kinda forgot the nice camera at home and this was the cybershot's highest setting
6. It's my only submission, though be rough and I could submit? :P
[Ed note: Great use of available tools...but you're weirding us out just a bit.]
-Patrick Liss
WINNER - Mt. Fuji Sunrise

Shooting Info: Sony A550, Sigma 10-20mm lens @ 15mm, ISO200, f/5.6, EV -1.7, 1/640 sec.
I smiled at the coincidence of the latest Shooting Challenge subject because I had long before planned a nighttime hike up Mt. Fuji this Saturday (July 31) to catch the sunrise. Pictured are fellow climbers in silhouette as they take in a halo-sporting sunrise from high above the clouds just below the 9th stage of Mt. Fuji.
[Ed note: An epic moment. And of course, it makes a great wallpaper.]
-Ben Torode
Harder than ever to choose a winner—I must have changed my mind ten times! So many beautiful sunrises and sunsets are almost too much of a good thing. Maybe that's why nature only gives us each once a day.
Find full size photos (aka wallpapers) over at Flickr.
Gallery 1 (one page)
[gallery 5602333]
Gallery 2 (one page)

Gallery 3 (one page)
[gallery 5602495]
If you like Shooting Challenges, you may be interested in my new site, Life, Panoramic. We were down yesterday during the announcement, but we should be back up for MOST people...blurgh. You could always check out the facebook page in the meantime.