Inhabitat's ReBurbia Competition asks designers to envision the future of suburbia. The results include unusual forms of transportation, changing where and how we live, and repurposing highway medians and big-box stores. Check out the finalists looking to reinvent suburban living.
Noting that 90 percent of metropolitan growth in the last ten years has taken place in suburbia, Inhabitat is looking for entries that emphasize efficiency and density, as well as those who come up with creative new uses for the current symbols of surbia: McMansions, cul de sacs, and big box stores. They've narrowed down the entrants to 20 finalists, with the winner receiving $1000 and a feature article in Dwell magazine. Voting is open through August 17th for the Reader's Choice, which will also be featured in Dwell.
[ReBurbia]
Airbia: A Suburban Airship by Alexandros Tsolakis and Irene Shamma
Airbia proposes a new eco-friendly and efficient transportation system linking the suburbs and city centre. Corresponding to the lack of coherent public transportation in the majority of the sprawling cities, a set of airships is designed to form an additional network over the urban tissue.
G/O Media may get a commission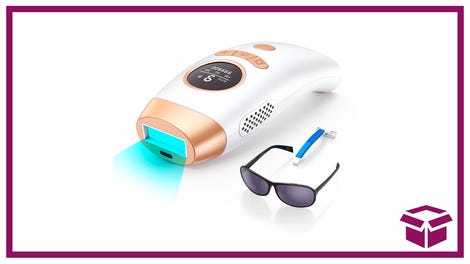 58% Off + Coupon
IPL Hair Removal Device
The Modular Train: Making Public Transportation Personal & Accessible by Helene McElroy
Public transportation currently suffers from a lack of funding and a bad image. Wider use would lead to better profitability – and the need to compete for dollars in an economic downturn would be less. The more public transit can act like a car, the higher level of comfort a larger group of people would have. The proposed modular train system makes the train: on demand, more private, and expand flexibly.
Bumper Crop: Converting Parking Lots to Farms by The Miller|Hull Partnership
Strip malls are everywhere. While they provide convenient access and affordable commercial space for a diverse tenant mix, their expansive surface parking and lack of human-scaled connection to adjacent neighborhoods have a deadening impact on our communities. A universal shift in the way we treat this pervasive typology: such as converting parking lots into farms – could result in massive change.
puRE: Transforming Swimming Pools into Water Treatment Plants by Craig England
The peri-urban Revitalization Element [puRE] is a catalyst for fostering sustainable development within existing suburban areas, by re-envisioning a classic suburban icon – the swimming pool -and transforming it into a productive, water-treating element within a community.
Radial Erect-Urbia: Elevated Geothermal Neighborhoods by Michael Hughes and Damon Wake
These 3000 ft mobile tower-cranes toddle towards suburban communities where they proceed to drill deep footings at the center of their cores into the earth and outstretch their tripod legs over a 2000 ft radius of suburb. The crane tears out homes from their plots and shelves them in 60 floors of open floor plates.
LivaBlox: Converting Big Box Stores to Container Homes by Evan Collins
LivaBlox, the renovation of a big box store, minimally harms the surrounding environment by recycling most of the original structure, and using the previous occupant's cargo containers.
Echomansion: Repurposed McMansion Shells by Robert Donaldson and Jim Fish
EChO-Mansion: noun – A repurposed McMansion whose generated carbon footprint is counter-balanced by on-site sustainable techniques.
'Burbs Reduxed by lacoste+stevenson
Our scheme proposes to thicken the arteries of our burbs as the remedy for their future. New housing is proposed above the roadways in-between the existing suburban fabric. The density of the burb is dramatically increased. The new housing promotes a new typology. A sinuous ribbon that weaves between the McMansions promoting mixed forms of living that offers an alternative to the single family dwelling.
Inter Estates: Reclaimed Freeways Turned Farms by Daniel Phillips
How to solve the problem of endless, under-utilized lateral expansion? Convert freeways to farms and build upwards! Left behind in the wake of the past century of unfettered lateral urbanization, the expansive embankments that cradle the American freeway represent one of the greatest untapped spatial fragments of the contemporary built environment. What if, rather than merely lamenting or accepting these non-places as the inevitable detritus of sprawl, these sites could be reclaimed and activated in response to the pressing concerns of our time?
Big Box Stores Transformed into Biofuel Generators by Alan Berger and Case Brown
For the Biofuel movement to flourish it will require cheap, flat, modular space networked into national and state highway systems. Abandoned big box stores provide these conditions. With little investment, these flat pavement deserts could be converted to bio-fuel generators.
Regenerative Suburban Median by Brian Alessi
Within many suburban developments there is an abundance of under utilized space within residential lots and public rights of way. Many suburban streets are 35-50ft wide; such widths unnecessarily consume ecological, social, and economic resources. We propose a new regenerative median for suburban streets that treats gray water and sewage, produces agriculture, provides a platform for small scale commercial activity and slows down automobile traffic to promote increased pedestrian activity and social interaction within the neighborhood.
The C3 Initiative: Community, Commerce, and Conservation by Kevin R. Smith
The C3 initiative will "re-colonize" suburbs by adding localized and micro versions of retail, energy generation, water efficiency, community organization, and economic development. C3 colonies utilize existing/built environments but look inward and generate energy, water conservation, community and revenue as a sustainable micro-society.
Vehiforce: Generate Energy With Your Parked Car by Tony Grullon
Imagine a time when the houses we live in are partially powered by our vehicles- sound crazy? Not exactly. The project I am proposing takes the average household garage and transforms it into a vehicle dependent power plant. Imagine entire communities producing power over night by their parked vehicles.
Entrepreneurbia: rezoning suburbia for self-sustaining life by Urban Nature, F&S Design Studio, Silverlion Design
Rather than taking the traditional, additive approach to solving problems, the Entrepreneurbia model simply abolishes poorly conceived zoning laws to attract forward-thinking small business owners and start-up companies. The result is a community of entrepreneurs who transform inefficient single-family dwellings and purely decorative landscape spaces into intelligent home-based businesses.
Urban Sprawl Repair Kit: Repairing The Urban Fabric by Galina Tahchieva
This set of simple infill techniques represents a sprawl repair toolkit to retrofit the 5 building prototypes that define Suburbia. These iconic detached structures and their parcels, via modest interventions, have the potential to contribute to a more diverse, cohesive urban fabric within a walkable and identifiable public realm.
Parasite Catalyst: Freeway Wind Turbines by Joseph De Le Ree
The highway system that dissects Phoenix is expansive. While connecting 515 square miles of the Sonoran desert, to support our sprawling culture, the valley freeways divide communities. My catalyst proposes to retroactively collect royalties on the land taken from social interaction. The design is a retrofitting replacement of the horizontal steel tube that currently holds freeway signage. The replacement will house two horizontal axis wind turbines that will be powered by the turbulence created from the passing cars.
Big Box Agriculture: A Productive Suburb by Forrest Fulton
As more businesses in the old suburbs vacate, either going out of business or moving to the new suburbs, large expanses of retail and parking lot real-estate become empty. This empty obsolescence is an opportunity for a new kind of business and landscape: It's an opportunity to reclaim the productive pastoral atmosphere of the land before sprawl.
T-Tree: A Towering Community of Sustainable Residences by Adil Azhiyev and Ivan Kudryavtsev (Light+Space)
For our T-trees social housing project we used the concept of a "tree". It is not a totally new idea, others worked with the concept in the 70s and 80s. The whole visual image of a building is constructed with two interwoven design principles. The first is supporting a core – the central block that contains the elevator and the stairs. The second is the communication module. As the trunk of the tree, which is where the blocks are mounted a branch with leaves, in this project – it is communication modules.
Frog's Dream: McMansions Turned into Biofilter Water Treatment Plants by Calvin Chiu
What to do about all those abandoned McMansions? Turn them into wetlands and natural water filtration systems for urban centers.
Ex Box: Second Lives for Ghost Malls and Big Box Stores by Ha Young Ihn
There is a movement of reusing abandoned malls for community spaces. EX-BOX will allow the building to be self-sustaining by providing energy and space for public events. It provides renewable energy by maximizing the solar exposure with the use of various angles. By plugging in the programs that add density to the empty space and provides better environment, the space will bring people and allow community events.