American Horror Story's sixth season, Roanoke, ended in November; its reality show send-up was maybe the series' most ambitious yet, following Murder House, Asylum, Coven, Freak Show, and Hotel. So what's next, now that American Horror Story is confirmed to be returning for at least three more seasons? We have some suggestions.
First, though, some context. Earlier this month, the CEO of AHS network FX, John Landgraf, told Entertainment Weekly that season seven's theme would be "shrouded in super secrecy," much like Roanoke was, divulging only that whatever creator Ryan Murphy is cooking up will be "something fresh and different with the franchise that audiences haven't seen before." That could literally be anything, as long as it's set in the present day and has roles for series regulars Sarah Paulson and Evan Peters.

Back in October, Murphy revealed that he was planning a future season that would be a crossover of Murder House and Coven. The master hint-dropper, who loves to sprinkle AHS Easter eggs in each version of the show anyway, teased that Lady Gaga's forest-witch Roanoke character would have some bearing on the "return-to-Coven" season. (But... since Lady Gaga appeared as the forest-witch during Roanoke's reenactment scenes, doesn't that mean she was actually playing an actress playing the forest-witch? So will they recast the role, since Coven would deal with the "real" witch, and not the actress-witch? HELP.) Murphy also said the crossover won't be in season seven, it'll be later. That leaves two as-yet-unknown themes looming in the future. Here a few ideas.
G/O Media may get a commission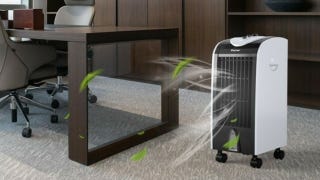 Save $10
Evaporative Portable Air Conditioner Cooler with Filter Knob
27) American Horror Story: At Sea 
There's been a certain amount of speculation that the teaser that ran at the very end of Roanoke, wishing viewers "Sweet Dreams" over a shot of churning waves, was a big fat season seven clue. A cruise ship would be a logical way to force a lot of different characters (employees, passengers, ghosts, sea monsters, mermen) together in close quarters. However, is intrigue addict Murphy really gonna show his cards like that? Doubtful.

26) Planet American Horror Story 

Pull an Event Horizon and send the AHS crew off on a deep-space mission. Think of all the weird costume opportunities, especially when they inevitably crash-land on some unknown planet and meet a race of curiously human-like aliens.
25) Post-American Horror Story
After an apocalyptic event, society has devolved into a lawless culture of survivalism, kind of Mad Max meets Escape from New York meets The Day After. Kathy Bates would slay as the ruthless ruler of whatever Bartertown equivalent springs up in the AHS wasteland.
24) American Horror Story: The Musical
Look, Ryan Murphy has already thrust Glee upon the world. Why not shoehorn some pop hits into AHS, now that Lady Gaga's firmly in the fold? Or do some kind of Phantom of the Opera variation, and set the show in and around a haunted theater? For even more awkward terrors, film the show live every week.
23) Prehistoric American Horror Story
This could involve cave-dwelling characters or some kind of time-travel/dinosaurs/Land of the Lost situation. We'd be good with either.
22) American Horror Story: The Game Show 
Roanoke took on reality TV; why not rake contemporary game shows over the coals next? And we don't mean, like, Wheel of Fortune. We mean something like Survivor, or even a dating show like The Bachelor. Set it in a haunted McMansion with a contestant who's secretly a serial killer, and make sure to reference Cheyenne Jackson's cheesy TV producer character, who met a gruesome end on the job in Roanoke.
21) Mall of American Horror Story
So many options with this theme. It could be set in the 1980s at the height of mall culture. Or it could be set in the present day, in an abandoned and extremely creepy mall. Cast Matt Bomer as the tycoon who's dying to get his greedy mitts on the property, and Taissa Farmiga as the former Hot Dog on a Stick worker who's haunted the food court since her tragic demise.

20) American Horror Story vs. Godzilla
Gotta assume the King of the Monsters would win in the end, but it sure would be fun to watch.
19) South American Horror Story
Why not go international? The U.S. doesn't have a monopoly on creepy characters, eerie folklore, and sinister legends. Far from it! For cult-movie inspiration, consult the films of Brazilian horror legend Coffin Joe.
18) American Superhero Horror Story
Give the great Denis O'Hare some good old-fashioned comic-book superpowers. Please.

17) American Horror Story Goes to Hell
Center the story around a Manson Family-like Satanic cult, or just go the whole nine and literally set it in the underworld.

16) American Horror Story: The Animated Series
Fellow long-running FX series Archer is moving to sister network FXX for its final few seasons. AHS could fill the void while bringing a whole new meaning to the phrase "cartoon violence."
15) American Horror Story: Trolls
A gripping contemporary tale of people whose Twitter obsessions take over their lives... until one woman (played by either Chloe Sevigny or Clea DuVall) snaps and seeks real-world revenge.
14) American Horror Story: My Basement
I personally live in an old apartment building. The basement here, a dark, dusty, leaky warren of weird rooms—one of which has the inexplicable label "Room Eight" spray-painted on the door—is the scariest setting I can think of. And I don't scare easily.
13) Cooking With American Horror Story
Lots of unexplored foodie possibilities here. Set it at a restaurant where "the secret's in the sauce," Texas Chainsaw-style.
12) American Horror Story: Spring Break
SPRING BREAK FOREVER—though Ryan Murphy is already doing a college horror thing, and the less said about Scream Queens, the better.
11) A Very American Horror Story Christmas
Santa Claus-themed horror movies (like Silent Night, Deadly Night) are campy and creepy in equal parts, exactly the way this show is. Or do an even darker take on the holiday season and bring Krampus out to play.
10) American Horror Story: Sarah Paulson Plays All the Characters
The series' biggest breakout star has demonstrated her versatility time and time again. On Roanoke, she essentially played three different characters over 10 episodes. Who cares about the show's actual theme—if Sarah Paulson was playing all the characters, it would be great no matter what, and I would eagerly watch every minute.
9) An American Horror Story Fairy Tale
The show is already sort of its own version of a very, very dark fairy tale. Why not make that more overt, and add some evil queens and wizards into the mix?
8) American Horror Story: Family Vacation
"Family" could mean "RV-dwelling roving band of evil marauders." It could also mean "trapped in the car with all your siblings on the long-ass drive to Mount Rushmore," or "that time on The Brady Bunch when they went to Hawaii and there was a tarantula." All legitimate sources of white-hot terror.
7) American Horror Story: Alien Abduction
AHS goes X-Files, except gorier and more lurid.
6) American Horror Story: Sasquatch
AHS goes X-Files, except hairier and more lurid.
5) American Horror Story Goes to War
A battlefield setting—historical, contemporary, future—would satisfy the show's perpetual need to bring random groups of people together to face untold waves of ultraviolence.
4) American Horror Story: Home Renovation
What horrors lurk beneath drywall in that old fixer-upper? This edition of AHS aims to find out, and also flip the house for a huge profit at the end of the season. Cast Angela Bassett as the real estate agent who won't take no for an answer.
3) American Horror Story Airlines
This could either be a retro setting, with maybe some Bermuda Triangle flyovers, or a contemporary tale set at an airport that's built over a hellmouth.
2) American Horror Story: The Wild West
This show was made for the Weird West. Just make sure nobody is secretly an incredibly lifelike robot.
1) American Horror Story: The White House
Too soon?