We look down at our feet all the time, while view directly above is often. Here are 30 photographs that celebrate the oft-overlooked view...no pun intended.
WINNER: Notre Dame
×
An upshot of the Notre Dame cathedral in Strasbourg, France.
A magnificent building and a must see if you get the chance.
- Nils Rohwer
---
Palm Trees
This was taken with my droid maxx phone camera. I looked up and saw what looked like a seriously tortured robot under the beauty of beautiful SoCal day. Palm Trees, blue skies and a beautiful light pole, I wonder what his crime was.
- Kristin Erling
---
Pole
G/O Media may get a commission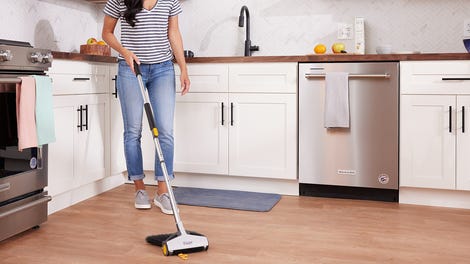 BOGO 50% Off
Flippr - BOGO 50% Off
Using a droid maxx HD I took this shot looking straight up a light pole. The shiny details of the pole was surprisingly more predominant than the light fixture itself. Even though the light isn't on, it appears the pole is pointing at something to look at. "Hey. Look over there to your right."
- Sean Casey
---
Flag Pole
Fuji XE-2 with 18-55mm shot at 35mm, f/3.6, 1/2000 sec. Looking up a flag pole during a windy day.
- Samuel Gould
---
Branching

Canon 60D — f4.5 — 1/400" — 70mm — ISO100
- Mike Case
---
St. Patrick's
Taken at St. Patrick's Cathedral in Manhattan where the ceiling is currently undergoing massive renovations. I took this shot using my fisheye lens and came away with an image that was much colder and mechanical in feeling than the warm and homely vibe the church usually gives off.
Sony NEX-6 F2.8 1/6s ISO 100
- Lloyd Johnston
---
Stairs
Looking straight up at an old staircase. Sony RX-100M2; f/4; ISO 160; converted to B&W.
- Costas Kitsos
---
Shibuya Station
Taken from the smoking area in front of the scramble crossing side of Shibuya station. The cherry blossoms that happen for about a week or two every year was too late for the previous shooting challenge, but these were the first blossomed sakura this year that I came across. The red "New" on the building across from me was an accidental juxtaposition - it's part of a large ad for some jelly drink. iPhone 5S, standard camera, HDR, with some Photoshop magic.
- Guardian Angelz
---
BaselWorld
I went to the BaselWorld Watch Fair in Basel, Switzerland, this weekend.
I had in mind this contest, so I looked quite often toward the ceiling and on one of the watchmaker booth I saw all these hanging tiny watches mechanisms.
Material used: Canon EOS 5D mk3, 24-105 f4L IS. Shot at 35mm f4.0. Minor adjustments in Adobe Lightroom.
- Boppe Guillaume
---
Squirrel-Eye View
For this challenge, I decided to try a "squirrel-eye view". The image was shot at night looking up a tree that was lit by a light that was low to the ground. The f-stop was set high to get a deeper depth of field and the exposure time was raised to compensate.
Canon T3; 18-55 mm f/3.5 lens; 18 mm focal length; f/7.0; 15 sec exposure; iso 400; digitally edited with digiKam.
- Christopher Sears
---
Jets
I have always wanted to participate in these challenges and lobby of the museum had a lot of model planes hanging from the ceiling, perfect for a vertical photo.
The photo was taken at the Wings over the Rockies Air and Space Museum in Denver, CO with an iPhone 5c and then edited in snapseed.
- Marcus McLaren
---
Up On Your Head My Queen
I shot this photo with Canon 70D, Canon EF-S18-200mm, 1/320, f11, ISO100
Today I spent the day in Solvang, CA to celebrate Lourdes' birthday. She is a dear friend and I was planning to take her to a calm place to have a nice time. Solvang (Danish for "sunny field") is Danish city near Santa Barbara. it is not the kind of place to spend more than one day if you can't stand calmness.... The whole city is built like a Danish village. It is a little piece of Denmark in northern California.
I saw that decorative piece hanging straight up from a building and I told my friend Lourdes that if I could I would had gotten that crown to put up on her head, once that is not happening I'll print this photo and give it to her, and hopefully she'll feel like a queen anyway!
- Alecio De Paula
---
Tree Vs Tree
I was hanging outdoors with my camera looking for ideas when I checked the gizmodo site for the next photo challenge. I kept looking for subjects but the buildings around were barely two stories high and the trees were heavily populated with leaves. Ultimately when I was returning, I reached to where I had parked my car only to look above and find an electric pole, a wire, a towering giant of a tree and of course, above everything else, the Sun. Although you specifically directed not to shoot at noon and into the Sun, thats precisely what I seemed to have done. :-D Hence, I've had to tweak it a little in Lightroom to recover some details from the shadows.
- Marisha Sharma
---
Strange Geometry
We moved into our apartment around six months ago, and ever since stepping foot in the place, I've been fascinated by the geometry of the buildings surrounding our modest patio. Every time I'm out back, I find myself gazing upward. I've meant to shoot the view for months; but it took this contest to finally give me the nudge I needed.
We've had a rainy weekend in DC, so the foremost part of my technique required waiting until the rain slowed enough to not soak my camera. I shot this using a Canon 5D Mark iii, Zeiss ZE 21mm f/2.8, and a tripod. The shot itself was at ISO 1000, f/5.0, with a 0.8 second exposure.
- Josh Weiss
---
Fermentation
I went for a social drive with the DCFiats group and it ended with a brewery tour at Lost Rhino Brewing Co. in Ashburn, VA. This is one of their 50-barrel fermentation tanks.
Used a Sony RX100 with its flexible manual settings ability and the following settings:
ISO320
F1.8
Exposure 1/30s
- Trishal Khetia
---
Burke Building
Don't look down. This arch is nearly all that's left of the Burke Building in Seattle. The building at the bottom took its place. Panasonic GX7 with the Olympus 12mm lens. 1/1000s, f/6.3, ISO 200. Editing in Lightroom, and HDR Efex Pro 2.
- David Lee
---
Star Shower
I was camping this weekend and set up my camera on my tripod at the base of a nearby tree. Dialed in the camera settings and attached my shutter release and let it take 30 second exposures for about an hour. 97 images later and post processing, this was the result.
Equipment: Nikon D3200, 18-55 Nikkor lens, shutter release, tripod, lightroom and StarStaX to combine the images.
- Nicholas Shirley
---
Asian Garden
This shot is a part of a big wooden door taken during a visit in the Asian Garden in Brussels. It was not planned originaly for this challenge but here it is anyway :)

Equipment: Nikon D7100 with Nikon 35mm 1.8G. Settings: f/5.6, 1/60s, ISO 320.
- Julien Chevalier
---
The Mushroom
Walking under this giant mushroom in this grey parisian sunday afternoon...
- Sébastien Bonaimé
---
Fireworks of Glass
This past Friday we took our kids to the Indianapolis Children's Museum. It is the world's largest children's museum with so much for them to do and explore. One of the fixtures of the museum is a display called Fireworks of Glass by Dale Chihuly. The 43' exhibit can be seen from anywhere in the museum but the best spot is from the bottom floor. From there you can stareup at the piece is it is lit from above by the natural sunlight coming through the skylights at the top of the museum. It's even more amazing when you sit on the round couch that spins on a turntable. From there you can lean back and admire the piece from many different angles as the couch slowly turns around.

I took this shot by placing my camera on the center column of the couch directly below the exhibit. I initially took a few pictures with a faster shutter speed but I found that I got a great picture by slowing the shutter speed down. I tried different timings all the way out to 13 seconds but have chosen the best one from the series.

Details for Photography Nerds:

Camera: SONY DSLR-A560
Shutter Speed: 3.2 Seconds
Focal Length: 17mm
Aperture: f/32
ISO: 200
Editing: Cropping (cutting out portions of the ceiling) and some minor touch ups in PS.
- Jeremy Martin
---
Earth?
I'm in Okinawa Japan for work this week, and was sitting in the lobby at my hotel waiting for a coworker. I looked up and thought "Hey that looks kinda neat, that'd be good for the Gizmodo shooting challenge this week…", then I grabbed my camera and took this shot. Canon T3i with 50mm 1.4 lens, ISO 100. 3 exposures hand held, "Merge to HDR Pro" in Photoshop CC.
- Josh M. Bryant
---
TX State Capitol
This photo was taken inside the Texas State Capitol building in Austin, TX. It's a 3 exposure HDR taken handheld so I needed to bump up the ISO and keep the aperture wide. I was kneeling on the floor trying not to sway as I looked straight up to take the bracketed shots.
Taken with a D7000 and 18-105mm lens @ 18mm, f/3.5, ISO 800. Shutter speeds were 1/200 sec, 1/50 sec, 1/13 sec. Merged to HDR in Photoshop CC.
- Matthew Sills
---
Halo
The description of how to approach this challenge says not to shoot up at around noon, so I set out to do just that. I used the structure itself to block the sun, thus creating a small highlight halo like effect. I shot this with my Nikon D700, 28mm at 1/1000sec at f/16.
- Pablo Piedra
---
Cherry Tree
Equipment: iPhone 4S
Setting: 2PM on a sunny day in Vancouver Downtown
Technique: A little bit of HDR for the blue sky, curve tool for contrast and brightness and enhancing the colour
Story: I was walking with my boyfriend and two other friends, when we came across this cherry tree and it represented a perfect balance of nature and urbanism to me. Hope you enjoy it as well.
- Ana Maria Badila
---
Steel Stacks
Taken with a Sony A7/20-80mm lens on the ground with shutter open for a second at f3.5/ISO 6400.
It was taken in Bethlehem Pa, at the well restored Steel Stacks of Bethlehem Steel.
Amazingly, it looks like something out of Crysis. But I assure you, it is real.
- Mike McNamara
---
Treeeee
The image was captured with an iPhone 5S, and global corrections to saturation and contrast were made in Paint.net. In addition, the sepia tone was added to deemphasize the blue sky. The story for the shot was that an unwritten rule for most landscape photography is to avoid the utility poles, so for this one I decided to use one as a subject. There are a lot of wires on that pole, including electrical, Fios, and cable fiber as well.
- Jonas Demuro
---
Brilliant Buds
This cherry tree outside my apartment building had a branch hanging out over the sidewalk, clear of all the others.
Inspired by the spring contest last week, I decided the lush pink would look great against a sky dotted with blue.
Taken with a Sony NEX6 with 16-50mm lens. Some post processing to adjust contrast.
- Marc Solomon
---
Bell Tower
Taken on a university campus looking up into a bell tower. The shadows nearly obscure the ringing mechanism, totally unseen by the casual observer.
Shot on Canon T3i, 18-55 f/10, ISO100, 1/320
- Logan Nickels
---
Forest
Shot with an iPhone 5, with HDR on, at The Forest of Nisene Marks State Park in Aptos CA. No edits besides a rotate and flip.
- David Hickernell
---
Trolley Stop
Camera: Nikon D7000
Originally shot in raw with Vivid Picture Control and White Balance set to Auto-A2
Lens: Nikon 10.5mm f/2.8 Fisheye DX
The fun stuff: I took my daughters out for a day on the town in Tampa today and we rode the TECO Street Car together for the first time. The picture is the inside of one of the Trolley Stops - Also known as the Dick Greco Plaza.
- Brett Davison
---
Cherry Blossom
Photo taken during japanese cherry blossom viewing. Nikon d800, 50mm, 1.4g lens. Pointed camra straight up at sky. Original photo was washed out completely white in they sky. I decided to invert the colors, then invert the hue to bring back the original colors so that only the black/whites were inverted.
- Andrew L. Dowling
---
Colorado Center
Equipment: iPhone5
Date: 3/23/2014
Time: ~1030am, Sunny
Post Edit: Contrast/Color Correction via Google Snapseed.
I was in Denver for vacation. Walked around the Civic Center Park and cameup on this building. The intent was to capture the joinery of two different materials on the building facade. Despite the difference in metal and limestone, both showcased crisp lines/shadow.
- Alan Su
Great entries all around. If you'd like to use any as a wallpaper, the full-size shots are on flickr.