So bright. I...just...can't...look...away. Here are your entries to this week's Shooting Challenge, lighting edition.
Winner: Aspiration
Used a 5DMarkII with a 50mm prime lens to take this shot, intending to show a thoughtful symbiosis between nature and technology.
Jordan Pirch
---
Lasers
I recently received the Wicked Lasers EVO for a Christmas gift. My thought was I could use it for some interesting light painting photography. Using a powerful laser for photography is a little risky because even a split second direct hit to the sensor will permanently ruin the camera. Knowing that I decided to try it out anyway. When I read about the contest today I grabbed it, blocked out all the windows, set it up on a table and took out the gear. Hope you like it! Canon 6D w/ Sigma 35mm 1.4 Art Lens, Vanguard Tripod/Head, 30 Sec - ISO 100 - f/4.0 - AWB - Manually Focused
David Doe
---
Last Call
G/O Media may get a commission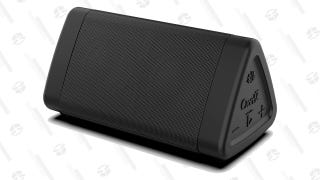 Save 31%
Oontz Angle 3 Portable Bluetooth Speaker
I took this from my front driveway. I was getting in my truck to go to work and this amazing sunrise colors were splashed against these clouds and the Tungsten light post was shining down because it was still mostly dark and it made an eerily beautiful morning. I took this on the 1/29, so less than a week ago, I hope that counts. I carry around a small Canon Mirrorless EOS M. I was using the 22mm F2 lens and just set to auto. I did no post processing other than a slight single pass noise reduction but the original looked pretty nice even with the grain so I almost left it in.
Paul Aguilar
---
Kitchen Light
Our kitchen light, or part of it. I used a Canon EOS Rebel T3.
Jonathan Gilson
---
No Labels Please
The image contains a cigar but it has no defining label.
Daniel Woods
---
Light Bar
This is the LED bar of my desk lamp, as it was the closest light I had at the time of reading the challenge! Iphone6, adjusted for B&W and contrast.
Keshar Kubal
---
Environmental Interrogation
Just a CFL light in the basement of my 100 year old house. It is the only light on in the room and it made for lots of cool shadows! I used a 20D with a 50mm f1.8 Canon lens.
Scott Lumsden
---
Solar Powered
A couple of years ago I was thinking up dumb inventions with my friend. I thought of a completely solar powered lighting device. When I was thinking of ideas for this shooting challenge, I suddenly remembered that. This was taken on my E-M10 and Olympus 25mm 1.8 at f/8 on a tripod. I used ISO low and A mode.
Christopher Scott Pua
---
Portland Streetlight
Downtown Portland is dotted with thousands of decorative streetlights. They're instantly recognizable but often overlooked. This shot was taken on my street corner with Canon's venerable EF 70-200 2.8 IS II USM on a 5D Mark III. Handheld and manually focused at 70mm, 1/15th at f/2.8, with an ISO of 100.
Jeremy Brigden
---
Just the Right Time
I was in New York waiting for my meal and i read about this contest. I was at the perfect angle to see the candle on my table shining light through my water glass. Sometimes everything comes together at just the right time. I was fortunate enough to have my camera by my side.
Casey Hamilton
---
Angel Island
This was taken last Sat when we went camping on Angel Island. Taken at the top of Mt. Livermore with a Sony RX100 III. It was a magical view!
Albert Krathaus
---
Robots & Plasma
I loved the way my kid placed those toys and I always wanted to take a decent picture of the plasma ball light. But unfortunately it does not generate enough light to illuminate the robots, so I needed to use the iPhone, what added a lot of complexity to the shot. And I hate to use other light sources.
Marcelo Ribeiro
---
IKEA Illusion
Because I love Lamp, I decided to show why. Taken with 28mm minolta lens on an a77m2 at f10/iso 200. This böring Ikea lamp becomes a bit of an optical illusion. It appears blurry and unfocused, hard to concentrate on. But if you zoom in you can see the strings holding it together, and the gross hair and dust sitting on it.
Karl Domning
---
Spring?!? Nope.
I have more than a foot of snow in my yard outside of New York City right now. I noticed that my landscape lighting had melted a dome inside of the snowbank. The copper circle in the middle of the photo is the top of a pathway light, and the snow had just melted enough to open a small circle on the top. I took this photo just an inch or two from the opening with my Sony A7 just after dusk on Friday night.
Wayne Laakko
---
The Park
I shot this at a park near my home. It wasn't what I set out to shoot, but I liked this result better. The lens flares spoke to me. Nikon D5200, 35mm 1.8 prime, 30 second exposure. Since I don't have a remote yet, I used a tripod with a 10 sec shutter delay. I let elements choose the white balance for me with slights bumps to vibrance and saturation
Joe Burke
---
Court
This is the first contest I've submitted to here. I used to do some film photography back when I was in high school but didn't touch a camera again until about 6 months ago when I got a Nikon d5200. This was taken using an 18mm zoom (the lense is 18mm-270mm), 100 iso, an f-stop of 3.5 and a 1/40 second shutter speed.
I did some small edits in lightroom. There is a road in the background and there were a couple cars driving by. I spotted out their headlights so they wouldn't be distracting in the background. I also brought up the exposure of the whole picture a bit.
Adam Gaynor
---
Filament
No description given.
Michael McNamara
---
BLAST
Recently, I lost 12yrs and 35000 worth of pictures to a hard drive failure w/o a back up. So O figure the best way to get back in the game is to paint with some light. This is a replica Cannon in Yorktown, VA about a 100 yards north of the where the Royal Welch Fusiliers replica encampment is.
Jason Houck
---
Burning Love
This is my first submission to the photo challenge. Here, I used a a Canon 6D with settings: 24mm, f/2.0, ISO 100, and shutter speed of 1/100. I've always been curious in making custom bokeh effects, so, I decided to give it a shot with some Christmas lights and candles. I was thankful my friend helped me out with this shot, under the condition of not burning the house down. Some light Lightroom changes to coloring and exposure.
Patrick Guerrero
---
Kitchen Lamp
Here a picture of the light over my kitchen sink it does cast some beautiful shadows. I underexposed to bring out the detail in the crystal ball lamp.
Kerry Westerfield
---
Bzzzt
I set up a Ikea lamp with the hood removed and a 40W clear globe bulb near my kitchen window (for the window reflection) and a black foam-board background. I used a remote trigger to fire the camera while I was turning the lamp off to catch just the glow of the filament cooling off.
Marvin Francois
---
Wee Hours
I love the glow of my IPad while reading in the wee hours of the morning.
Canon 7D, ISO 100, F3.5, 0.8 sec.
Robin Coats
---
King Eddy's
The shot is taken by an iPhone, as are all of my photos. I actually have a series titled #obsessionwithlighting that I've been progressively growing for about a year. I love capturing odd and beautiful light fixtures, taking shots of lights from strange angles, and even the shadows that are formed from such light.
I'm always looked at strangely when I walk into the bar, the restaurant, hotel, etc. and I lay down on the floor, step onto a chair, or get up real close and take a shot of lights instead of people. I love it.
This one in particular is in a bar in downtown Los Angeles called King Eddy's.
Amber Bambler
---
Keeping Watch
Nikon D71100 w/ Nikkor 50mm - ISO 200, f/14, 1/1 sec.
Win Barker
---
Night Eyes
I had originally wanted to take a picture of the car's headlights while it was under a streetlamp, but the streetlamps in my neighborhood aren't really over the road. So instead I just left my car in the driveway, set up the tripod and took the photo there.
Jonathan Ransbottom
---
Alien Abduction
LED's have been an important technology, that have been at the centerpiece of many different devices, including HDTV's, automotive headlights, computer monitors and light bulbs. The image captured is of a multi-LED flashlight that uses 3 AAA batteries. It is not superbright as some of the other LED flashlights making it easier to photograph.
Jonas Demuro
---
The Most Amazing Bar Light
I was doing a model shoot in a local bar when I looked up and saw this interesting lighting fixture, so I took a shot of it. I was using a Sony A7s with an adapted Pentax-M 50mm 1.7 lens. I shot it at f1.7 at 1/40s with an iso of 100.
Michael Pysh
---
Space Dust
Finally submitting something again! I couldn't pass on this one. I really enjoy shooting lights directly (lamps, bulbs, light-painting...), so I tried to avoid the more obvious ideas and went looking for cool looking textures on street lamps and such. I then noticed my projector has this little specs of dust and scratches on its glass, and a nice blue hue that makes it look like space. The final image is a direct shot into the projector's lamp illuminating it's dirty lens, i then brought the highlights all the way down in Lightroom to make the white center black, resembling some sort of black hole among the stars. Hopefully I'll start submitting photos more often.
Diego Ramirez
---
Golden Snitch
My wife is a Harry Potter fan, and she has had this golden snitch lamp before we were married. She got me hooked on the books, and now our children are fans as well.
Christophers Sears
---
Amber
I came across this whiskey bar while walking through San Diego with my sister. I was arrested by the brightly lit "whiskey" sign but fell in love with the lights hanging over the bar and the chandeliers over the seating area. I didn't use a filter as the bar was bathed in an orange, dusky light naturally. Taken with my LGG3.
Timothy Erling
---
24/7
The local oil refineries run 24/7 and they are lit up like a small city or
Christmas at the Mall at night. This one was taken with a Canon 5D and a
Canon Zoom and a tripod.
John Locus
---
Block Grinder Buddy
As soon as I saw the challenge, I knew what I wanted to use as the subject. I own two Craftsman Block Grinders and recently refurbished the first of them, reassigning it to buffer duty due to its larger motor and gooseneck light. Several shots were taken using my Nikon D300 and 35mm f/2D lens with the light in different locations, but I thought this one worked the best with the challenge....the light itself and its illumination are the star while the iconic shape of the grinder is nearly a silhouette.
Brian Elmer
---
Droplet
These are some of the lights at Lineage, a new brewery set to open in Columbus, Ohio within the next few months. Our friends Jess and Mike are building it from the ground up and its starting to really take shape. We can't wait to drink their brews and enjoy them under some fantastic lighting!
Tiffany Lutz Baruah
---
The Incandescent
The faint glow of a dimmed 25w bulb. 105mm with 31mm extension tube; f/22; 2s; ISO 100.
Ian Sinclair
---
Gaslamp
Taken with my Droid camera phone I set out on a light hunt. I'm a sucker for lighting so this was my favorite challenge yet. I spotted a Gaslamp in the Gaslamp quarter in San Diego, CA while stopping for a bite to eat. The soft glow of the flame lighting up the evening is so much better than the fluorescent & LED lighting that's all around.
Kristin Erling
---
Wow, there were some really amazing photos this week! And more than a few bright ideas. Get it. GET IT?!??!?! Get it. Get...it...Geddit. Get. It. Geeeeeiiiddddddiiiittttt.
The big photos are on flickr.