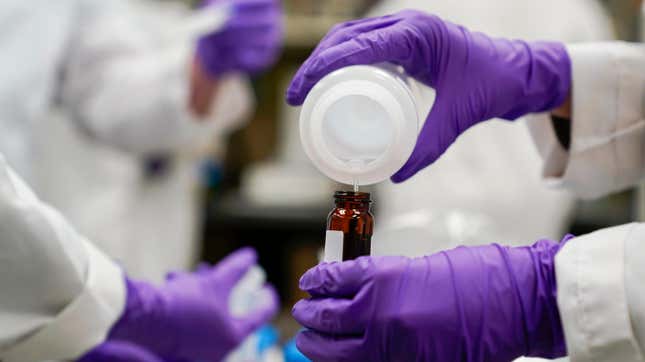 Chemical manufacturer 3M is set to pay $10.3 billion in settlements over forever chemical contamination of U.S. drinking water, the company announced on Thursday.

What Is Carbon Capture? With Gizmodo's Molly Taft | Techmodo
"This is an important step forward for 3M, which builds on our actions that include our announced exit of PFOA and PFOS manufacturing more than 20 years ago," 3M CEO Mike Roman said via a statement.

This deal would compensate water providers throughout the country for the chemical pollution. PFAS, which stands for per- and poly-fluoroalkyl substances, are commonly known as 'forever chemicals' because they don't break down in the human body or in nature. The phrase is also used to categorize over 12,000 chemicals found in all sorts of household goods and appliances. Regular exposure to these chemicals is linked to a number of health complications including cancer and birth defects. The billions will allow public drinking water providers to detect PFAS levels in water to stop people from further exposure.

The new agreement is part of a settlement for a trial that was delayed earlier this month. That particular lawsuit was brought on by the city of Stuart, Florida, and was delayed by a federal judge. That city is one of several hundred communities that filed lawsuits against companies that manufactured firefighting foam with PFAS in them, the Associated Press reported. The more than $10 billion settlement will be paid out over 13 years, according to 3M. Apart from the settlement, 3M has made other recent efforts to showcase that the company is working to stop forever chemical contamination. Last year, the company announced that it would stop manufacturing PFAS chemicals by 2026.
Like 3M, other major chemical companies are working to settle the many lawsuits against them. Corteva, DuPont, and Chemours agreed to pay about $1.185 billion to settle PFAS water contamination claims, they announced this June. These settlements are necessary to help curb the spread of forever chemicals into people and the environment. There is currently no federal limit for PFAS in U.S. drinking water.
However, federal agencies are working to change that. Earlier this year, the U.S. Environmental Protection Agency announced a proposal to regulate PFOA and PFOS, two very common forms of PFAS. Sadly, this comes decades after the public became aware of the dangers of forever chemicals in their homes.
Want more climate and environment stories? Check out Earther's guides to decarbonizing your home, divesting from fossil fuels, packing a disaster go bag, and overcoming climate dread. And don't miss our coverage of the latest IPCC climate report, the future of carbon dioxide removal, and the invasive plants you should rip to shreds.