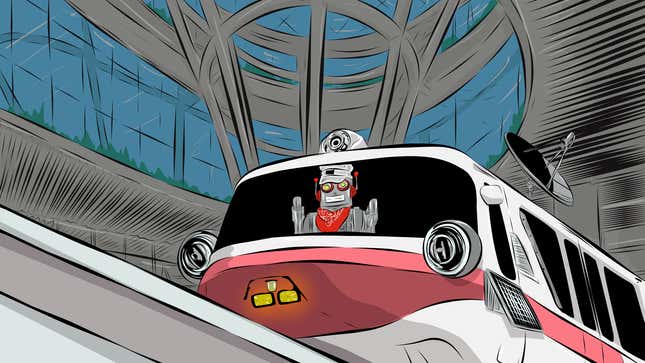 The Subway, the El, the Tube, the Métro: Trains have been transporting humans around cities since 1863. But too many public transit systems still run like they're stuck in the 19th century. That needs to change.
Did Elon Musk Regret Buying Twitter? | Walter Isaacson Interview
With more people are living in urban areas than ever before, metro systems around the world will need to adapt. What will the next generation of subways look like? They'll need to be an amalgam of public transit features pulled from cities that are already at the cutting-edge today: The onboard TV and heated seats of Seoul's trains, the super-fast speeds of Japan's shinkansen, the punctual, low-cost driverless trains of Copenhagen.
Imagine a future where your city is serviced by fully autonomous trains loaded with amenities, arriving one after another like clockwork, pulling into bigger-than-ever transport hubs that double as nightlife spots where you can transfer to a 300mph maglev. This isn't just wild hopeful speculation: trains that have at least some of these features already exist in the world. The dream train of the future should have all of them, and more. Here's what we're hoping to see.
More Trains, Period
For starters, we're going to need the metro system to grow with the booming global population — 60 percent of the world is expected live in urban centers by 2030. Here in the US, three-quarters of our economy is already generated by cities. The ballooning mass of humans living and working in cities will need to get around.
The good news is, more trains are on the way. In the US, metro systems are being built in cities that aren't known as public transportation hubs. And it's a long list: Phoenix, Houston, Denver, Salt Lake City, Los Angeles, and Miami, for starters, have either started construction on or shown interest in building a public train system of some kind, like a light rail or subway, or expanding what they already have.

The past couple years have been described as the prelude to a "passenger rail boom." According to the American Public Transportation Association, 10.8 billion trips were taken on US public transportation last year, a 53-year record. Rail ridership grew across the board, with light rail numbers skyrocketing in Houston at nearly 18% growth. The US Department of Transportation says that Amtrak ridership broke records 10 of the last 11 years.
What's more, the DoT says it's upping transit spending by a mammoth 76% in the next six years—to $115 billion—to build more light rail, metros, and street cars in cities and suburbs. It's a trend that corresponds with more people, especially young people, choosing to live in these growing urban areas.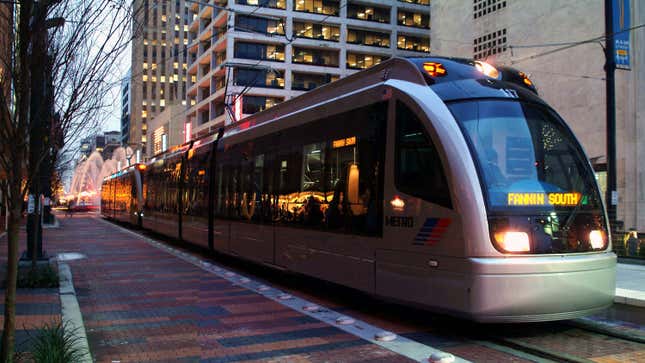 More American cities are finally expanding subway and light rail networks. Houston, one of America's fastest-growing cities and whose 11-year-old Red Line is seen here, opened its new Green and Purple lines this spring. Credit: RideMetro.org
Self-Driving Trains
This may sound like a terrifying idea, but self-driving trains are already being used in some countries, with varying degrees of autonomy.
For example, a semi-autonomous train can navigate itself, but a human needs to be onboard to start the train, open doors, that kinda thing — these are common around the world. There are also trains that can fully operate completely free of humans. Only 6% of the world's transit rails operate those trains. Some of these include Vancouver and Copenhagen, whose system Honolulu is basing its own self-driving train system on.
According to a 2013 report from the Observatory of Automated Metros, there were 48 lines in 32 cities around the world that incorporated some kind of autonomous capability across over 400 miles of track. Some of these places include New York (the L Canarsie line) and London (the Victoria, Northern, Central, and Jubilee lines), all of which are individual lines automated to various degrees.
And more cities are aiming for automation. London—home to the first subway in human history, which opened during the American Civil War—hopes to have its "New Tube" up and running by 2022. New Tube will be a wave of 250 fully autonomous trains being added to the Tube, provided customers and stakeholders respond well to the idea. Honolulu, meanwhile, is working to build the first fully driverless rail system in the US.
Fully automated trains could mean less waiting around on a sweaty platform. CityLab points out that self-driving trains could mean 70% cheaper staff costs, passenger capacity boosts of up to 6%, and more consistent spacing in between trains. Taras Grescoe, author of Straphanger, points to Vancouver SkyTrain as a great example of what driverless trains can do.
"They can run trains with great reliability and headways of only 90 seconds at rush hour," Grescoe says. "You never need to run for a train, a new one's always coming soon. It's also reshaping the city, because condo towers and businesses are clustering around the stations."
London, which boasts the oldest subway system on Earth but is also facing spiking population, is introducing 250 new trains in the next decade that are faster and will increase capacity with walkthrough carriages. Eventually, fully automatic, driverless trains will be added.
Riding In Style
Picture this: You're sipping a beer and eating an onboard meal (that's actually tasty), and pull into a huge station. But you don't want to get the hell home ASAP. You actually want to hang out in the train station, where you can catch a movie, ice skate, go clubbing, get sloppy at a biergarten.
Stations with cool hangout spots already exist in places like Tokyo and Dubai, and they're becoming more common elsewhere. Train stations of the future should be "relatively pleasant, brighter, and have more customer amenities," says Paul Skoutelas. He's the National Director of Transit and Rail at WSP Parsons Brinckerhoff, the architecture firm whose portfolio includes One World Trade Center, London's Shard, and High Speed 2, a high-speed rail line in the UK.
Take Fulton Center in Manhattan—it's an architecturally sexy, LEED certified, $1.4 billion destination, that'll eventually be filled with fancy restaurants and sports a "cable-knit" atrium that gives you breathtaking views of a sky non-obstructed by skyscrapers. We're not talking about some muggy, underground cranny that has a magazine stall and reeks of pee.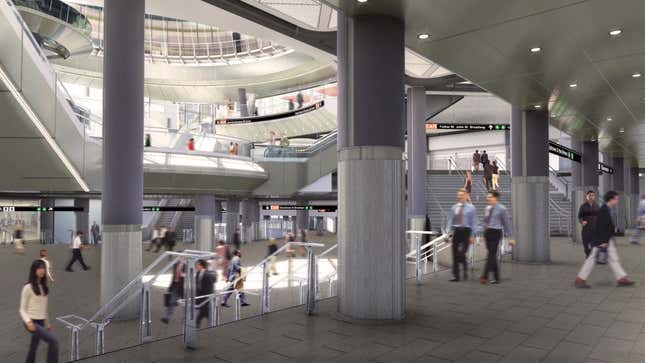 Artist's rendering of Fulton Center, the biggest transit hub in Lower Manhattan, will be filled with restaurants and shops to encourage people to hang out, not just transfer trains. Credit: Fulton Center
A prime example of this? In San Francisco, the gargantuan $4.5 billion Transbay Center is being constructed in the heart of the city, and will be a West Coast Grand Central Station. Plus, the organizers are building what they call call "Transbay neighborhood," a commercial and residential hotspot to complement the modernist transport hub.
Over 4,400 residential units will be built, 100,000 new square feet of retail space, 1,000 hotel rooms, bike lanes, 11 acres of parkland, including a 5.4-acre rooftop park atop the Center. It'll all be punctuated with the 1,070-foot tall SalesForce Tower, the tallest tower in the city.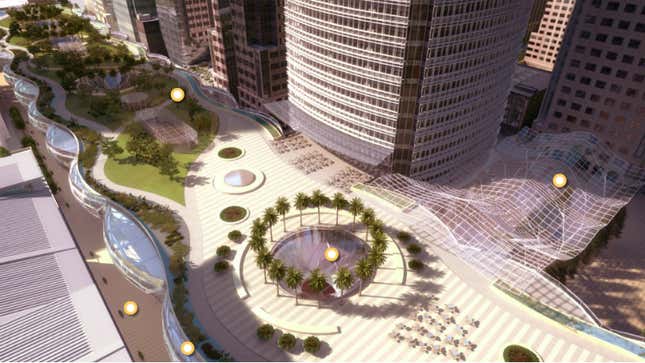 An aerial view of what the Transbay Center will look like. Credit: Transbay Center
We'll also hopefully see the trains themselves be outfitted with more amenities. Millions of commuters across the globe are already riding the rails in serious style. In Seoul, trains are outfitted with TVs, and the seats are even heated in the winter. And of course, connectivity is becoming more common (at last) on many metro stations—Seoul subways support 4G LTE and wifi. It's time for a lot of other countries to catch up.
Subway rides should feel less like a brush with death on a rickety Depression-era roller coaster, and be smoother, faster, more comfortable. This year, the Singapore metro announced a "sleeper replacement program," which replaced 96,000 timber sleepers with concrete ones and lifted speed constraints. (Sleepers are those horizontal panels underneath the rails.)
Finally, safety is the most important, especially in quake-prone zones like California that are building high-speed rail. Japan's bullet trains, for example, use an elaborate network of in-ground sensors that immediately activate emergency brakes seconds after the initial quake waves are detected—it's what resulted in zero deaths or even injuries while 27 bullet trains were in operation during the 2011 earthquake.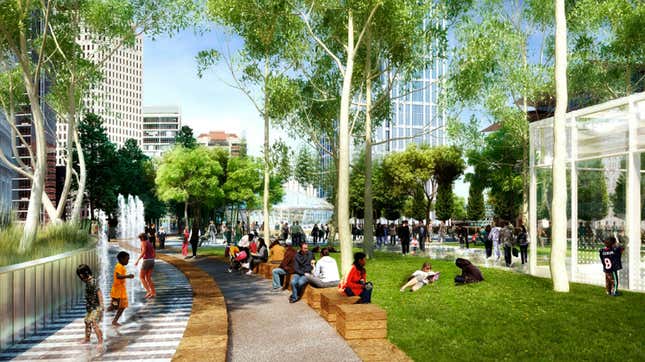 San Francisco's massive Transbay Center will include a park, walking trail, retail, lily pond, and outdoor amphitheater. Oh yeah, and you can catch your train, too. Credit: Transbay Center
Smartcards for Everyone
Most metro systems in the world provide regular commuters an option of buying a hard plastic card that's digitally loaded with your money and subtracts fares with a simple tap on a scanner. And some systems make those cards so smart and convenient, it's hard to imagine urban life without one. These smartcards should be a global standard in the near future.
Smartcards just don't act as your subway fare pass; you can them for a bunch of other conveniences: parking meters, vending machines, shops, even hospitals and theme parks — it's like a supercharged debit card that packs all urban conveniences into your wallet. It all started with Hong Kong's Octopus card, introduced back in 1997—that's right, 1997—and how it's a handheld digital wonder tool found on the Korean T-Money, London Oyster, and Tokyo Suica metro systems.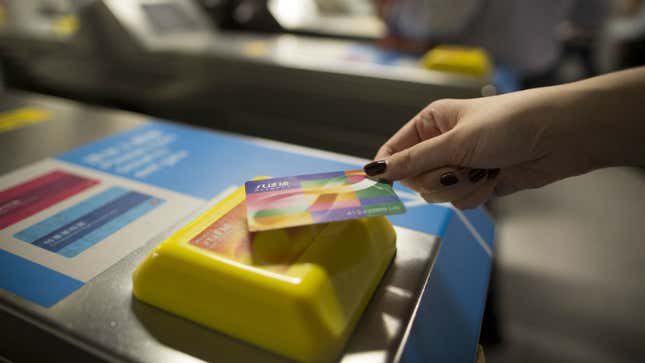 Countries like the US need to catch up with Hong Kong, whose Octopus card is nearly 20 years old, and whose functions are also being integrated into mobile phone SIM cards. Credit: Brent Lewin/Bloomberg via Getty Images
High-Speed Rail and Maglev
The trains of the future, of course, should be faster. Way faster. As in, 375 mph. Or more! In fact, 375 mph is how fast the record-breaking maglev train in Japan traveled earlier this year. For some contrast, America's current "high-speed rail" is Amtrak's Acela Express line that chugs along at 150 miles an hour.
Maglev—which stands for magnetic levitation—eliminates friction by replacing wheels with superconducting magnets that line the tracks and the rolling stock, allowing the train to "float" and get pulled along by magnetic forces at lightning speeds. The government of Japan is willing to foot half the bill to build a maglev for America that'll link Baltimore and Washington, DC.
Wheeled high-speed rail is also (finally) coming to the US. California has started construction on its high-speed train linking Los Angeles and San Francisco, while a private Texas venture is working with the same company that made Japan's bullet train to plop a replica servicing Houston and Dallas. Just last month, a private Chinese consortium announced plans to build yet another high-speed rail from Las Vegas to the LA area.
Over in Shanghai—which, considering it only opened in 1992 and has the world's longest metro system at around 350 miles, is astonishing—riders can easily take normal trains and transfer to China's famous maglev. That's equally astonishing, since maglev is still considered pretty sci-fi in a lot of other nations. That puppy in Shanghai hits 268 miles an hour on its elevated track.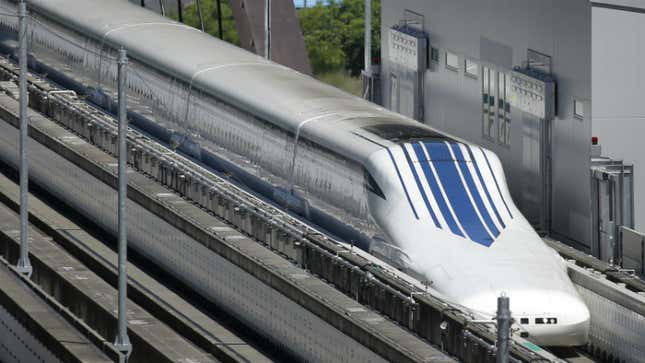 China's had maglev for years, but Japan's test train broke the train landspeed record earlier this year. Japanese rail company JR Central wants to introduce passenger maglev simultaneously in Japan and the US. Credit: Kiyoshi Ota/Bloomberg via Getty Images
So What's the Hold Up?
So why aren't these incredible, efficient hyperfast super-trains widespread yet? Money, of course!
In a lot of countries, the private sector plays a big role in funding infrastructure like city subways and trains. In Tokyo, for example, real estate companies play a key role in buying land and building trains—and then they also diversify businesses around train stations, like we said earlier. Not only does that make passengers happier, but it's a great source for money. (Reminder: A lot of these high-speed rail ventures on American soil are being fueled by private dollars, too, at least at first.)

The good news? General public attitudes toward rail transportation seem to becoming more favorable here in the US.
"More and more local communities are taking before the public ballot measures to vote on new funding," Skoutelas says—over 70 percent of local communities hold such ballots. "That means more money is being added to investment in transit." In sprawling, car-centric Houston, voters approved of a $1.3 billion expansion of the city's light rail—the last new line they built saw double the ridership the city expected.
So long as the people are literally willing to get on board—which more and more people are—the money could follow. What we pursue today could become your ride to work tomorrow.
---
Contact the author at bryan@gizmodo.com, or follow him on Twitter.
Top illustration by Sam Woolley