With a high-speed rail network slowly making its way towards reality, cities are commissioning grand stations for the 21st century to accommodate this new mode of transit. Here are five stations on the horizon that are bringing the drama and glamour back to train travel, while positioning it for a high-tech, high-speed future.
---
Union Station, Los Angeles
L.A.'s Union Station has been welcoming trains to the city for decades: It celebrates its 75th anniversary this year. But a new master plan for the station announced this week repositions Union Station as a greatly expanded multimodal transportation center with enhanced subway, bus, bike and pedestrian connections as well as an eventual high-speed rail terminal. The new plan designed by Grimshaw Architects and Gruen Associates, will include hotel and office towers, park land, and improved access to the surrounding neighborhoods and the adjacent L.A. River.
---
All Aboard Florida Station, Miami
G/O Media may get a commission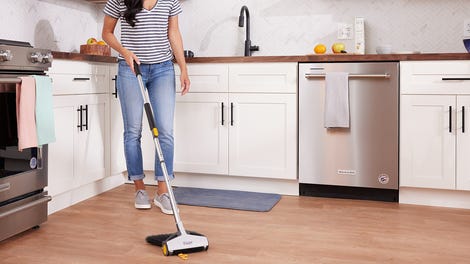 BOGO 50% Off
Flippr - BOGO 50% Off
A new train system proposed for Florida would be the first privately financed and operated rail network in the country: All Aboard Florida is planning to revitalize an existing 235-mile rail corridor for passenger travel by 2016. The high-speed train will travel from Orlando to South Florida, terminating in this new hub planned for downtown Miami. The complex will also include shopping and entertainment as well as a 80-story tower, all designed by SOM.
---
Transbay Transit Center, San Francisco
Currently under construction in San Francisco, the new Transbay Transit Center is a $4.5 billion project to replace the former transit center, the Transbay Terminal. In addition to bringing together access and connections to the Bay Area's several transit authorities, including BART, Muni, and Caltrain, the station will be able to accommodate Amtrak trains as well as the possibility of high-speed rail. The station is designed by Cesar Pelli and will be capped with a 5.4 acre public park on the roof. It's planned to open in 2017.
---
Denver Transit Hub, Denver
Just completed last month, Denver's gorgeous new transit hub plays off the historic 1914 Union Station, which will transition into shopping, restaurants and a boutique hotel. By turning a rail yard into the main station, Denver can consolidate all methods of transit in one place, including Amtrak, light rail, buses and a new commuter line that goes directly to DIA. The hub's master plan (also by SOM) includes offices and public space as well. Photo by Robert Polidori.
---
ARTIC, Anaheim
Many California cities are banking their future on the state's high-speed rail proposal, but Anaheim was the first to make a serious commitment in the form of infrastructure. The Anaheim Regional Transportation Intermodal Center (you can just call it ARTIC), will be completed later this year, bringing a world-class station to the Orange County city that will improve local rail and bus connections. The design by HOK includes ETFE polymer pillows that turn the terminal into a translucent, glowing balloon. It's also completely ready for high-speed rail—if the new network ever begins construction, the system will likely begin here.
---
Pennsylvania Station, New York City*
As much as we'd like to tear down Penn Station right this moment, there are no plans just yet to revamp the station. Still, four ideas for a new Penn Station were commissioned by the Municipal Art Society earlier this year and they're all beautiful. This one, by SOM, positions a park atop the station while flooding the terminal below with light, a marked improvement to the dark, dingy experience of today. Let's hope the next rail station revolution visits New York City.
Top image: Transbay Transit Center