We don't yet have time travel, but we can travel through time quickly through the power of timelapse photography. Here are your submissions to this week's timelapse Shooting Challenge.
Cocoon
We have a butterfly garden and all of a sudden we had an explosion of monarch caterpillars in the milkweed. It is a little too late in the season for the Monarch butterflies and we had a sever cold front coming. We brought them in and put them in the little boxes. I wasn't going to make any videos or anything since it's really hard to catch one forming into a chrysalis and then emerging from the cocoon. Several have chrysalis formed already and then while I was helping my son with his project, I noticed this one moving and knew that it was about to happen so I grabbed my Nikon D4 with the Sigma 105 Macro lens and improvised some lighting as you will notice that the lighting kept falling. I didn't want to use halogen since it would radiate too much heat. I had to use the LED's off my fish tank. Shot in one second, three second, and 8 second intervals.
Anand Maru
---
Palm Trees
For my time lapse I decided to head to the beach where I can find a lot of moving parts to find a great time lapse video. These palm trees in the foreground and slowly blowing by clouds in the background shows what a beautiful day we had SoCal November. I took this on a time laps app with my Droid Maxx phone. #imaddictedtotimelapse
Kristin Erling
---
Synth
Here's a timelapse of me patching my modular synthesizer. The soundtrack is produced by the equipment being timelapsed!
G/O Media may get a commission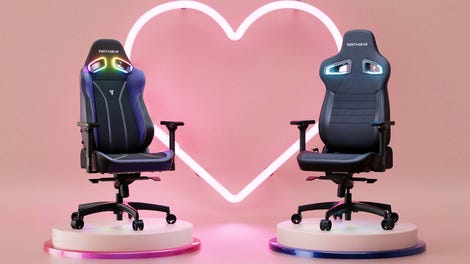 Up to $150 off
Vertagear Gaming Chairs
David Gates
---
Orion Roof
This is a time lapse of the constellation Orion rising over the roof of my house. The composition of the video isn't the best, but this was the direction with the darkest sky and best stars. You can catch a few airplanes in the lower right of the image.
The frames were shot using my Canon 7D using a Sigma 17-50mm f/2.8 lens. The EOS Utility on my laptop served as an intervalometer to capture around 1300 images. To keep my laptop inside, I had to use a couple of USB cables to connect the camera through the door. Each of the photos, spaced 10 seconds apart, were at f/2.8 with an 8 second exposure at ISO 800. The images were imported to Adobe Premiere Elements to be converted to a video file.
Christopher Sears
---
Shops at Legacy
No description
Matt Madoni
---
What a diverse set of entries this week! I dig that we have everything from Christmas trees, to natural wonders, to music in the mix. Thanks to everyone for participating. And to everyone else, don't be afraid of iOS's timelapse functions!