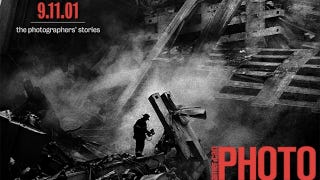 American Photo has a special edition iPad app about September 11th. It's built around the cover story that interviewed photographers who documented that horrific day. The story was already amazing, on the iPad it's even better.
I should mention that the story was put together by Gizmodo's own Matt Buchanan, Kotaku's—and all around life idol—Joel Johnson and American Photo's Scott Alexander. They're all rad dudes and, uh, Matt's my boss. Disclosure and all that.
But more seriously, the iPad version of the story adds more pictures, individual photographer profiles, etc. in a slick, swipe and scroll friendly UI. After using thousands of iPad apps, I've learned that my favorite iPad apps are the ones that feel like print (be it a book, magazine or newspaper) but improve on it by being interactive, more in-depth, and just funner to read. The same power but not limited anymore, you know? The American Photo 9.11.01 app has 4 chapter, each showing images of different stages of the destruction, and 7 galleries, with pictures that'll bring out every emotion you have. On the anniversary of 9/11, it's good to actually remember what happened.
The entire piece consists of interviews of photographers who were shooting on that day, so there's a powerfully unique perspective that translates beautifully next to the stunning photographs. A pretty good way to spend this Sunday, I'd say. [iTunes]