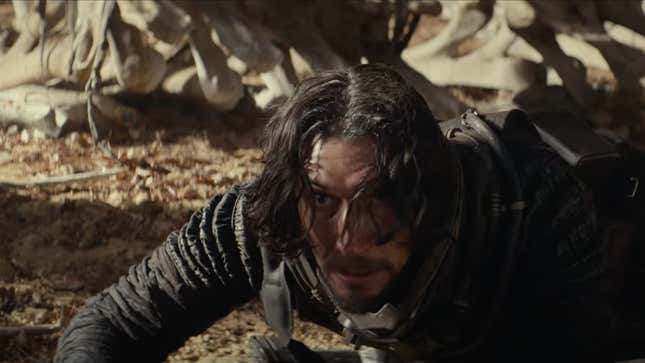 If any film can prove that you can take a goofy ass premise (time travel! dinosaurs!) and make something decent and exciting out of it, it'll be 65. Starring Adam Driver and Ariana Greenblatt, the trailer already has me pretty invested with tight editing, a clear level set of expectations, decent Dino VFX, and (lo and behold!) a discernible plot.

When a pilot/military man/space marine Mills (Driver) accidentally travels back in time and crash lands in the Cretaceous period alongside a young girl named Koa (Greenblatt), they must sneak their way through a dino-infested landscape. There's a scene at the end which makes me think that this film is actually going to take place during the Cretaceous-Paleogene extinction event, which will definitely be upping the stakes. There's not much beyond giant flaming asteroids hitting the Earth that you can add to a landscape full of T-Rexes to make it more threatening.
Chris Pratt and Bryce Dallas Howard Nerd Out About Jurassic Park's Returning Heroes
There's obvious comparisons to Jurassic Park, but this trailer also reminds me of Prey, Planet of the Apes, and Lost in Space. There have been a lot of disappointing dinosaur movies recently, but if 65 can live up to the Lone Wolf and Cub promise of the trailer, this one might turn out to be pretty great.
The film is written and directed by Scott Beck and Bryan Woods, who also wrote the supernatural/fantasy horror film, A Quiet Place. Sam Raimi is also on as a producer, which is sure to draw some eyes to the this pre-apocalyptic survival film.
65 will release in theaters on March 17.
---
Want more io9 news? Check out when to expect the latest Marvel, Star Wars, and Star Trek releases, what's next for the DC Universe on film and TV, and everything you need to know about the future of Doctor Who.