There's something otherwordly about the optical illusions a single string—or 3,000 of them—can conjure up in our brains. It's almost as if a simple fiber installation holds a gateway to a whole other dimension—when, in fact, we're just looking at lines in space. Here, we take a closer look at seven visionaries who can create entire new environments using the most delicate materials.
---
Dawe might be one of the most prolific artists using thread as the medium of choice. The rainbow array of almost impossibly thin fibers he uses create a kind of moiré fog in the air, mixing standalone strings into an elaborate display.
G/O Media may get a commission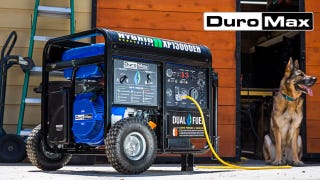 Black Friday Sale
DuroMax Generator Sale
---
In order to share his country's rich cultural heritage of carpet-making, this Azerbaijani artist deconstructs the form and introduces traditional motifs in entirely new contexts. Here, Faig Ahmed traced patterns on the wall and carefully glued a series of colorful strands in place, extending the ends in perfectly straight lines across the open area to break up the room.
---
For her final project at the Royal Academy of Arts Textile Design Department in the Hague, Wies Preidje separated an empty space with "hand-woven walls." These brightly hued, semi-transparent screens created a vibrant floorplan that played with perspective, and offered only glimpses through the geometric dividers. [Co.Design]
---
When Jeongmoon Choi enters a prospective site where she will "draw in space," the Korean-born, Berlin-based artist begins to see what she describes as "movements." Eventually, she will translate these into her intricate, oft-neon-hued installations that feel a tad Tron and a smidge Catherine Zeta-Jones in Entrapment.
---
Sculptural and ephemeral might seem to be at opposing end of the creative spectrum, but UK-based artist David Ogle manages to produce installations that hit right at the intersection of the two. By playing with objects and mathematics, he manages to bring the intangible and tangible together with mind-bending results. [Beautiful Decay]
---
For Parisian artist Sebastian Preschoux, the concept for an installation only comes when he's familiar with the site, and even then he consults with his photographer friend Ludovic Le Couster about lighting and placement to ensure the most eye-popping results. [designboom]
---
The jet-black webs formed by Chiharu Shiota—along with the tangled stairs to nowhere and doors that open onto nothing—make this Osaka-born, Berlin-based artist's work quite a bit darker than the rest—almost nightmarish. [Art Daily]