The advent of tabbed browsing promised a future filled with super-efficient web wandering, where pages loaded up in a snap and we could all keep up with dozens of sites at once. In reality, many of us are getting bogged down by tab overload, but don't despair—these third-party add-ons for Chrome and Firefox can help ease the strain.
Is AI Moving Too Fast? | Future Tech
TooManyTabs
TooManyTabs has long been a popular choice for those after a comprehensive tab manager. It gives you a special overflow area where you can 'suspend' tabs until you need them, freeing up space at the top of the browser and reducing memory usage at the same time.
You can import and export lists of tabs, backup your lists to Google Drive, and sort your crowd of tabs by creation date, page name or URL. The extension supports keyboard shortcuts as well. Head to the options page to change the look of the add-on. [Chrome, Firefox]
G/O Media may get a commission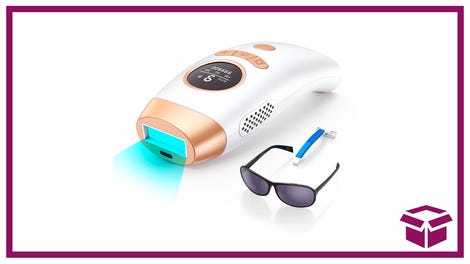 58% Off + Coupon
IPL Hair Removal Device
Tab Wrangler
The aim of Tab Wrangler is to automatically close inactive tabs that you're not using—and to quickly bring them back if you find do you in fact need them. The extension comes with a stack of options so it's not difficult to customize it to suit your own preferences.
Three panels appear when you click on the extension button in your browser— Tab Corral (for restoring tabs), Tab Lock (for reviewing tabs and preventing certain ones from closing) and Options (for changing various aspects of the add-on's behavior). [Chrome]
Showcase
When you've got dozens of tabs open—especially if a lot of them are from the same site—working out which is which can get increasingly challenging. Showcase makes this process easier by presenting all of your open tabs in a simple thumbnail grid.
You can set Showcase to open up in a new window, a blank tab or a sidebar using Firefox's customization pane, and from there you get an at-a-glance view of running tabs—the extension enables you to quickly rearrange and close tabs too. [Firefox]
Tab Mix Plus
Tab Mix Plus brings all kinds of enhancements to your Firefox tabs, and it's been one of the most popular extensions on the browser platform for a while now—it offers tab duplication, alternative tab click functionality, tab focus control, tab recovery and plenty more.
As far as tab management goes, you can control how new links are opened, lock tabs using a variety of criteria, set how tab focus works, handle how multiple tabs are managed, merge open windows together, reload tabs automatically... the list of tricks available here is a lengthy one. [Firefox]
Tab Snooze
Tab Snooze, as its name suggests, is designed to hide tabs away until you need them again. It's like snoozing your alarm clock or an email message till a later time and it can help you overcome tab overload with one very small change to the Chrome interface.
The add-on gives you plenty of flexibility when it comes to choosing snooze times (you can set the parameters of your working day and so on) and it can even recommend tabs for snoozing if they've been inactive for a while. [Chrome]
Tab Manager
It may not be the most polished extension you're ever going to come across, but Tab Manager does a fine job of... well... managing your tabs. Clicking on the extension button brings up a small overview of all your tabs across all your open windows and you can quickly close them or open up new ones.
You can move tabs around too, and thanks to some nifty keyboard shortcut integration it's possible to power through your tab housekeeping duties without having to reach for the mouse. The search functionality is helpful as well. [Chrome]
Tab Bucket
There are times when you just want to clear the decks and start with a fresh batch of tabs, but you want to be able to get back to your current set sometime later on. Tab Bucket is an extension that's perfect for this scenario.
The basic but effective add-on has just two options: save and open. Click on the first and all your current tabs are saved; click on the second and they come back. There's no list of stored sessions and no options to configure, but the beauty of Tab Bucket lies in its simplicity. [Firefox]
Tab Suspender
Like Tab Bucket, Tab Suspender is a no-frills extension that does one job and does it well. When you've got it installed in Chrome, you can 'park' inactive tabs (thus reducing memory usage inside the browser) until they're needed again. There's also a separate tab closing feature too.
Open up Tab Suspender's options and you can set a default timeout for parking tabs, edit a list of exceptions (tabs that will never be made inactive) and choose to have tabs restore themselves automatically when you switch back to them. [Chrome]
Top image: Anikei/Shutterstock.com