My mother always told me, if you're going to pick a fight, do it in water.
Winner: Hatted Hurricane


5D Marklll ISO 200 f5/6 1/400 100mm This was one of the most fun challenges I have participated in. This weekend at my annual back yard tent party I brought up the shooting challenge with my friends and the conversation snowballed into a full-on back yard water brawl. This was my personal favorite shot but there were many more gems.
-Michael Durr
---
Little Sister
When I read about this challenge, I immediately scrounged up a few balloons in the attic, recruited my little sister (she's 10, I'm 13), and set up the tripod by our backyard fence. It took a while for us to figure out how to make the balloons explode on impact (we had to settle for normal latex balloons instead of water balloons since we couldn't convince anyone to go to the store... trust me, normal balloons are a LOT harder to make pop), but finally we realized we could just cheat and not tie them. With the help of my mom's throwing arm, I was able to capture this shot using a Canon Rebel T4i, 18-135mm kit lens at f5, ISO 6400, with a shutter speed of 1/800th of a second. A little cropping and voila!

- Theo Patt
---
Splash
G/O Media may get a commission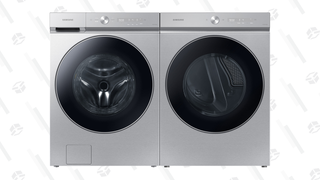 Get $500 back in credit
Last Chance: Samsung Bespoke AI Washer and Dryer Preorder
Me and my girlfriend were having a small and unexpected water fight and we were about to smash the last balloons in different and classic ways. Location is outside our apartment in Sweden, Stockholm. Images taken with my Nikon D300 with a Nikon 18-135mm lens, 48mm, 1/2000 sec, f/5 and ISO: 400.
- Jan Mellström
---
Backyard Sprinkler


Backyard, sprinkler, a model willing to act like a kid (me) and an assistant to hit the shutter button (wife). Had lots of fun shooting this one. Thanks Gizmodo! :) ISO 100, 70 mm, f4.0, 1/60th.
- Sharōn Joshi
---
Target Neutralized


The moment I heard about this challenge, I knew a water fight was in our near future. My housemate and I got a couple people together, ran to the store and grabbed some water balloons along with some water guns. We went to the park up the street and the fight soon began! We had a lot of fun with this challenge and I'd love to give credit to the people pictured for being a part of it: Ariana van Dyck (my sister) is the one having all the fun while shooting the water gun, James Gold (my housemate) is the not-so-lucky one being drenched, and Asia Williams (not pictured) threw the water balloon which you see exploding on contact. This image was shot with my Canon Rebel SL1 fitted with a Canon 60mm lens (96mm equivalent). It was shot at ISO 500, with an aperture of f/2.8, and a 1/4,000 shutter speed.
- Armont van Dyck
---
Boy Was It Fun


Camera: Fujifilm x-e1, 35mm f1.4, ISO 250, f /2.8, 1/2400. My daughter is in the photo. The photo was taking during my daughter's 8th Birthday. We decided to rent an inflatable water slide bouncer this year and boy was it fun. Throw in crazy uncles and aunts to the mix and you got yourself an awesome water fight
- Mike Ngo
---
Thanks to everyone for sharing what looked like a weekend of fun. And to everyone else who didn't, may your future be filled with water balloons.
Find the big shots over on flickr.