Holiday breaks can be tough on TV — there are only so many times you can watch A Christmas Story. So we piled up all the best marathons to help you though this season.
Monday:
ABC has the gruesome green ogre lined up with all his buddies for Shrek the Halls on ABC at 8 PM. Fiona and Shrek take the kids to celebrate the holidays but Donkey, Puss-in-Boots and other friends keep getting in the way. It's amazing that Donkey hasn't been turned into glue yet, given how many ways he finds to annoy Shrek. The original cast returns for this special.
Tuesday:
Teach the younger members of the family how to flirt and drink like a pro, with a James Bond marathon starting at 10:00 AM until 5:30 PM on Spike.





Wednesday:
G/O Media may get a commission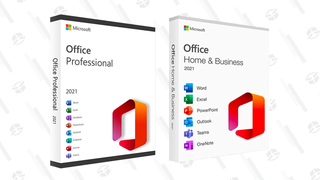 89% off
Microsoft Office Professional 2021 Lifetime License
From 8 AM until 6 PM, there's a Scariest Places on Earth marathon on the Sci Fi Channel. So when little Susie won't get out of your TV-watching chair, just flip this on and surely the screams and creepy buildings will send her back down to the basement with the other tykes.
The James Bond marathon on Spike continues starting at 12 PM with You Only Live Twice, until 11:30 PM on Spike
The Discovery Channel is hosting a Project Earth marathon from 6 AM until 2 AM. This is the absolute best thing in the world to watch over the holidays, you can kill 5 hours at least in one sitting.
Ghost Hunters Seasons 4 and 4.5 run from 7 PM until 4 AM on the Sci Fi Channel.
You can't have Christmas without listening to George Bailey scream about Zuzu's petals. It's A Wonderful Life is on 8 PM at NBC, I've included the ending just to get you all misty eyed, or so you don't have to watch the whole thing over again, you wonderful old building and loan.





Thursday
Merry Christmas. Celebrate with an all day marathon of Star Trek The Next Generation on the Sci Fi Channel from 8 AM until 5 AM. Here is an absolutely it's so-bad-it's-kind-of-funny Borg Christmas Carol.





From 8 AM until 6:30 PM, The History Channel is having a marathon of UFO Files and UFO Hunters. Find out where Santa really comes from.
Just because it's the holidays doesn't mean you can slouch on the learning. From 9 AM until 11 PM, there's a ton of MythBusters on the Discovery Channel
Even more James Bond from 10:30 AM starting with Dr. No until 8:30 PM on Spike.
It's A Very Supernatural Christmas over on the CW with Sam and Dean from Supernatural at 9 PM. This is a repeat, but still pretty festive.
Celebrate family and friends with the best family of superheroes set in CG The Incredibles are on 8:30 PM and at 6 PM on ABC Family.
Catch up on all your Doctor Who Christmas Specials on BBC America from 4 PM until 6 PM are the back-to-back Dr. Who Christmas episodes. And if you're one of the luck few that get the actual BBC, then stay tuned for the big premiere of the new Christmas special, "The Next Doctor." Here's a sneak peek from the new special:





Friday:
Sci Fi Channel is having a HIGHLANDER marathon. The series runs all day and pauses at 6 PM to play Highlander: The Source. So I don't think anyone should even be outside on this Friday.
From 8 AM until 6:30 PM The History Channel is having a marathon of UFO Files and UFO Hunters.
Saturday:
From 11 AM until 5PM, the Sci Fi Channel is hosting the collection of the Children of The Corn movies, because you need to be reminded that no matter how cute they may be on Christmas morning, children are evil and must be stopped.
Sunday:
It's not Christmas without a singing Mogwai, so feast your eyes on fluffly Gizmo and his evil Gremlin buddies over at AMC. Gremlins is on 6:30 AM and the sequel, Gremlins 2, is on at 9:30 AM.





And if that's not enough to distract you from heavy family fun, then know this: StarWars.com and CartoonNetwork.com are having an online marathon of all of the Star Wars: Clone Wars episodes until January 2, so log on and turn your brain off if you need to. Plus many repeats will be airing on Cartoon Network throughout the week.