Some South African sheep got a nasty little surprise earlier this week when a Google-branded internet balloon came tumbling down from the heavens to say hello. The sheep are in good company, though. Because this happens—a lot. And fortunately for the conspiracy theorists among us, this means all the UFO fodder their chemtrail-addled brains can handle.
Ever since Google's Project Loon project, which will carry internet access to rural and developing nations, first got its start back in 2011, the mysterious balloons have flown off course, or malfunctioned and come crashing down. The Google X project is, naturally, shrouded in secrecy, and Google is constantly tweaking the shape, size, and design of the balloons. To most people these rogue balloons are, quite literally, unidentified flying objects.
We've put together a brief collection of the many, many UFO sightings these noble balloons have fostered. Because while the truth may be out there, it's a hell of a lot more fun to scream "aliens" instead.
---
"A round spinning ball inside of something square that remained stationary."
"It almost reminds me of some type of deep space probe scanning the Earth's surface."
"Rotating and flashing at us through each rotation kind of like a light house whose light u don't see until it passes by you."
G/O Media may get a commission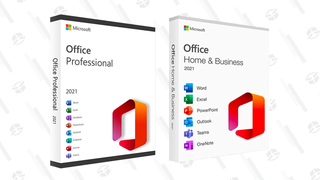 89% off
Microsoft Office Professional 2021 Lifetime License
Was it actually a Project Loon balloon? Yes.
---
"A Truly Amazing Capture."
"I see little doubt of it being anything besides [a UFO]."
"This thing was hovering there dead silence in the sky."

Was it actually a Project Loon balloon? Yes.
---
"Like two flourescent bulbs, side by side, parallel, shining very brightly."
"They are the fallen angels also in the book of Joel."

"SIGNS AND WONDERS IN THE HEAVENS"

Was it actually a Project Loon balloon? Yes.
---
"It didn't make any sound, it just landed slowly on the ground."
"It seemed to be glowing."
Was it actually a Project Loon balloon? Yes.
---
"Looks like the real deal."
"Very similar to what a UFO would look like."
"Search 'Bing' or Google images for 'NAZI flying saucers' and you will find pages of photographs and designs for saucers developed by the NAZIs. You will even find the famous LOS ANGELES times cover headline photo that clearly shows a saucer being illuminated by searchlights as it was fired upon for hours by the US Army during the "Battle of Los Angeles" (25 February 1942). The saucer finally 'drifted off to sea' and the government explanation... wait for it...'weather balloon.'"
Was it actually a Project Loon balloon? Yes. (Alternate acceptable answers: "Nazis" and "Yes, but Nazis.")
---
"I don't know what it is, there's been 10 of us staring at it for an hour, we're getting no work done."
"It looks like a balloon or a plastic bag, but it's really high and it hasn't moved."

"It's freaking us all out."
Was it actually a Project Loon balloon? Yes.
---
"White and really shiny."
"At first I though it was just an early evening star, than I said 'It's too early for that,' so I looked again and it was perfectly round."

"That's a UFO or something."
Was it actually a Project Loon balloon? Yes.
Top (pre-alien) image via Google