You've seen city maps, but what about city maps that show where each gang has its headquarters? Or a map of the globe without water? Here are a few of our favorite randomly bizarre maps.
A Map Of Chicago's Gangland, 1931
G/O Media may get a commission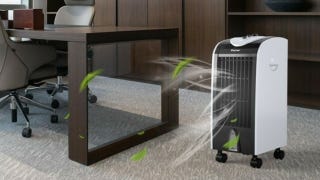 Save $10
Evaporative Portable Air Conditioner Cooler with Filter Knob
(via University Of Illinois Library)
The Ebstorf Map, from the late 13th century
This mappa mundi (a medieval European map of the world) was made by Gervase of Ebstorf in the 1290s, was found in Ebstorf, Germany in 1843. It's made of goatskins (thirty of them!) instead of paper, and measuring 12 ft x 12 ft (3.6 x 3.6 m). Unfortunately it was destroyed during the bombing of Hannover in 1943, but there are some surviving black and white photographs and color facsimiles.
(via Wikimedia Commons)
World Map Drawn in a Fool's Head, by an unknown artist, c. 1590
Legend in the left says: "Democritus of Abdera laughed at [the world], Heraclitus of Ephesus wept over it, Epichtonius Cosmopolites portrayed it."
(via BigThink)
World without water, Willelm & Jan Goeree, c. 1690
(via Old World Auctions)
Map of Jiangxi Province, China, c. 1700
(via British Library)
Image of the Very Famous Island of Fool's Head, published in Amsterdam, 1720
The cities have telling names: Bedriegers Stadt ("Charlatan City"), Leugenburg ("Lie Town"), Sottenburg ("Crazy Town"), Bederfwyk ("Corrupt Quarter"), and the islands are Poverty (Armoed), Sadness (Droefhyt) and Despair (Wanhoop).
(via BigThink)
A new Map of England and France, 1793
The French Invasion or John Bull Bombarding the Bum-Boats.
(via Big Think)
The eagle map of the United States; Engraved for Rudiments of national knowledge, by I. W. Moore, 1833
(via Library Of Congress)
Geographical fun: being humorous outlines of various countries with an introduction and descriptive line, by "Aleph" (William Harvey), London, 1868
(via Library Of Congress)
Serio-comic war map for the year 1877 ,by Fred W. Rose, 1877
This map gives a satirical conclusion of the events of 1877. Twenty-five years after the idea of the Octopus Map was used again by some Japanese artists, before the Russo-Japanese War in 1904-1905:
(via Zelvin Katerinka and Candaces Maps)
Unknown: Map of Midtown Manhattan, from 34th Street to 59th Street and from 1st Avenue to 6th Avenue, 1890
(via Old York Library)
The Pulse Of New York, by Howard P. Taylor, c. 1891
(via Library Of Congress)
The Contiguous United States – visualized by distance to the nearest McDonald's, 2009
Created by Stephen Von Worley, using data from AggData.
(via Huffington Post)
Map of Literary Britain and Northern Ireland by Geoff Sawers
It features 188 of the most famous writers.
(via The Literary Gift Company)