We've got a batch of new, high-res images from the upcoming Godzilla movie, and they've given us some of the best views yet of the Big G. I can't really respond to them without regressing to an 8-year-old, so I'll just let you know what my inner child thinks.
First of all, I'd like to note that there are a lot of people in this movie. I'm actually a little disappointed to see so many humans in the cast. One of the biggest problems with Godzilla movies in general has always been too much focus on the humans and not enough kaiju action. A few characters are fine — but this many? If there were a Bechdel Test for monsters, this movie would not be passing it.
Now let's get to the important stuff. In the image above, I'm pleased to see that Godzilla's breath weapon originates in the platelets of his spine. That's as it should be. We all know that when Godzilla gets ready to blast the world with fire, its spines glow. I like the way this effect has been updated to look like lava. I feel that this is sufficiently magnificent. I am also glad to see Godzilla smashing up infrastructure. I really wish that Godzilla would eat those cars. I hope that happens.
Here we can see something really disappointing. Two things, actually. First of all, there are people in this picture (above) who look like they are actually bigger than Godzilla's mouth. That is completely incorrect. Godzilla is a fucking destroyer of worlds and will probably be eating skyscrapers, if they made this movie correctly. For a person to be as big as his mouth is either an optical illusion due to the angle of this shot (hopefully) or a sign that this movie does not understand giant monsters at all.
G/O Media may get a commission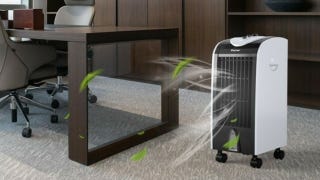 Save $10
Evaporative Portable Air Conditioner Cooler with Filter Knob
Second of all, I'm feeling some anxiety about Godzilla's neck and chest. I think of Godzilla as being more pear-shaped, with a big belly and mega-thighs, and a relatively more svelte neck and chest.
Though now that I think about it, even the oldest version of Godzilla had a kind of thick neck. So this is probably OK. Now I would like to draw your attention to the fact that Godzilla eats trains. This is a key aspect of Godzilla's personality and I hope we get to see it in the new movie.
Do you think the new Godzilla looks more muscled? Or maybe armored? I think he does. His chest is definitely more defined, if this picture is anything to go by. I'm OK with that, but I'm realizing now that I keep calling Godzilla "he," even though he's had babies in several of the movies. First of all, there's the little guy in Son of Godzilla, who looks like a super-deformed anime character who blows smoke rings, and later he becomes the hipper-looking "Junior" in the 1990s movies like Godzilla vs. Destroyah.
So, is Godzilla the mother or father of Junior? Does he or she reproduce asexually? These are actually pretty important questions, especially now that I've actually discovered that sexual reproduction is a thing. Basically, I'm realizing even more forcefully that a lot of these movies focus way too much on the human characters and not enough on crucial aspects of kaiju life.
I like this new Godzilla a lot, but I really hope that this new movie is going to fill in some of these gaps. Also, I hope that Godzilla is the biggest monster I've ever seen. His mouth should be able to hold a hundred humans. He should eat bridges and wrap trains around his torso like Chewie's ammo belt. He should be able to smash an entire city block with one footstep. His roar should shatter every single window in Tokyo at once.
Right?
UPDATE: Several people have pointed out in comments that I must be really stupid to not notice that Godzilla does not have fiery spines and is in fact being bombed in the top picture. OK fine, you dickbreathers. Maybe those really are bombs. This opens up the possibility that maybe Godzilla's spines will glow blue when he/she uses a breath weapon. That would be great.