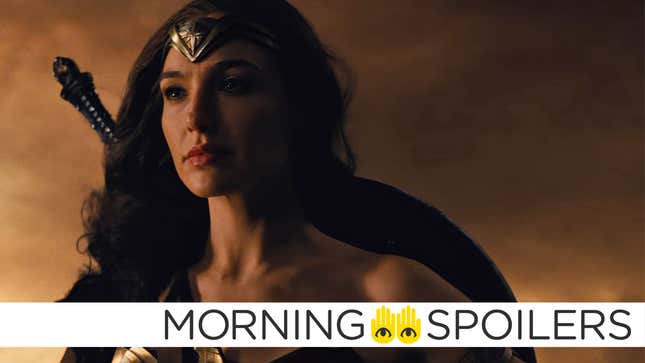 Ant-Man and The Wasp casts a mysterious "key" role. Donald Glover discusses playing Lando in the Han Solo spinoff. Stranger Things reveals Sean Astin's new character. Plus, even more Transformers footage, teases of a special regeneration on Doctor Who, and more! Spoilers get!

Deadly Mississippi Tornado Kills More Than 2 Dozen | Extreme Earth

Justice League
Wonderful news! Robin Wright and Connie Nielsen have confirmed to the LA Times Hippolyta and Antiope will return to kick ass for Justice League.
Gadot: Of course; the mother and daughter relationship is always a beautiful but complex relationship. I think that there's a lot more to explore.

Nielsen: And [Wright and I] got to do more in "Justice League" as well. As sisters as well. Kind of badass as well. We can't say much, but …

Wright: And more of the story, you get some of the history.
Hippolyta's presence was already known thanks to the trailer, but it's nice to know Antiope will be back in action too—although her return, given the events of Wonder Woman, seems to imply that much of stuff with the Amazons we see in Justice League will be confined to flashbacks.
G/O Media may get a commission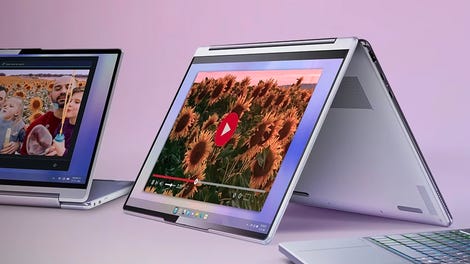 up to 70% off
Lenovo Spring Clearance
---
Ant-Man & The Wasp
Hannah John-Kamen has joined the cast in an undisclosed but "key" role, according to Variety.
---
X-Men: Dark Phoenix
Actor Toby Huss, perhaps best known as Artie, the Strongest Man in the World, has posted two audition tapes to Vimeo for a character named Hoover. Based on the character's dialogue, Omega Underground speculates that "Hoover" may be an operative of the Genosha government with dealings to the Shi'ar Empire.


---
Unearthed
Coming Soon reports that Doug Liman will direct an adaptation of the upcoming YA novel about alien tomb raiders from authors Amie Kauffman and Meagan Spooner. Here's the synopsis from Good Reads:
When Earth intercepts a message from a long-extinct alien race, it seems like the solution the planet has been waiting for. The Undying's advanced technology has the potential to undo environmental damage and turn lives around, and Gaia, their former home planet, is a treasure trove waiting to be uncovered.

For Jules Addison and his fellow scholars, the discovery of an alien culture offers unprecedented opportunity for study… as long as scavengers like Amelia Radcliffe don't loot everything first. Mia and Jules' different reasons for smuggling themselves onto Gaia put them immediately at odds, but after escaping a dangerous confrontation with other scavvers, they form a fragile alliance.

In order to penetrate the Undying temple and reach the tech and information hidden within, the two must decode the ancient race's secrets and survive their traps. But the more they learn about the Undying, the more their presence in the temple seems to be part of a grand design that could spell the end of the human race…
---
Han Solo
Donald Glover spoke to Deadline about playing Lando Calrissian:
It's a lot of pressure, but it's also very exciting. He was my favorite character, too. I grew up on 'Star Wars'. It's just cool to see him again. I feel like people like him 'cause he has a lot of style, but also he's a complicated character in this world. I think even Han isn't as complicated as Lando is. From the first time you meet him, you don't know whether to trust him or not, and you're constantly not knowing whether to trust him. I like that about him. For working under, like, a huge conglomerate, it's actually been quite an enjoyable, artistic thing. I get to play him in a way that I think is honest and true and cool. And it's great 'cause I didn't have to write anything, I'm focused strictly on being this guy. And I really respect him and I respect the actor who played him before. I've learned a lot about this character, so it's actually been really fulfilling and nice to just turn off everything else and focus on just being someone.


---
Marvel Phase III-IV
James Gunn will continue to oversee Marvel's cosmic properties past Guardians of the Galaxy Vol. 3.
We talk about it all the time. It's already a part of what I'm doing with Marvel and the conversations that Kevin and I have every day. When we're talking about 'Guardians of the Galaxy 3,' and that story, that's a story that will lead to other stories. It's innate to the DNA that that's the end of a trilogy but it's the beginning of a whole other element of the Marvel Cosmic universe. That's a part of what I'm doing now.
[IGN]
---
Hellboy
David Harbour told The Wrap filming should begin this September.
We're supposed to go in September, I hope. It's good. It's a whole new thing. I'd always been a fan of the comics and there's a darker tone to it and I think in the climate we have now there's kind of a darker… a desire for more of that… the script is good and this guy Neil Marshall is directing who's really good and the aesthetic is great. So often, the superhero movies can be really fun and I want this to be really fun, but I also want it to be more of a character piece and more about this dude's struggle. I think it could be interesting. I don't know, I just hope we make a good movie. We'll see. You be the judge!
---
Black Panther
Letita Wright spoke to Interview Magazine about her character, Shuri.
She's princess of Wakanda, but also she designs all of the new technology there. She has an innovative spirit and an innovative mind, and she wants to take Wakanda to a new place. Also, she has a great fashion sense, better than mine. She's so vibrant; a beautiful spirit, but also so focused on what she does. And that's good for other people to see, especially young people to see, because it's like, "Look, there's a young black girl who loves technology and she's from Africa." It's something refreshing.
In related news, producer Nate Moore is excited to skip over Black Panther's origin story.
What's great is that people have already met Chadwick [Boseman] in Civil War, so now we get to jump in feet first without having to tell a more traditional origin story. We meet him as his world is changing. Black Panther takes place right after the events of Civil War, so T'Challa's father has just been killed, he has returned home to Wakanda, and T'Challa has to navigate potentially becoming the new ruler of this nation. He never intended to become the king for years because he figured his dad would be around for a long time. T'Chaka's death is, in a lot of ways, the catalyst for everything that's happening in Black Panther.
[Complex]
---
Avengers: Infinity War
Meanwhile, Chadwick Boseman posted this short set video to Twitter of Black Widow, Black Panther and Captain America's specially designated chairs.
---
Spider-Man: Homecoming
Peter meets DJ Khaled in another NBA Finals spot. Because of course he does.
---
Transformers: The Last Knight
Laura Haddock has no time for Mark Wahlberg's shit in the latest TV spot.


---
Atomic Blonde
Charlize Theron holds a gun to the Focus Features logo on the latest poster.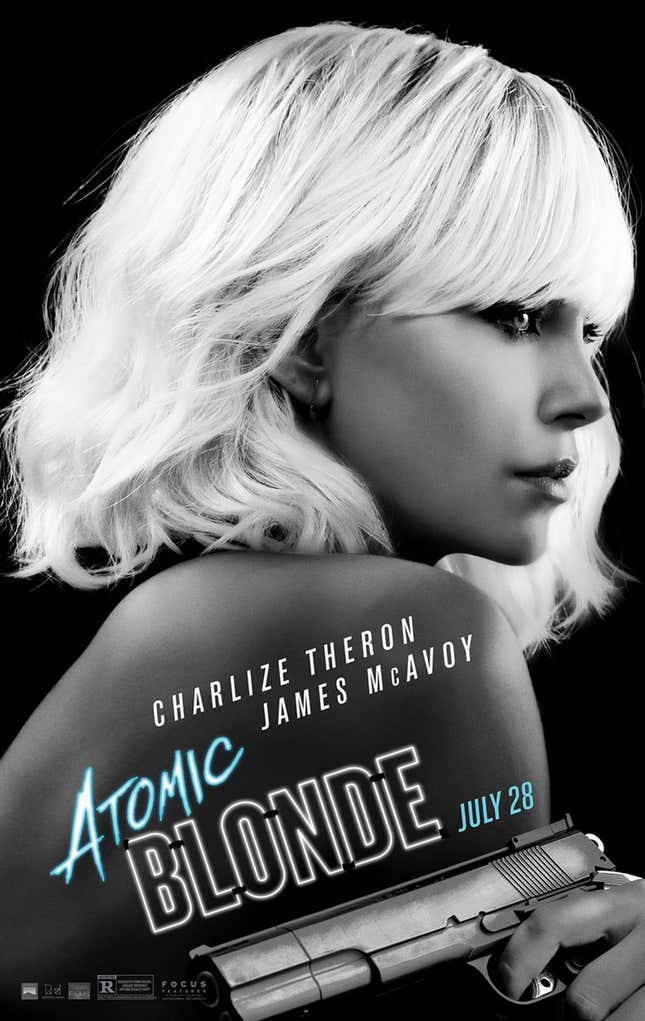 ---
Stranger Things
Co-showrunner Ross Duffer revealed to the Remote Controlled podcast that Sean Astin is playing the manager of a RadioShack.
He's a manager at Radioshack, and he's dating Joyce. He's a sweet guy. I think Sean, more than anyone else that came in this season, completely shaped this character. It was probably, on the page, the least interesting, and not specifically meant to be as important of a role as it ended up being. What he brought to the performance completely elevated it and inspired us as we wrote. We were able to evolve his character as we we went along, and he just ended up being so great.
---
The Exorcist
Neither Geena Davis, Alan Ruck, Hannah Kasulka or Brianne Howey will return for season two, according to TV Guide.
---
Snowpiercer
Jennifer Connelly will star in TNT's Snowpiercer pilot as Melanie Cavill, a first-class passenger who voices the train. [Spoiler TV]
---
Doctor Who
Steven Moffat once again teased to the BBC that Peter Capaldi's regeneration will be "different this time."
You all know that the mighty Peter Capaldi will be bowing out but we're gonna do it slightly differently this time. And I've been working with Chris [Chibnall, the incoming showrunner] about how we do the change over in a new way. I'm excited by it, I think it's gonna work well. Every regeneration's different but we are playing it slightly differently this time. I think we've got a good idea.
---
The Mist
A synopsis for the pilot has been released:
When the residents of Bridgeville, Maine find themselves engulfed by a foreboding mist containing a myriad of inexplicable and bizarre threats, their humanity is put to the test. What will people do to survive when blinded by fear?
---
Krypton
Filming begins this summer in Belfast, Ireland, according to the BBC.
---
Riverdale
Finally, producer Roberto Aguirre-Sacasa told Vulture that Archie will be as haunted as Bruce Wayne in season two, which probably indicates that poor Fred might not make it out of that shocking cliffhanger.
This is a huge impact for Archie, obviously. What happened to Fred is like Bruce Wayne seeing his parents gunned down in Crime Alley in Gotham City. It completely changes him and it galvanizes him and gives him purpose.






---


Additional reporting by Gordon Jackson. Banner art by Jim Cooke.