The traditional gargoyle is a horrendous creature who leers out of medieval church walls. But people have continued making gargoyles right up into the modern day, bringing science fictional flourishes to these fantasy creations.
A Xenomorph on Paisley Abbey, Scotland, built in the early 14th century
Many of the original gargoyles were replaced during the renovations in the early 1990s, so we're afraid that one of the stonemasons was in a funny mood.
(via Mark Harkin)
The Darth Vader grotesque at the Washington National Cathedral, Washington D.C., sculpted by Jay Hall Carpenter, carved by Patrick J. Plunkett in the 1980s
(via Wikimedia Commons)
Cologne Cathedral, Germany
G/O Media may get a commission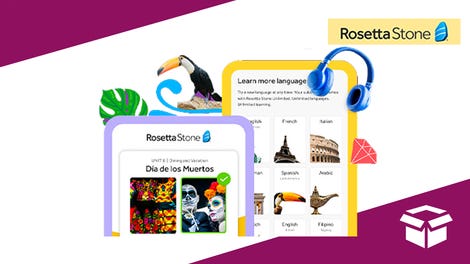 Extra 20% off
Rosetta Stone Lifetime Subscription - All Languages
(via Georg Sander)
A gargoyle at the University of Chicago, Illinois
(via Quinn Dombrowski)
A man kissing his leg on Rufford Abbey, Nottingham, UK, a Cistercian abbey converted to a house in the 16th century
(via Jo Jakeman)
Magdalen College, Oxford
(via The Land of Shadow)
A Pig playing bagpipe on Melrose Abbey, Scotland
(via ferrebeekeeper)
A scorpion on the West Portal of Chartres Cathedral, Chartres, France
(via Nick Thompson)
A reading monk on the City College campus, New York City
(via Ephemeral New York)
On west front of Salisbury Cathedral, England
(via Wikimedia Commons)
The carving of an astronaut and a demon with ice cream on the wall of Salamanca Cathedral in Salamanca, Spain, built in 1102, added in 1992 during some restoration work
(via portengaround and George Krauss)
The Chapelle de Bethléem (Bethlehem Chapel) in Nantes, France, a 15th century church with sci-fi themed gargoyles: a Gizmo and a Gremlin from the movie Gremlins, a xenomorph from Alien and a super robot from UFO Robot Grendizer
(via Loute)
A gargoyle on Freiburger Minster, Feiburg im Breisgau, Germany, built in the 13th century
(via F Delventhal)
Firefighter gargoyles at the old headquarters of the Philadelphia Fire Department at Race Street, Philadelphia, Pennsylvania
(via takomabibelot)
A scared or surprised dragon on Bamburgh Castle, England
(via Matthew Boyle)
The New Town Hall, (Neues Rathaus) Munich, Germany, from the late 19th century
(via Georg Sander)
Westminster Abbey, London
(via Matt Drobnik)
A Cockatrice somewhere in Switzerland
(via Paul Malon)
St. Vitus Cathedral, Prague, Czech Republic
(via Matt Drobnik and Vin Crosbie)