A couple of years ago Matador first crossed our radar with a giant tear-proof emergency blanket that folded smaller than a wallet. Since then the company has introduced countless other collapsible products that make packing for a trip much easier, but its new Beast 28 adventure backpack is easily its most impressive feat of engineering.
Have we seen collapsible backpacks before? Of course we have, but they tend to be lightweight, flimsy, and really only useful for carrying stuff in an emergency. Try to use one for a hike into the woods and you'd find yourself limited in what you can carry, and returning home with a sore back.
When packed up for travel, the Beast 28 looks like nothing more than a collapsible travel blanket. But when unfurled, it looks exactly like the adventure packs you'd find in an outdoors store, with all the features you'd need to head out into the wilderness well-prepared for an impromptu stroll through Mother Nature's splendor.
Made from just 560-grams of ultra-light, water-resistant ripstop nylon, the Beast 28 has 28-liters of capacity spread through multiple pockets and compartments that can be expanded or collapsed using built-in compression straps. It's also got external straps for carrying additional gear outside the pack, and is hydration compatible meaning it can hold a water bottle or reservoir, including a drinking hose kept in easy reach.
G/O Media may get a commission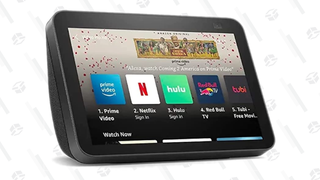 Even more important, and something you rarely see on a packable backpack, are breathable, padded should straps that also include a sternum strap and an adjustable hip belt to properly distribute weight around your body making it comfortable, and safer, to carry a heavy load.
Is Matador's Beast 28 Packable Technical Backpack the first piece of gear you'd reach for if you were planning to climb Mount Everest? Obviously not. But at $90 it sounds like it's a solid pack you can easily keep tucked away in your car, or your luggage, for impromptu outdoor adventures while you're traveling.
[Matador via GearCulture]