You're looking up and through the Russian Shukhov Tower, a 92-year-old structure that was used to transmit TV signals until 2002. Having fallen into disrepair, it's now being saved—thanks to a smartphone vote.
When it was announced that the tower would be pulled down earlier this year, Norman Foster, Rem Koolhaas and a bunch of other architects lobbied Vladimir Putin to save it. That was enough to prompt Moscow's city council to put the matter of its destruction up for vote. A smartphone poll saw 91 percent of respondents want to save it.
And that's exactly what will happen. The 160-meter tower will now be preserved, as part of a $13 million renovation project. The structure itself is fascinating, as New Scientist explains:
Engineer Vladimir Grigorievich Shukhov constructed the tower using a telescopic method, building each higher section within the layer below and then using pulleys and winches to raise it up, creating the next level. Each section is in the shape of a hyperboloid, a mathematical surface with three dimensions.
It's wonderful news that it's being restored—and not just because it means an iconic piece of design and engineering is being saved. Indeed, it was feared that the structure was in such a poor state of repair that it could soon become a hazard to its neighbourhood. [New Scientist]
Image by Pavel Golovkin/AP/Press Association Images
G/O Media may get a commission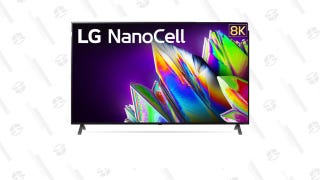 LG 75-Inch 8K TV