In a change-up that acknowledges the reality of the business it's in, the MPAA has included a breakdown of the home entertainment market in its latest annual box office report. Topping both the DVD/Blu-ray and digital rentals charts for 2017 is Ben Affleck's weird-ass action hero/math savant flick The Accountant, and America, you chose wisely.
Previous MPAA reports have focused on theatrical spending but this year's edition brings in stats for home video rentals and sales, as well as an overall look at streaming revenues. We'll get to that, but first, let's talk about this whole thing with The Accountant.
Studios traditionally hold home video numbers close to their vest—it makes it easier to screw over people who have profit-sharing in their contracts. Full sales figures on the individual films aren't included, but we do get a picture of the winners and losers based on their rankings. The Accountant won out in rentals across the board, followed by Moana and Wonder Woman.
Critics were divided when The Accountant first hit theaters in October 2016. It features sad Affleck as a high-functioning autistic accountant who cooks the books for bad guys and is also a badass assassin dude who kills bad guys when they want to kill him. Affleck does math problems on office windows, as savants are known to do; he struggles with the social limitations autism can bring; and he's just great at killing because, you know, he's smart and good at concentrating.
G/O Media may get a commission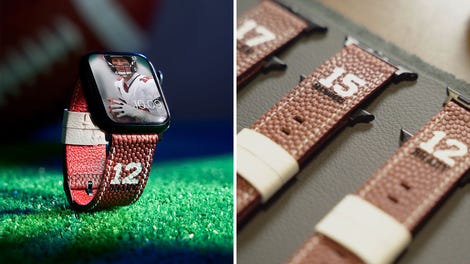 Official NFL PRODUCTS
Official NFL Apple Watch Bands
And reader, let me tell ya, it's worth a watch. Your mileage may vary on whether it treats autism with proper respect. Some within the autistic community criticized its portrayal of the disorder, while others felt it showed that a person with autism can be a highly capable member of a team. One thing is certain, no person on Earth is the kind of superhuman Affleck portrays, but the movie is a pretty good dumb thriller if you don't think too hard about it. Our colleagues at Deadspin asked 24 questions about the film after finding it absolutely baffling, and that's 24 more questions than should ever be asked.
But The Accountant's rank also gives us a little insight into what kind of movies people choose to watch at home. The movie made about $86 million at the domestic box office—a solid hit on a $44 million budget, but no blockbuster. There was still plenty of room for people to catch up at home. Meanwhile, Rogue One doesn't even make the digital rentals list but comes in at number three on the sales chart. Everybody saw Rogue One. Crossover between rentals and sales seems to heavily tilt towards films parents are getting for their kids to watch over again a million times.
As for streaming, companies like Netflix don't like to give out numbers for individual movies and shows, but online video subscriptions have more than doubled since 2013, hitting 157 million subscribers this year. All other forms of premium television declined slightly. All-in-all, revenues from digital services were up 31 percent year-over-year.
The average time adults spent consuming media declined across all legacy formats, including on desktops and laptops. Only mobile and "other connected devices" saw increases in time spent. David Lynch is absolutely furious with all of you.
[MPAA via The Hollywood Reporter]