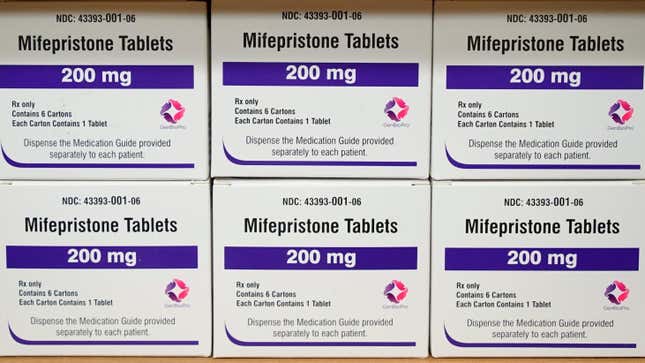 The Food and Drug Administration has made a temporary change permanent. The agency officially scrapped a long-standing requirement that people seeking abortion pills pick up their prescriptions from a medical provider in person. With the change, the FDA has finalized expanded access to medication abortion, allowing the pills to be prescribed via telehealth visits and ordered through online and retail pharmacies.

Lions on Oxytocin are Surprisingly Chill
Mifepristone, one of a combo of two medications often used for abortions in the U.S., has been regulated under the Risk Evaluation and Mitigation Strategy program (REMS) since 2011. REMS drugs are supposed to be those that come with serious safety concerns. Under the designation the FDA can institute specific restrictions intended to minimize harm.
However, the abortion pill's classification as a REMS medication is controversial. Healthcare access advocates and reproductive health experts often contest mifepristone's inclusion in the program, arguing the restrictions simply make the pills harder to get—not safer. And studies have shown mifepristone is just as safe to use as many other commonly prescribed drugs, even when prescribed virtually.
As part of the REMS restrictions on abortion pills, the FDA had officially required that mifepristone be dispensed in-person and "only in certain health care settings, specifically clinics, medical offices, and hospitals," for about a decade. But during the first couple years of the pandemic, the Biden Administration temporarily paused enforcement on that restriction. Clinics were shut down, hospitals were difficult to access, and people still needed abortion care. So, the administration declared that the pills could be sent via mail.
Then, in December 2021, the FDA announced that it intended to remove the in-person requirement, and open up mifepristone prescriptions to a much wider array of pharmacies for good. Finally, more than a year later, that modification has been reviewed and approved. What was once a pause in enforcement has now become a permanent adjustment, enshrined in FDA policy.
The agency didn't issue a statement or news release about the change, but rather quietly updated its information page and FAQs about mifepristone on its website to reflect the update.
Not all abortions can be done via medication. For instance, the pills are only prescribed in the first trimester of a pregnancy, and are much less safe and effective after that. However, more than half of abortions in the U.S. are carried out with pills, as opposed to an in-office procedure, according to a 2022 analysis from the Guttmacher Institute. Removing barriers like the former "in-person" prescription pick-up mandate, makes abortion something many more people will be able to readily access.
Yet the change won't effect everyone. In the wake of the repeal of Roe v. Wade, many states have passes laws banning abortion pills altogether and many other states highly regulate the drugs. For people who live in states with restrictive abortion laws, the FDA's national policy doesn't make much of a difference when it comes to legally accessing abortion care. For those people, traveling out of state or self-managing their abortions remain some of the only avenues for terminating pregnancy.
And even with the shift, pharmacies (both online or retail) will still need to complete some additional administrative paperwork to meet the FDA's requirements. So far, it's unclear how major pharmacy chains around the U.S. will respond.
"We're reviewing the FDA's updated Risk Evaluation and Mitigation Strategy (REMS) drug safety program for mifepristone to determine the requirements to dispense in states that do not restrict the dispensing of medications prescribed for elective termination of pregnancy," wrote CVS spokesperson, Amy Thibault, in an email to Gizmodo.
A Walgreens spokesperson, Fraser Engerman, told Gizmodo, "we look forward to reviewing the FDA's announcement and Mifepristone REMS program, and we will continue to enable our pharmacists to dispense medications consistent with federal and state law." And a Rite Aid spokesperson wrote,"we are reviewing FDA action and remain committed to complying with federal and state law."
Update 1/4/2023, 11:54 a.m. ET: This post has been updated with comment from a Walgreens spokesperson.
Update 1/4/2023, 3:41 p.m. ET: This post has been updated with comment from a Rite Aid spokesperson.