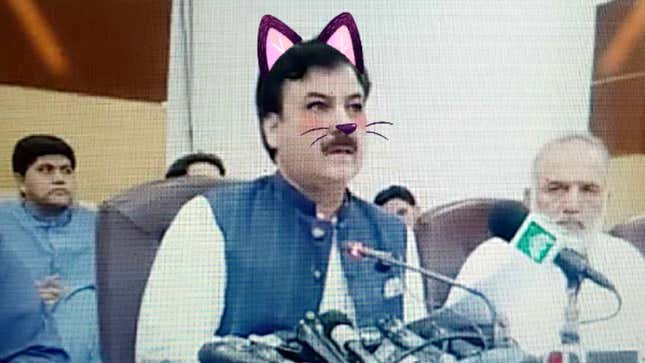 No, Shaukat Yousafzai is not a furry. The regional Pakistani minister just happened to be on the wrong (perhaps right?) end of a social media snafu. During a press briefing that was streamed on Facebook Live, an AR cat filter was left on, leaving Yousafzai with dainty pink ears, whiskers, and a bit of a blush.
Meet Microsoft's New Surface Laptops
Yousafzai wasn't the only one either. Two other officials were spotted with cat ears and whiskers. According to CNN, the politician was addressing a variety of local issues at the live event. Viewers had a good time laughing at the gaffe on Facebook, but the video was promptly deleted from Facebook a few minutes after the press conference.
The Pakistan Tehreek-e-Insaf party—of which Yousafzai is a member—issued a clarification on Twitter on the issue. In it, the party said the goof was caused by a "human error" from a volunteer, and that "all necessary actions have been taken to avoid such incident in future" by strictly sticking to live coverage protocols.
For his part, Yousafzai seems to be taking his internet notoriety in stride. According to the BBC, it was broadcast on Pakistan Tehreek-e-Insaf's official Facebook page and Yousafzai later told reporters that it was a "mistake" and shouldn't be taken seriously.
The video may have been deleted, but thankfully the screen grabs live on. If only U.S. politics were this sort of entertaining and not despair-inducing.