Last year, an Atlantic article introduced us to an activist group run by a former North Korean who now uses balloons to airlift information and technology into into the tightly-controlled country. Now, its members want to use their balloons to tote in copies of The Interview, Sony's beleaguered comedy about Kim Jong-un.
Over the past few years, Fighters for a Free North Korea have used hydrogen balloons to pilot everything from radios to DVDs into the country, along with information about the outside world. It's a low-tech approach to disseminating information—but that's what makes it effective, according to its founders.
This week, as the group behind the Sony hack stepped up its threats about Sony's forthcoming North Korea-skewering comedy The Interview, the Hollywood Reporter spoke to Thor Halvorssen, the author of The Atlantic piece and the founder of the Human Rights Foundation (a group that funds the drops). Halvorssen says that they'll be adding copies of The Interview to their airlifting operations "as soon as possible."
Halvorssen—himself a filmmaker—also argues that film has played an unlikely role in spreading information about the world through North Korea:
Halvorssen says Hollywood is largely unaware that its product is being used so effectively in this way. At the Oslo Freedom Forum in October, a 21-year-old North Korean escapee named Yeonmi Park, now an intern with Halvorssen's group, described how viewing a black-market copy of James Cameron's Titanic was a life-changing event.
"When I was growing up in North Korea, I never saw anything about love stories between men and women," she said. "Every story was to brainwash about the Kim dictators. A turning point in my life was when I saw the movie Titanic… I was wondering if the director and the actors would be killed."
G/O Media may get a commission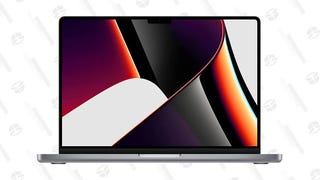 Save $300
2021 14" 1TB MacBook Pro
Though the mission of Fighters for a Free North Korea is to disseminate information and culture from the outside world within North Korea, it's tough to know exactly how valuable Seth Rogen and James Franco will be in this case—especially considering the danger associated with watching movies inside North Korea. Either way, Halvorssen says that the next drop is planned for January—if The Interview is out on DVD by then, it'll be on it. [Hollywood Reporter]
Image: AP Photo/Ahn Young-joon.