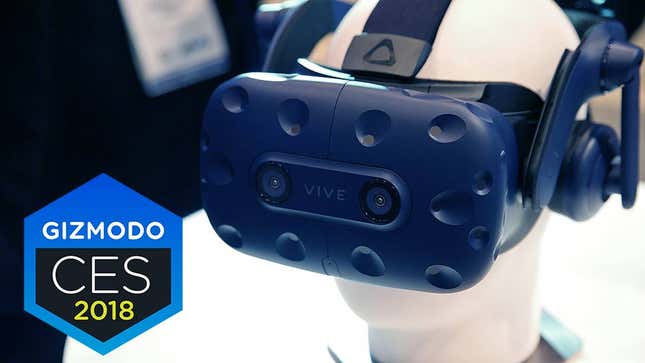 When the Oculus Rift and HTC Vive came out in 2016, we entered a new era of virtual reality. No longer would people think of half-assed fever dreams like Lawnmower Man, or ambitious but profound failures like Nintendo's Virtual Boy anytime VR gets mentioned. Even so, modern VR still hasn't caught on. It's awkward, it's expensive, and most of the games and apps still feel like tech demos. But earlier this week, a new piece of VR tech reminded me why the headsets are much more than gimmicks. 

Did Elon Musk Regret Buying Twitter? | Walter Isaacson Interview
That's because when I put on the Vive's recently upgraded headset outfitted with the company's wireless adapter, I was transported to a place where I could walk around more freely in virtual reality than I ever had before. I became momentarily untethered from meat space, and immersed in world where I could run laps around the legions of hell, able to live out all my Doom guy fantasies about running a million miles an hour across the sands Mars, shotgun in hand.

Announced earlier this week at CES, the Vive Pro and the Vive Wireless Adatper (price and availability still TBD), are forging a path to what could become the third stage in the evolution of virtual reality. It might not sound like much, but by increasing resolution by 78 percent and tacking on built-in headphones capable of putting out 3D spatial sound, Vive is proving that the last two years of VR's infancy haven't been wasted.
But by far the biggest win is that Vive's new tech has essentially eliminated the need for cords. The sense of freedom you get by not having to worry about cables tangling at your feet or wires coming out of the back of your head will now haunt me anytime I need to use archaic devices like the Oculus Rift or first-gen Vive. There's no going back. And if you haven't tried a modern VR headset out yet, just hold off, and be glad you can skip over an awkward phase in modern VR development.
Now wait, you'll say, what about the cheaper and infinitely more accessible versions of virtual reality such as Samsung's Gear VR and Google's Daydream View? Yes, it's true, those systems don't need wires either, that's why they were made. Up until the birth of desktop VR, no one really had a need for high quality wireless video transmission, and smartphone-based headsets were a cheap way to sidestep that issue. The problem is that their optics are bad, and their graphics performance is even worse, because everything is being powered by a smartphone, which can't deliver anywhere near the kind of oomph you can get from a desktop PC.
Thanks to the power of today's latest GPUs sending video wirelessly to a Vive Pro, you get the best of everything, including high-res images, almost non-existent latency, and the ability to explore other dimensions almost entirely unencumbered. Now, you can duck, dodge, and spin out of the way of an oncoming bullet in a game like Superhot, with nothing holding you back besides your weak, flabby body; you are the controller, not the plastic shit that's been strapped on to you.
Now, with the issues of wires essentially solved, developers can tackle issues like the Vive Pro's field of view, which like the Oculus Rift, had stayed pat at just 110 degrees. Or we can look to improve the controller, possibly transforming it into something like a modern day Power Glove complete with haptic feedback so can touch and feel in VR. While there's still work to be done, a big hurdle is now behind us.
It feels like rules of VR development are different after this. Instead of being forced to keep things slow to prevent the hardware from holding things back, content creators can pick up the pace. Yeah, some folks will still have a hard time coping with the increased speed, but for others like me, who aren't bothered by VR-induced nausea, I'm hoping VR devs take this chance to really fuck my shit up.
However, even with Vive's latest advancements, it's still easy to remain skeptical about the future of VR. Even with over 2000 apps available between Steam and Viveport, VR content still feels a bit thin. But the wireless adapter, along with increased resolution, and better audio mean we have gotten that much closer.