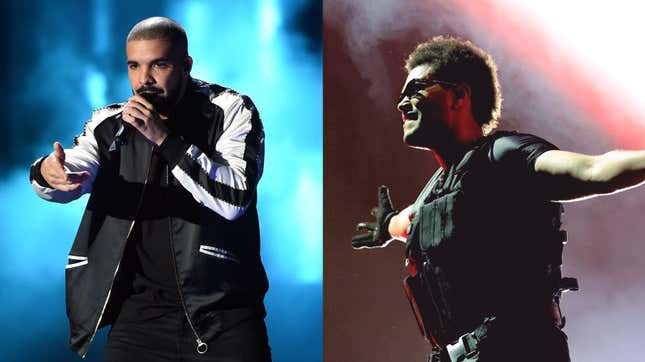 As the tidal wave of hare-brained AI innovation continues to slam into our society, music is proving to be a battleground. After an AI-generated song called "Heart on My Sleeve" mimicked Drake and The Weeknd's vocals and stylings, that same song has been submitted to the Grammys.
If An AI Reworks Copyrighted Images, Is It Art? | Future Tech
The track was developed by a mysterious persona known simply as Ghostwriter977 and featured vocals created with artificial intelligence. Now, Ghostwriter977 has reportedly submitted the track to the music industry's most coveted award ceremony in the Best Rap Song and Song of the Year categories according to Variety. The submission comes as the music industry is still figuring out how to move forward with the existential threat of AI displacing human producers, songwriters, and composers. While the song was promptly pulled from streaming services, it's apparently completely eligible to be considered for a Grammy.
"I knew right away as soon as I heard that record that it was going to be something that we had to grapple with from an Academy standpoint, but also from a music community and industry standpoint," Recording Academy CEO Harvey Mason Jr. said to the New York Times. He also said: "As far as the creative side, it's absolutely eligible because it was written by a human."
Earlier this summer, Mason Jr. laid out the new rules for how the Recording Academy would be handling AI submissions. Mason Jr. said that AI-assisted music can be submitted, but only the humans, who must have "contributed heavily," will actually be awarded. For example, in a songwriting category like Song of the Year, a majority of the nominated song would have to be written by a human creator, not a text-based generative AI like ChatGPT. Since Ghostwriter977 is a human, they would win the award, not The Weeknd or Drake—though it's not clear how Grammy voters will respond to one of their own being spoofed by a computer.
Drake and The Weeknd are not the only artists being impersonated by a computer program. Ghostwriter977 recently revealed on Twitter that they had created a song with the voices of 21 Savage and Travis Scott (and it sounds scarily accurate). At the same time bogus Frank Ocean tracks were sold for thousands of dollars online—those tracks were touted as unreleased leaks but were created with AI. Universal Music Group also begged streaming services to prevent AI from accessing music data in a bid to stop the proliferation of training AI to sound like popular musicians. More recently, Spotify has purged thousands of AI-generated songs from the platform.