Tiliisia Sisto, a 23-year-old mother of two, became a hunter this year. Sisto lives in Venetie, Alaska, a Gwich'in Alaska Native village, and if she wants to eat affordably while also preserving her culture, hunting is key. So are the Porcupine caribou she and her people rely on.
Now, a federal proposal to open the Arctic lands on which these caribou calve to oil and gas drilling threatens the Gwich'in's primary food source and their way of life. That's why Sisto traveled all the way to New York City this week to ask major banks to withhold funding for projects seeking to develop the Coastal Plain of the Arctic National Wildlife Refuge (ANWR). The Trump administration has been trying to fast-track an environmental impact statement to get extraction going here since the beginning of the year.
Sisto, along with Bernadette Demientieff, the executive director of the Gwich'in Steering Committee, and two representatives with the Sierra Club, met with officials from eight banks this week—JP Morgan Chase, Barclays, Goldman Sachs, Bank of America, Morgan Stanley, Credit Suisse, UBS, and Citi—to explain why this 1.5 million-acre piece of land is so sacred to them. They want these institutions to understand that drilling in the refuge is not just an environmental issue.
"This is a human rights violation," Demientieff told Earther.
Ultimately, the group wants the banks to publicly declare they're opposed to drilling in this area and pledge they won't financially support any such efforts. No banks made any promises, but Demientieff, at least, left feeling "hopeful", she said. Earther reached out to the banks for comment, and most have not answered as of publication.
G/O Media may get a commission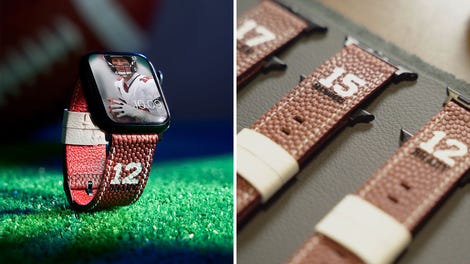 Official NFL PRODUCTS
Official NFL Apple Watch Bands
Bank of America directed Earther to its environmental website outlining its environmental commitments to regions like the Arctic but offered no additional information on how it plans to proceed. Credit Suisse and UBS confirmed the meetings but offered no specific information outside their commitments to protecting the environment and respecting indigenous communities.
Alaska already sees plenty of oil extraction, but things have been revving up under President Trump. Wednesday, for example, the Bureau of Ocean Energy Management approved the first oil and gas wells in federal waters off the state's northern coast. And while ANWR has historically been off-limits to the oil and gas industry, companies have been trying to change that for decades. By the end of last year, the refuge was open for business after the GOP-led tax package snuck in a little bill to open up the land for oil and gas leasing.
Since it was formed in 1988, the Gwich'in Steering Committee has fought to keep development out of the Coastal Plain, which may contain some 7.7 billion barrels of oil. Seismic surveys done in the '80s have left notable scars on the landscape. Opponents worry more such surveys and additional extractive development could change the nearly 200,000-strong Porcupine caribou herd's migration route that the Gwich'in follow to hunt.
And there's a reason the animals come here every year: the Coastal Plain is their refuge from mosquitos and predators. Without it, people like Demientieff and Sisto worry the animals won't be able to survive. Protecting the herd's future is personal for these mothers.
"I'm speaking up for my children's future," said Demientieff.
Right now, they're waiting for the Bureau of Land Management to release the official environmental impact statement for the the proposed leasing program. In May, three companies jointly applied for a permit to begin seismic surveying this winter. Whether that'll actually happen remains up in the air. The environmental impact statement must come first.
The Gwich'in deem the Coastal Plain so sacred that they don't even visit it. However, if and when the trucks start rolling through, Demientieff says they'll be there—ready to take direct action and stop them at whatever cost.
Update: The story has been updated to include comments from some banks that responded to our requests.