Frequently shirtless supplement salesman and Infowars founder Alex Jones, whose small media empire has been fully or partially banned from virtually every major internet platform, is suing to get back on PayPal.

PayPal was late to the party, only banning Infowars and its affiliated Prison Planet website on September 21st over Jones' long history of harassment and hate speech—weeks after Apple got it started by removing many of his podcasts in August. While removing Jones from Apple and other platforms like Facebook, YouTube, and Twitter primarily impacted his reach, the PayPal ban directly affects core revenue streams like his dubious supplement business. As the New York Times noted, at the time Jones was granted a 10-day grace period to continue using PayPal, but after that it's unclear how he can continue processing transactions on his website. Other payment processors like Square have similar policies against hate speech, so he may be relegated to selling through his Amazon store or eBay, the paper wrote.
According to Courthouse News, Jones has already filed suit, complaining that PayPal engaged in "viewpoint discrimination" by cutting off services to his companies:
"It is at this point well known that large tech companies, located primarily in Silicon Valley, are discriminating against politically conservative entities and individuals, including banning them from social media platforms such as Twitter, based solely on their political and ideological viewpoints," Jones' company, Free Speech Systems, states in a 15-page complaint.

... Jones claims PayPal's decision was based purely on "viewpoint discrimination." He also says the decision was made based on conduct that "had nothing to do with" the PayPal platform, which purportedly violates Infowars' contract with the payment-processing giant.

Were PayPal's decision allowed to stand, it would set "a dangerous precedent for any person or entity with controversial views," Jones' company claims in its lawsuit.
In his 15-page complaint, Jones also argued that PayPal policies prohibiting "the promotion of hate, violence, racial or other forms of intolerance that is discriminatory" are "purposely vague, and could conceivably (and unconscionably) be applied to any speech at all, given the opaque manner in which PayPal has applied them." Of course, Jones agreed to those terms when he signed up for PayPal, and the Times noted a PayPal spokesperson said the company had determined Jones' violations reached beyond any singular rule.
Jones demands both damages and a court order preventing PayPal from imposing permanent restrictions on his accounts.
G/O Media may get a commission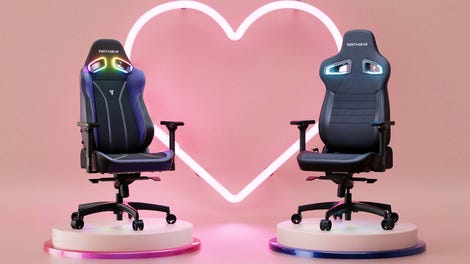 Up to $150 off
Vertagear Gaming Chairs
"PayPal is aware of the filing and believes the claims in the complaint are without merit," PayPal spokesperson Justin Higgins told Courthouse News via email. "PayPal looks forward to vigorously defending itself."
PayPal booted a number of accounts belonging to members of racist, far-right groups last year without any apparent legal repercussions. A somewhat similar lawsuit by white supremacist Jared Taylor against Twitter claiming that his ban from that platform constituted discrimination (and represented by Marc Rendazza, the same attorney representing Jones in this case) was thrown out by a California state appeals court.
Web traffic to Infowars plummeted following the social network bans, but it's clear why the PayPal ban in particular is enraging for him. In a September profile, the Times noted that Jones' businesses (and mostly supplement sales) were bringing in $20 million a year by 2014, enabling him to go on lavish spending sprees:
Court records in a divorce case show that Mr. Jones's businesses netted more than $5 million in 2014. Court proceedings show that he and his then-wife, Kelly Jones, embarked on plans to build a swimming pool complex around that time featuring a waterfall and dining cabana with a stone fireplace. Mr. Jones bought four Rolex watches in one day in 2014, and spent $40,000 on a saltwater aquarium; the couple's assets at the time included a $70,000 grand piano, $50,000 in firearms and $752,000 in silver, gold and precious metals, in a safe deposit box, court documents say.
Jones' current legal battles are far from limited to the PayPal case. He is facing down multiple ongoing defamation lawsuits brought by families of mass shooting victims and others he has accused of being nefarious deep state operatives, putting him under yet more financial pressure.