Marvel takes over Star Wars comics next year with the release of its new ongoing series, and naturally there's a lot of variant covers planned for issue one - we've already seen Joe Quesada's jam-packed cover, but Alex Ross' is a truly special bit of art.
Entertainment Weekly unveiled the cover this past Monday - check it out in its full glory below:
If you know your Star Wars history, it should be a very familiar sight:
G/O Media may get a commission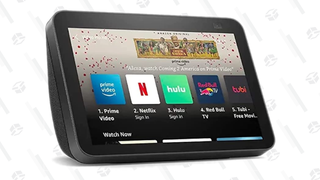 2015 isn't the first time Marvel have dabbled with Star Wars comics - they ran a series based on 'The greatest Space-Fantasy Film of all' from 1977 to 1986, adapting the original trilogy as well as playing host to a whole trove of original adventures in a Galaxy far, far away. Now Ross has paid fitting tribute to that legacy by emulating the cover drawn by Howard Chaykin for 1977's Star Wars #1.
Marvel's ongoing Star Wars series hits shelves in January 2015.
---
You're reading Toybox, io9's new blog for all things pop culture. From merchandise to awesome fan creations, TV recaps and critical commentary on the hot topics of the day, you can find it all here!