We spoke to Mrs. Mal Reynolds herself — Christina Hendricks, about comics and other-worldly heroes.
What sort of comics has the Mad Men star picked up since taking on the role of Lois Lane in the animated version of All-Star Superman? We also chatted with Hendricks and her husband Geoffrey Arend (Devil, Super Troopers) about Manga, The Wonder Woman rumors, and her last run-in with Joss Whedon. Is there an Avengers role in her future?
Watch the video of our exclusive interview:
Do you guys read comics?
Arend: Yes, well I do.
Hendricks: I'm a newcomer!
Arend: I've gotten Christina into reading comics. We've been reading a lot of Japanese comics — early Manga like Lone Wolf and Cub, the Push Man Chronicles, things like that. Cool stuff.
Did you pick up the original All-Star Superman?
Hendricks: No, this was an introduction for me, actually. It was all new to me. Jeffrey was familiar with it, but it was new to me.
G/O Media may get a commission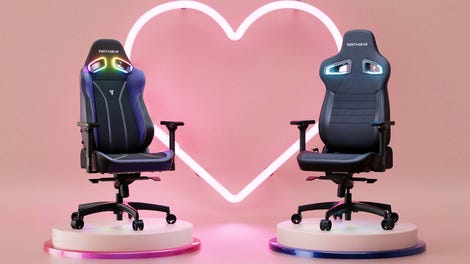 Up to $150 off
Vertagear Gaming Chairs
When people watch the film are people going to hear your voice or a variation of your voice (as Lois Lane)?
Hendricks: They'll hear my voice. I think I naturally change my voice a little bit with each character. So I'm sure I'll even be surprised when I hear it. But I was just trying to take her on an adventure and be true to her.
What's the craziest rumor you've heard with comic book movie and your name attached to it?
Hendricks: I keep hearing the rumor about Wonder Woman, which is flattering and awesome, and I'm not sure where it got started. It's a fun rumor to hear about. No one has approached me to play Wonder Woman at all. But I like that people would think of me as her.
Arend: I think of you as Wonder Woman, you'd kill that part.
But you'd definitely be open to it, because there's a TV show in the works?
Hendricks: Yeah, the thing is I'm already on a TV show. Right now my first love is Mad Men.
So has doing this movie inspired you to pick up any other comics?
Hendricks: Yes actually, Jeffery has brought a few to me, I was saying that I just read something called Mother... It was gorgoues, I reall
Arend: I can't remember who the author is either, but it was really beautiful, one shot graphic novel.
Hendricks: Yeah, and he got me into Sandman.
Arend: We're working our way up to the true tights and capes superhero stuff.
Did you ever get an offer for a spin-off or comic for your Firefly [EDIT I know I said Serenity I meant Firefly apologies] character?
No I never did. But I saw Joss Whedon the other day and said hello. He seems well.
He's not panicked over The Avengers?
He seemed very calm and cool, he seemed good. But no — by the time Firefly ended, I think everyone had moved on to other projects. But we were all sad about it, it was really fun. And I would have loved to gone back.
After that tantalizing Joss Whedon mention, we followed up with Hendricks in the press room and asked her if she would be interested in pursuing a role in The Avengers, and while she said she would love to work with Joss again (because he's fantastic and easy to work with) she didn't think there was a role for her in The Avengers. But on a more adorable note, she got sent a Saffron Barbie by one awesome fan a long time ago (so now she has a Mad Men Barbie and a Saffron Barbie).
All-Star Superman Trailer
Lex Luthor All-Star Superman Clip
All-Star Superman Clip
All-Star Superman hits stores February 22.