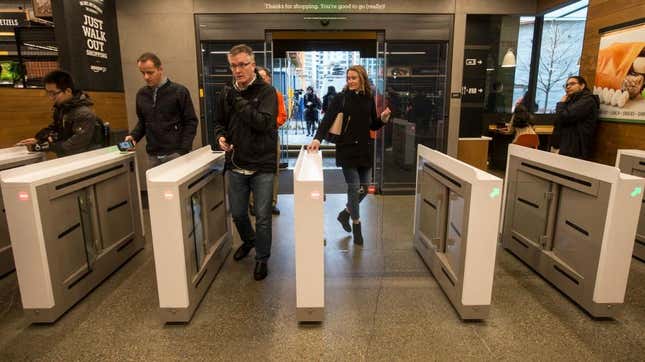 Amazon is facing a class-action lawsuit that was filed on Thursday, claiming the company did not inform Amazon Go customers that they were being recorded at its New York City location. According to the lawsuit, Amazon was in violation of the Biometric Identifier Information Law passed in 2021 which requires all New York City establishments to post a sign informing customers or visitors that their biometrics are being recorded.
Top 5 Shopping Tips for Amazon Prime Day
Plaintiff Rodriguez Perez claims in the lawsuit, seen by Gizmodo, that he sent a letter to Amazon on February 7, 2023, to inform the company that it did not have a conspicuous sign at its Amazon Go store at 80 Pine Street. He claims he informed the store that it was in violation of the city's law by collecting customers' biometric identifier information without posting a sign notifying customers. Perez claims the company did not respond to his letter, nor was a sign immediately posted outside the door, the lawsuit says.
Filed Complaint Rodriguez Perez v Amazon by GMG Editorial on Scribd
Amazon denies the claims and a spokesperson said in an emailed statement to Gizmodo, "We do not use facial recognition technology in any of our stores, and claims made otherwise are false." The spokesperson clarified, "Only shoppers who choose to enroll in Amazon One and choose to be identified by hovering their palm over the Amazon One device have their palm-biometric data securely collected, and these individuals are provided the appropriate privacy disclosures during the enrollment process. The customer is always in control of when they choose to be identified using their palm."
Amazon opened its collect-and-go store in New York City in 2019, which marketed itself as a place where customers could shop and simply leave the store without stepping up to a cash register or dealing with a cashier. The company says it uses computer vision, deep learning algorithms, and sensor fusion to track consumers' "virtual carts" to notate when they put an item in their cart or take it off the tab if they remove it.
Customers can enter the store by scanning a QR code on their Amazon app, by scanning their credit card which is linked to their account, or by hovering and scanning their palm over the scanner, which is also linked to their Amazon account. The lawsuit claims that the store continues to obtain the customers' biometric information by tracking them based on the shape and size of the individual's body, and continues to analyze their movements until they leave the store.
Perez claims that although Amazon did put up a sign on March 13, it was misleading and incorrect because it "fails to disclose that Amazon converts and retains biometric identifier information. Even worse, the sign informs customers that Amazon will not collect biometric identifier information on them unless they use the Amazon One palm scanner to enter the Amazon Go store, even though Amazon Go stores do collect biometric identifier information."
According to the law, violators have 30 days after the complaint is issued to comply or can face hefty penalties and litigation. If the company is found to be in violation, it would face upwards of $500 for each violation, up to $500 for each negligent sale violation, and up to $5,000 for each intentional or reckless sale violation.
The lawsuit states that Perez is demanding a trial by jury and is seeking damages for himself and "other Amazon customers whose rights were violated by Amazon."
Correction 3/16/2023 5:14 p.m. ET: A previous version of this story said Amazon was being accused of violating New York City's facial recognition law, when it should have said the city's biometric surveillance law.