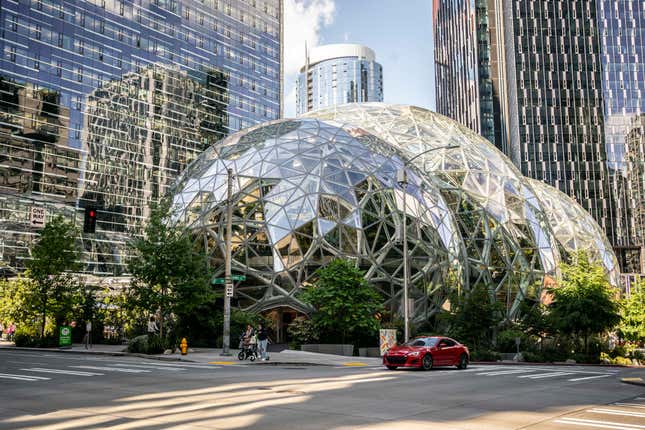 In an email to staff this morning, Amazon CEO Andy Jassy announced another round of layoffs at the massive tech corporation—this time resulting in 9,000 Amazon employees losing their jobs. According to the memo, which was obtained by CNBC, the affected departments include Amazon Web Services, human resources, advertising, and Twitch live streaming.

Uh Oh, Amazon Bought Your Favorite Robot Company
The move comes after Amazon announced it was axing a total of 18,000 positions earlier this year. Amazon went on a pandemic-fueled hiring spree after covid-19 lockdowns saw the tech industry as a whole boom as people used their computers more than ever. Now, that bubble is bursting.
"Some may ask why we didn't announce these role reductions with the ones we announced a couple months ago," said Amazon CEO Andy Jassy in the memo distributed this morning, as quoted by Axios. "The short answer is that not all of the teams were done with their analyses in the late fall; and rather than rush through these assessments without the appropriate diligence, we chose to share these decisions as we've made them so people had the information as soon as possible."
Amazon is not the only tech company feeling the economic heat over the past few months. Google announced in January that it would be cutting 12,000 jobs in its largest swath of layoffs ever, and employees at the company have recently petitioned this downsizing with a letter to CEO Sundar Pichai. Likewise, Meta CEO Mark Zuckerberg announced that the company will cut 10,000 staff in a continued "year of efficiency." 
This article is part of a developing story. Our writers and editors will be updating this page as new information is released. Please check back again in a few minutes to see the latest updates. Meanwhile, if you want more news coverage, check out our tech, science, or io9 front pages. And you can always see the most recent Gizmodo news stories at gizmodo.com/latest.