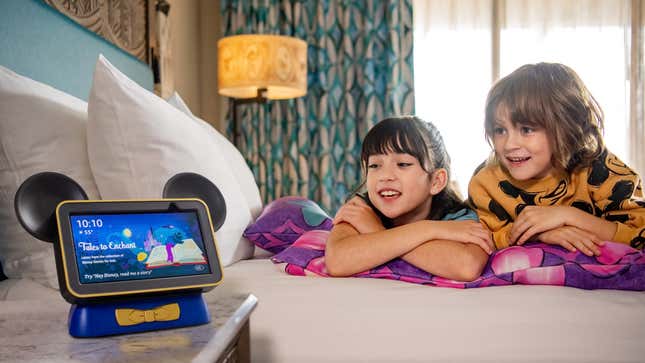 Admit it: your inner child has always wanted to talk to Mickey Mouse. Later this year, you'll be able to do so through an Amazon Alexa-powered speaker in your home. Disney and Amazon are bringing the "Hey Disney!" voice assistant to more users. Right now, it's only available in hotel rooms at Disney resorts. But soon, it'll be open to anyone with an Echo device.

Top 5 Shopping Tips for Amazon Prime Day
The "Hey Disney!" command uses Amazon's Alexa Custom Assistant (ACA), which Amazon introduced about two years ago so that companies could plug in their own branded assistant alongside Amazon's signature voice, Alexa. Disney calls their package the Disney Magical Companion, and it's available first in select hotel rooms at the company's Polynesian Village Resort in Florida. It's also slowly rolling out to Disneyland and Disney World hotels. Folks with Alexa at home will soon be able to interact with "Hey Disney!" via a paid Alexa skill, though the price has yet to be announced. The Disney assistant will automatically be unlocked if you already pay for an Amazon Kids profile.
The voice assistant provides access to more than 20 Disney, Pixar, and Star Wars characters. They include Mickey Mouse, Pluto, Dory from Finding Nemo, and Olaf from Frozen. You'll be able to request jokes, play games, and listen to Disney music and sounds.
Visitors accessing "Hey Disney" through Echo Show devices that are stationed at Disney resorts can ask questions about the parks or request service from the front desk. The assistant supports Disney's wearable, MagicBand+, which has become a significant part of the park experience in recent years. The wearable even lights up if you set the alarm through the Disney assistant.
Amazon says that while using the Disney commands at your hotel, there is no personal information exchanged between you and the device. "We designed this as an anonymous experience so that when a customer is interacting, Alexa doesn't know who is in the room," said Aaron Rubenson, VP of Alexa, in a video call with Gizmodo. "We don't need to know that."
Amazon is also announcing a new automotive integration at CES 2023. Panasonic Automotive Systems, run by Panasonic, plans to bring simultaneous Alexa and Siri integration in select automobiles. You'll be able to call on Apple's Siri for iPhone-specific commands and Amazon's Alexa for everything else. Like the "Hey Disney" assistant, cars enabled with this technology can discern whether you're commanding Siri or Alexa.
Both of these specific announcements are meant to showcase Amazon's commitment to "ambient intelligence" (Google calls their version of this "ambient computing.") The idea is that you walk from a room into your car, and it's the same experience across the board without having to interact with a screen or smartphone directly.