In another stunning display of its might, Amazon will be transforming an old post office building into a new Amazon office building. Canadian Prime Minister Justin Trudeau just announced that the Seattle-based online retailer will open a new tech hub on the site of a historic Canada Post building in Vancouver. The massive expansion is expected to bring 3,000 jobs to the city.
The location of Amazon's new tech hub, set to open in 2022, isn't quite ironic. It almost seems appropriate that a company that depends so heavily on postal service would occupy the hollowed out guts of a grand old post office. It would really be ironic if Amazon built a fulfillment center inside of the Vancouver General Post Office. Imagine: thousands of non-unionized workers stuffing boxes of goodies to be shipped out to homes by underpaid couriers. That would really be something.
Instead, the new Amazon office will be full of nerds working on things like machine learning, cloud computing, and of course, e-commerce technology. That isn't to say that Amazon's office jobs aren't soul-crushing. We have heard they are. Nevertheless, people doing office work in office buildings is nothing too shocking. The addition of a few thousand more jobs—raising the number of employees Amazon has in Canada by 50 percent, from 6,000 employees to 9,000 employees—provides further evidence that Amazon is taking over the world and there's nothing anybody can do about it except pay higher prices for Amazon Prime.
Despite the (quite literal) post office-crushing implications of Amazon's new tech hub, the online everything store is historically good for letter carriers. In the United States, at least, Amazon accounted for $7 billion of the US Postal Service's $19.5 billion in revenue. Almost 40 percent of all Amazon purchases actually went through the US Postal Postal service. Canada Post also ships many Amazon packages north of the border, though the company has been testing out its own in-house delivery service recently.
G/O Media may get a commission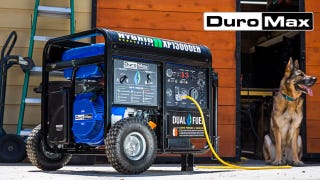 Black Friday Sale
DuroMax Generator Sale
So, in a word, this idea that a new Amazon tech hub will live in an old post office is simply poignant. There's a sadness about. The only thing more poignant would be for Amazon to build a giant warehouse where America's largest mall once stood. Oh wait, that already happened.