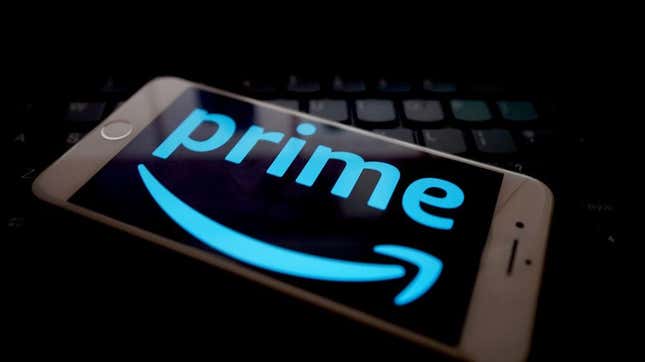 Amazon's prime members plateaued last year according to a Consumer Intelligence Research Partners (CIRP) report released this week. The number of subscribers has been in decline since July of last year, according to the CIRP, which claimed in the first six months of the year, Amazon Prime did not add net new members in the U.S.
Prime Day Ain't That 'Green'
Amazon spokesperson Maggie Sivon said in an emailed statement to Gizmodo that the CIRP's reports are false. "Just because an analyst firm reports something doesn't make it true or fact, and in this case, the research is not accurate," she said. "Prime membership continues to grow as the value members receive continues to increase."
CIRP claims there was a substantial change from 2020 and 2021 when the tech giant added 30 million U.S. members per year as reliance on online shopping grew during the height of the pandemic, bringing the total number of subscribers to 170 million, adding by June 2022, prime membership dropped to an estimated 168 million.
CIRP records consumer data using information from purchasing activity that allows the company to look into consumer behavior and corporate performance. It tracked the number of individuals using Amazon Prime for the first time, instead of focusing on the total number of paying households.
The news comes as Amazon's prime membership has steadily grown since 2013 when the company started tracking its internal Prime data which revealed a total of 17 million members at the time. CIRP's newest report on the estimated number of Prime members shows its growth has slowed considerably, potentially to a standstill.
"Based on these estimates, we find that Prime membership has essentially stopped growing in the US, after many years of extremely fast growth, and then modest growth in the last two or three years," the CIRP report said.
Although CIRP claims there was a significant drop in Prime membership, Amazon says there are more than 200 million members worldwide and attributed the increase to Amazon's launch of The Lord of the Rings: The Rings of Power, which the company says brought in more new members than past video content.
Prime membership has increased in recent years because of added perks for subscribers including Cyber Monday, Prime Day, and Black Friday deals, as well as Amazon Music, Grubhub+ membership trial, Buy with Prime, and Amazon Fresh.
Amazon has also begun quietly rolling out a Prime Lite membership in India, which the company says is only being offered on a limited basis. The benefits are set to include free two-day shipping, savings on shopping, and Prime Video's full catalog with ads for a reduced membership fee.
Prime Lite is an addition to the company's existing memberships including Prime Student and Prime Access which was recently added as a discounted membership for those who qualify for government assistance.
Sivon confirmed Prime Lite is being tested in India, telling Gizmodo, "We continue to invest and innovate to keep adding to the incredible value of Prime—offering members even more selection, exclusive deals, quality content, and convenience." She added, "As part of that, we're constantly testing new offerings to enable more people to enjoy these benefits. Prime Lite is one of these tests, just in India, to serve even more of our local customers."