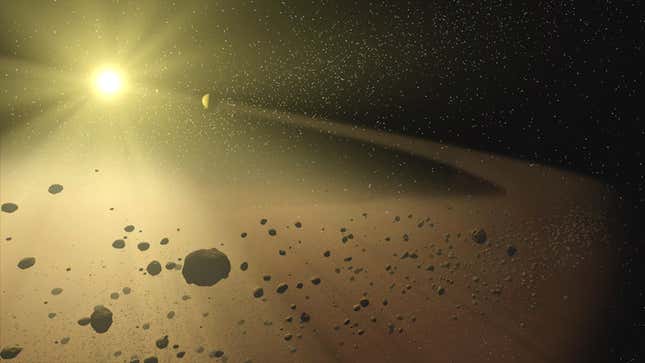 The United Arab Emirates' (UAE) space program may still be in its infancy, but the oil-rich country has big plans to surpass its inaugural Mars mission. For its upcoming mission to the main asteroid belt, the Arab nation has revealed the names of the seven space rocks to serve as its targets.
Astronomers Could Soon Get Warnings When SpaceX Satellites Threaten Their View
In a recently revealed poster that will be presented at the Asteroids, Comets, Meteors Conference from June 18 to 23 in Arizona, the UAE Space Agency announced that its upcoming spacecraft will fly by six asteroids and attempt to land on a seventh. The space agency is working with the University of Colorado's Laboratory for Atmospheric and Space Physics (LASP) on its asteroid mission, and also with private U.S. company Advanced Space. Readers might be familiar with NASA's CAPSTONE mission to the Moon, with Advanced Space providing the spacecraft.
The Emirates Mission to Explore the Asteroid Belt was first announced in 2021, and is scheduled to launch in 2028. Its target asteroids are 10253 Westerwald, 623 Chimaera, 13294 Rockox, 88055, 23871, 59980 with a landing attempt on 269 Justitia.
The asteroids all orbit the Sun in the main asteroid belt, which is nestled roughly between the orbits of Mars and Jupiter and contains millions of objects. In order to reach the asteroid belt, the Emirati spacecraft will conduct gravity-assist flybys of Venus, Earth, and Mars. The spacecraft will use a solar electric propulsion system for six high-speed flybys before attempting to land on 269 Justitia.

Named after the Roman goddess of justice, Justitia is one of the larger rocks in the main asteroid belt that was discovered in 1887. The asteroid is unusually red, a sign that it may contain organic material on its surface. Asteroids closer to the Sun tend to not contain organic compounds, leading some scientists to believe that 269 Justitia may be a trans-Neptunian object, meaning it originated in the outer solar system beyond Neptune, and was later dragged inwards towards the Sun millions of years ago, according to recent research.
The primary objectives of the UAE mission include understanding the origins of water-rich asteroids, assessing the potential of finding resources in asteroids, as well as developing space industry infrastructure in the UAE, according to the paper.
The gulf country seems to be getting the hang of this space business. In July 2020, the UAE launched the Hope mission to Mars, and the small probe has been delivering exciting data on the Red Planet and its moons for the past two years. The Emirati space venture marked the first interplanetary mission by an Arab country, signaling a new era for the UAE to start investing in its space ambitions.
For more spaceflight in your life, follow us on Twitter and bookmark Gizmodo's dedicated Spaceflight page.