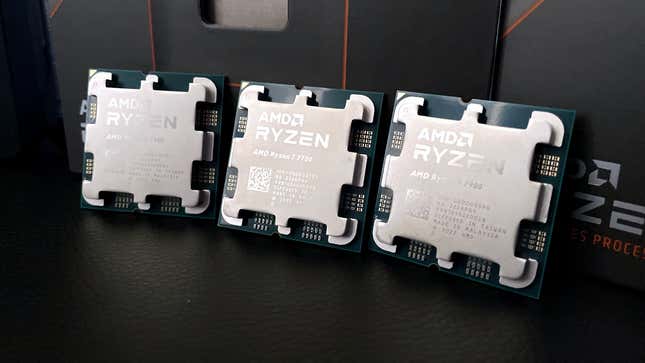 It is an exceptional time to be a PC hardware enthusiast – especially when it comes to CPUs! This past fall, we saw AMD and Intel trade blows with their latest silicon. With benefits on both sides of the aisle, modern system builders have a tough decision when it comes to deciding on a CPU platform.
How to Hide Your Sensitive Images in Google Photos
In our testing, we found that both Ryzen 7000 and 13th Gen Intel platforms provided fantastic performance, but they ran hot and were incredibly power hungry. It's a big flex on both sides, really, but not an uncommon strategy—show off what the chips can do first and then fill in the ranks with a variety of options.
And, with Dr. Lisa Su's CES 2023 keynote address, we are about to see the Ryzen 7000 series product stack bulk up! Enter the 65W Ryzen 7000 Series processors.
We got our hands on AMD's 65W, "non-X" Ryzen 7000 Series CPUs to put through the paces. I know, I know – these aren't the 3D V-cache variants that you're itching to see. Trust me: I can't wait to see those in the wild either. But hang in there; AMD's leaner and cheaper options might just surprise you!
Performance, Power, and Efficiency – Non-X Is Gon' Give It To You
If the power draw, thermals, and price range of the Ryzen 7000 series (or Intel's 13th Generation Core CPU series, for that matter) have been prohibitive or off-putting to you, AMD's non-X Ryzen 7000 Series CPUs provide a solution to those problems without requiring too much sacrifice.
These non-X CPUs offer the same core count and cache size as their closest X-family members while turning down the TDP by a fairly significant margin, especially at the higher end. Lower power drawn does translate into reduced base clock speeds across the product family, but the boost clock of the non-X CPUs run just about 200 MHz lower than their 7000X counterparts. We'll go into more detail in a bit, but this is fantastic news on a number of levels.
For the environmentally conscious or those simply looking to keep their power bill in check, the lower power draw means you have an option for a modern CPU that doesn't have to increase your utility usage. Is there a compromise? Sure. Is it worth it? We'll talk about that in a bit.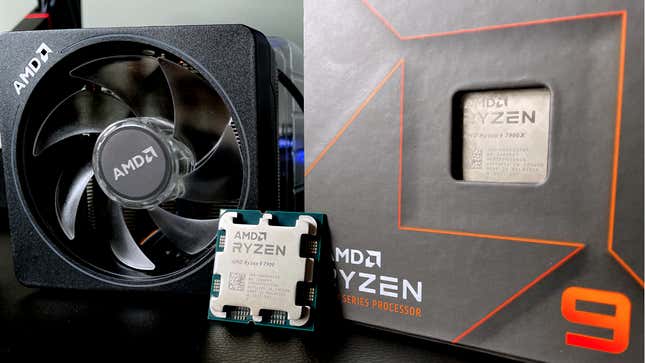 For those looking to build smaller form factor PCs or those that just don't trust anything but air cooling, the non-X Ryzen 7000 Series CPUs are designed for just that. AMD is so sure of that last part that it's bundling these processors with Wraith air coolers – Wraith Stealth for the Ryzen 5 7600 and Wraith Prism for the Ryzen 7 7700 and Ryzen 9 7900. Is that enough to tame those hot and beefy Zen cores? We'll talk more about that later.
With all of the features that the AM5 platform has to offer, such as AMD EXPO, PCIe 5.0, DDR5, and more, the Non-X Ryzen 7000 series shows some promise on paper, but can they deliver?
When it comes down to it, the specifications for the Ryzen 5 7600, Ryzen 7 7700, and Ryzen 9 7900 are, as stated above, very similar to those of their X-family counterparts.
Beginning at AMD's newest entry-level CPU, the Ryzen 5 7600 remains a six-core, twelve-thread (6C/12T) offering. Its 3.8GHz base clock leans closer to the 5600X (3.7GHz) than the 7600X's 4.7 GHz. Max boost speeds are a fair bit more similar, with the 7600 boosting up to 5.1GHz – 200MHz shy of the 7600X's 5.3GHz. However, this is all done at athermal design package (or TDP) similar to the 5600X: 65W. Not too shabby.
Moving on to the Ryzen 7 7700, we have an eight-core, sixteen thread (8C/16T) CPU with a base clock speed of 3.8GHz and max boost of 5.3GHz. For comparison with this generation of CPUs, the 7700X runs at a base clock of 4.5GHz and max boost speed of 5.4GHz, with a TDP of 105W. To look further back for comparison, the 5700X had a base clock of 3.4GHz and a max boost of 4.6GHz. While the 7700 leads the 5700X in overall speed, they share a similar thermal design power (TDP): 65W.
On the higher end, we have the Ryzen 7900 – a 12-core, 24 thread (12C/32T) powerhouse. Coming in at a base clock speed of 3.7 GHz and boost clock speed of 5.4 GHz, the 7900 trails its X-family counterpart by the largest margin (1GHz) while keeping in modest step at the top end. Again, for comparison, the Ryzen 7900X has a base clock of 4.7GHz and a max boost of 5.6GHz. That, however, is at a whopping TDP of 170W – 105W more than the 7900's 65W TDP.
Performance, Power, and A Picture of Non-X Zen 4 Performance
Strap yourselves in, because what I am about to show you may bake your noodle… but with less overall power draw and heat.
We made every effort to keep our testing parameters as close to our previous Ryzen 7000 Series and 13th Generation Intel Core processor testing methodologies as possible. Since we swapped motherboards between earlier testing, we retested the original Ryzen 7000 Series release alongside the non-X variants.
These numbers collected with our charts are out-of-the-box performance – no overclocking or no settings tweaks. The only features that we enabled were Smart Access Memory and an AMD EXPO profile for low memory latency and speed. The data from the Intel chips that you'll see reflects similar options.
For comparison, we are going to include test data collected from AMD's Zen 4 release (you can find our full reviews here and here) as well as the Core i9-13900K and Core i5-13600K. While Intel has announced its 65W Raptor Lake CPUs, we won't be drawing any comparisons to them. We will, however, be touching on data that was collected for Gizmodo's review of the Ryzen 5950X by Joanna Nelius.
Like with any testing, your mileage may vary! It is important to keep in mind while drawing comparisons between their data and mine that some testing environments were different, as was some of the equipment used for these tests.
Here is the hardware we used to collect our data from the Ryzen 7000 Series CPUs (X and non-X alike): X670E AORUS Master motherboard, NVIDIA RTX 3090 Founders Edition GPU, 32 GB G.Skill Trident Z5 NEO DDR5-6000 RAM, 1TB WD_Black SN770 M.2 NVMe SSD, NZXT C1000 Gold 1000W PSU, NZXT Kraken Z73 360mm all-in-one liquid cooler with three 120mm fans, and an NZXT H7 Elite mid-tower PC case equipped with four 140mm fans.
Now, on with the show!
Benchmark Breakdown: Productivity
For our productivity tests, we ran the same suite of software benchmarks that we ran the earlier Ryzen 7000 Series and 13th Generation Intel chips through. These tests highlight single and multi thread performance in scenarios that evaluate how each CPU performs under a variety of computational loads.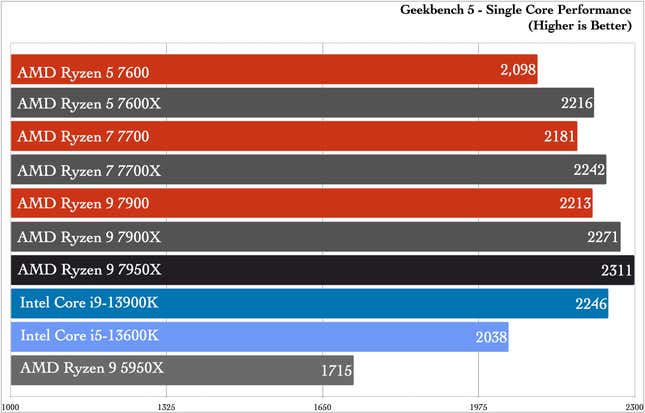 In Geekbench 5, we see a score relating to day-to-day, single thread tasks – things like web navigation, .PDF rendering, image compression, text compression, and more. Here we see the 7600 reach single thread performance within ~5% of the 7600X while superseding Intel's Core i5-13600K by 2.85%.
As we move up to the Ryzen 7, the 7700 scored within 2.72% of its juiced up brother, the 7700X, while trailing the 7600X by ~1.5%. This trend continues with the Ryzen 9 7900. We say the 7900 non-X comes within ~2.5% of the performance of the 7900X, ~1.3% of the 7700X, and ~1.4% of the Intel Core i9-13900K.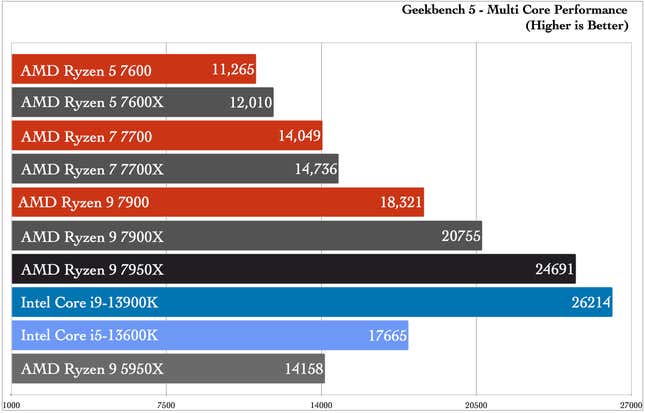 In the Geekbench 5 multi core test, we see scaling performance from the bottom of the Ryzen 7000 series to the top. While the 7600 gets within ~6% of the 7600X and the 7700 gets within ~4.6% of the 7700X, the delta between the 7900 and 7900X is far more wide. There is an ~11% performance difference at this stage.
While the 7900 does outperform the Core i5-13600K, it is nowhere near the multi core, multi thread power of the 7950X or the Core i9-13900K. However, when we look at these numbers from a generational standpoint, the Ryzen 7 7700 performed so closely to the previous generation's flagship CPU, the Ryzen 9 5950X. We'll see just how close these two get in our next test.
For all of our video encoding friends, we ran the non-X CPUs through Handbrake, converting a 4K video file to a 1080p30 file format. While the poor 7600 had a rough time keeping up with the rest of Zen 4, the 7700 hung out with the former Ryzen champ, hovering at a 1 second difference better than the 5950X.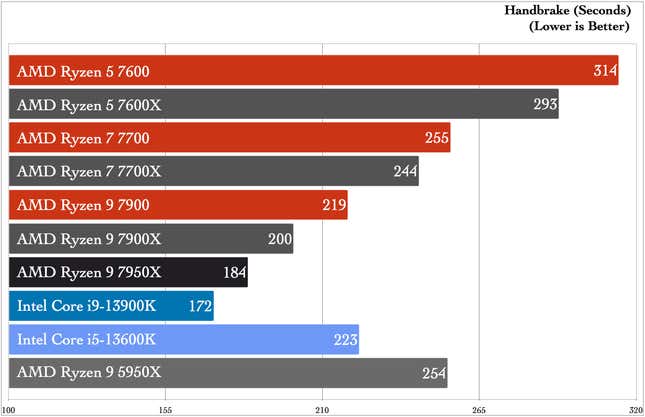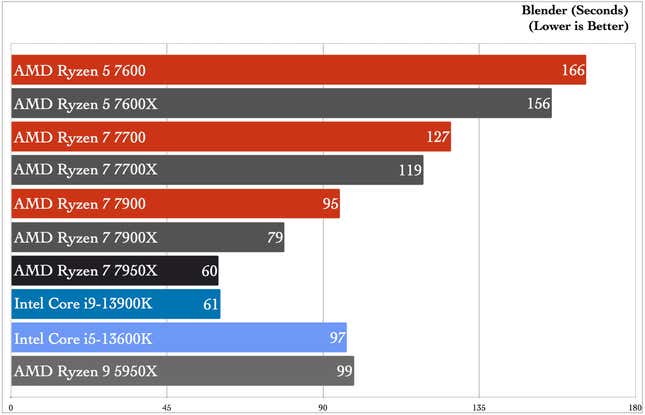 In Blender, we saw a similar picture of multi core, multi thread performance as we rendered everyone's favorite shiny, red BMW. The 7600 kept in closer step with the 7600X this time, but the 7700 might have gotten bit too full of itself in the last round. It fell 8 seconds behind the 7700X and a whopping 38 seconds behind the ever beefy dad-bod of the 5950X. The 7900, on the other hand, split the difference between the 7700X and the 7900X nicely.
Benchmark Breakdown: Gaming
To limit as much GPU dependency as possible, we ran each of our gaming tests at 1080p. This gives us the best picture of the CPU's impact on frame rate performance. These tests were taken from games that had synthetic benchmarks, allowing for repeatable, consistent data.
Instead of lumping all of the processors together in one chart, we're going to present them each within their product families. That way, you can see a clearer side by side comparison.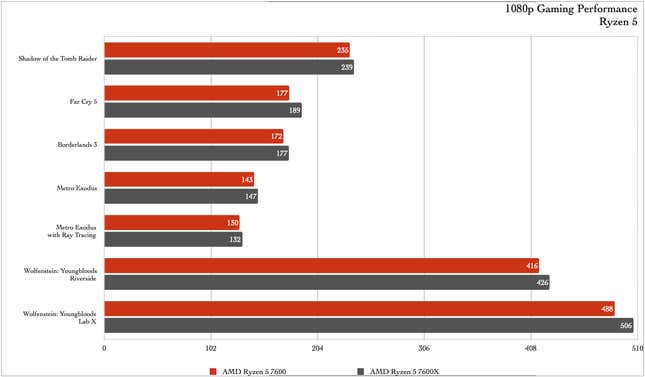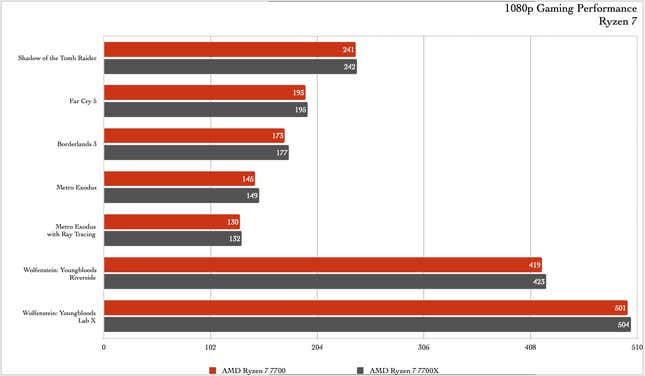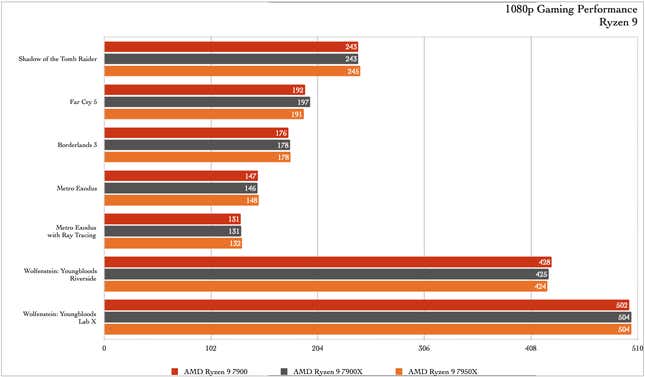 After compiling all of the averages across multiple benchmark runs, it's wild to see just how close these numbers are, especially with the Ryzen 7 7700 and Ryzen 9 7900 non-X CPUs. We mentioned this in our initial look at Zen 4, but it's worth mentioning again: Zen 4 as a platform is powerful at every price point. With the non-X CPUs, we have an even clearer picture of just how powerful it is. Not to leave the 7600 out of the conversation, the 65W Ryzen 5 held fairly tight to the 7600X's performance with average beyond 1080p120. Impressive!
But, these numbers only tell one side of the story.
Energy Efficiency and Thermal Performance
If we've heard it once, we have probably heard it a hundred times by now: AMD's goal with Zen 4 was to lead the industry in energy efficiency and performance. Performance in single and multi threaded tasks go punch for punch with the competition, but the concerning thing for us was the power consumption, heat, and the cost of moving to a new platform.
As noted earlier, the non-X iterations in the Ryzen 7000 Series lower overall TDP to be more in line with what we saw at the lower end of the Ryzen 5000 series. Just how low is that, though?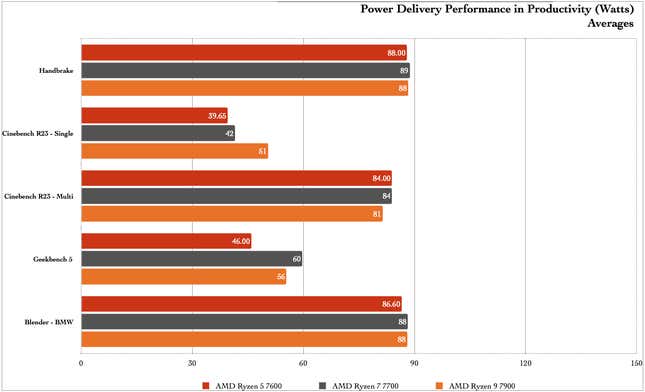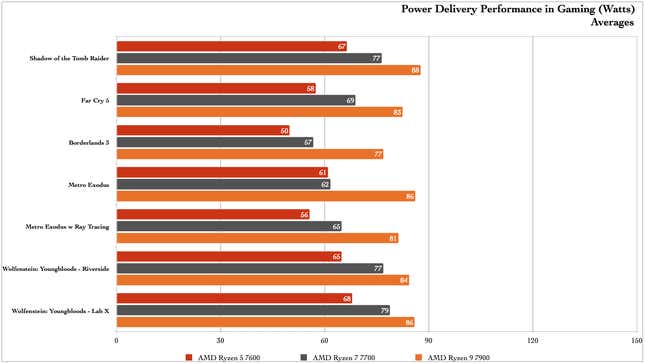 When it comes to power consumption, we recorded the socket data. This will read slightly higher in the charts than the listed TDP, but these numbers do fall in line with AMD's specifications for the CPUs max socket power draw. Interestingly enough, if we had wanted to overclock the non-X Ryzen 7000 CPUs, we could have. AMD is very proud of its commitment to shipping its CPUs in an unlocked state for overclocking. Since we were more interested in out-of-the-box performance numbers, we decided to leave that for another day.
What we saw with power delivery is pretty spectacular, especially when you look at the performance comparisons. In our gaming tests, we saw some situations where the non-X CPUs had a similar power draw and performance to their X-family counterparts. However, we saw some instances where there was a difference of 24W without a significant difference in performance. But those are just single thread operations in gaming.
When we look at some of the multi threaded tasks in productivity, where the power delivery caps out at around ~88W, we saw an over 100W difference! Keep in mind, that does translate into extra performance… but that over double power draw does not translate into double gains in performance. We'll talk more about this later.
So, with lower power draw in mind, how does all of this all translate to thermal performance? And, does AMD's confidence in air cooling these CPUs hold water… or air… or whatever cooling method you choose?
Again, to keep things consistent with our previous tests, we ran all of these tests using NZXT's Z73 360mm all-in-one liquid cooler. The pump motor was set to performance mode, but all of the case fans were set to silent. This meant that the pump would live at about 70% operational capacity, then start ramping up to 100% if the CPU temperatures crossed over 55 C. In silent mode, fans were set to operate in stages. Fans would operate at 40% capacity until 65 C, step up to 70% until 85 C, then engage at 100% at 90 C until temperatures came down.
Here is what we saw: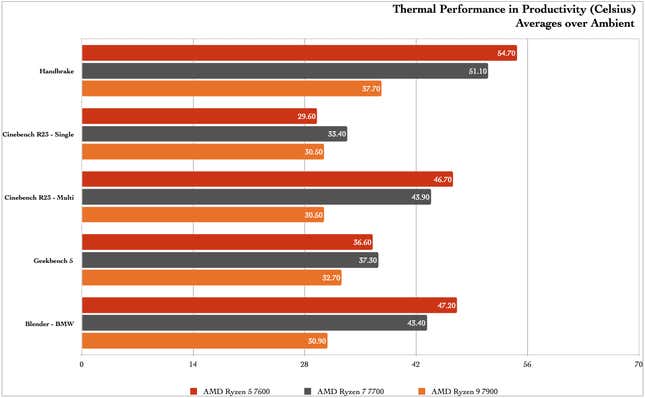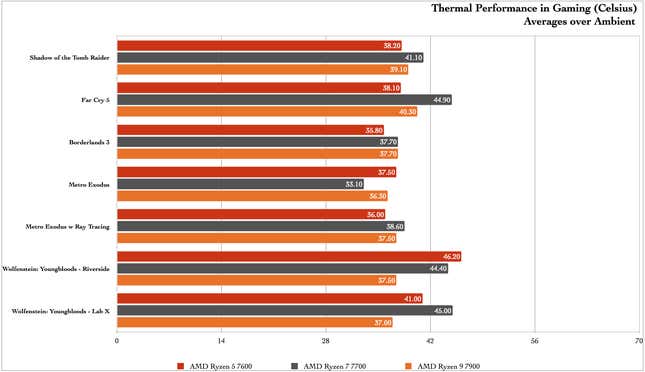 While we pointed out in our previous reviews that Zen 4 was designed to take the heat, the non-X Zen 4 CPUs were designed to… well, not produce as much of it. While it was a common sight with the Ryzen 7000X Series CPUs to see temperatures reach the thermal junction maximum (Tjmax), their non-X family stayed far away from it.
At most, we saw the Ryzen 5 7600 hit ~55 C over ambient temperatures (23.3 C or 74 F) in our Handbrake test, but that was as hot as they got. Daily usage and gaming hovered in the high 30s and low 40s Celsius over ambient.
Now, if you're keen-eyed, you're probably seeing these numbers and remembering that I just made a big deal about using an all-in-one closed loop liquid cooler. You're right. But, I did something a bit extra…
Since AMD sent us a couple of their Wraith Coolers, I slapped one of the Wraith Prism coolers onto the Ryzen 9 7900 and packed it into a smaller PC case with fewer fans. Once it was all put together, I put it through a few hours of Cinebench R23 in both single- and multi core testing, monitoring the heat along the way. At most, the 7900 hit 68 C for a few brief moments before settling around 65 C. At the most, that's 44.7 C over ambient. I even threw a different air cooler on the CPU (NZXT's T120 RGB, to be precise) and the story was similar—just 1 C less all around.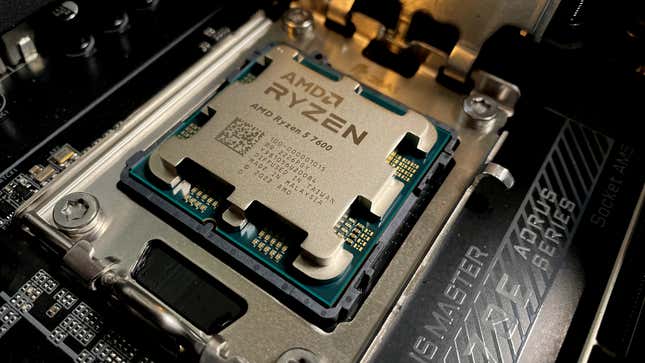 Lower Power Doesn't Equate Low Performance
AMD delivered a series of CPUs with lower overall power draw, price point, and temperatures without losing a heap of performance. A win is a win… but who is the win for?
The non-X Ryzen 7000 Series CPUs are a big win for anyone who is looking at maximizing their dollars in both cost of parts and cost of use. The fact that each CPU comes with a functional air cooler is a huge plus, not to mention the cost of the Ryzen 5 7600 landing close to $200 at launch. These two things take us a few steps closer to being able to recommend the Ryzen 7000 platform for budget builds.
Then, there is the power draw and thermal performance.
The difference is slight in most single core, single thread operations like gaming or web browsing. But multi core, multi threaded tasks see the largest dip in heat production and power draw. This overall reduction of power usage and heat production might sit better on the conscience (and wallets) of the eco- and financial minded users.
This is usually the part where I would share some unsolicited advice on building a PC using these CPUs. However, with the forthcoming release of the Ryzen 7000X3D Series, that advice will have to wait until we know more about the pricing and performance landscape of the platform as a whole.
What I will say is this:
The more that we see of Zen 4, the more comprehensive our picture of just how powerful this platform is. The more the platform expands, the more options arise for different types of users. While this is a good thing overall, it can be a bit confusing to know just where to begin.
These waters get a little murky, however, as you move up the product stack. While high core count and thread count are awesome and the more powerful non-X chips do fall in line with their counterparts, the pricing of the higher end non-X CPUs is too close and the performance delta too broad to justify a non-X CPU if power is your sole need. However, if you're looking at pure gaming performance on a budget, the most humble end of the line-up, the Ryzen 5 7600, keeps in good step with the rest of its family at a modest power draw.
I still maintain that the Ryzen 7 7700X is the darling of the series so far. But, if you're looking for versatility and some extra oomph for content creation and you have a few more dollars to spend, the Ryzen 9 7900 offers 50% more cores and threads than the 7700X while holding true to its low power design.
At the end of the day, the 65W Ryzen 7000 Series CPUs are processors you can grow with. Their performance out of the box put them in close running with the rest of their family without going crazy on their power consumption. If power consumption isn't as much of a concern, overclocking is available on these CPUs, but you would probably want to scale up your cooling solution if you go down this road. At that point, it might just be more cost effective to look at a Ryzen 7000 Series CPU from the X-family lineup.
Even without overclocking, these are still pretty powerful CPUs. If you're looking to move to the AM5 platform, but making every dollar stretch is of high importance, you wouldn't be leaving a whole lot of performance on the table if you went with a non-X Ryzen 7000 Series CPU.
The products discussed in this article were provided by the manufacturer for the purposes of review.