On Wednesday, Charter Communications completed its massive purchase of Time Warner Cable and Bright House Networks, which means that America's newest three-headed cable monster has finally hatched out of its $65.5 billion egg. Rejoice! Haha, just kidding.
The deal, which was initially announced almost exactly one year ago, will combine the country's fourth, second, and tenth-largest cable companies. It will also see the cannibalization of one of America's most hated companies: a Charter spokesman told Bloomberg that the Time Warner Cable name will soon disappear altogether, folded into Charter's Spectrum brand. (The Bright House name, too, will fade away, though it's not quite as scorned.)
The merger came after the successful clearance of a number of regulatory hurdles, including approval from the Federal Communications Commission, the Justice Department, and the California Public Utilities Commission.
According to Charter's CEO Tom Rutledge, Bright House and TWC customers are safe—for now.
"Current Bright House Networks and Time Warner Cable customers won't see many changes right away, though in the coming months they will begin to hear more from us about the Spectrum brand," Rutledge said in a statement, the Los Angeles Times reported.

G/O Media may get a commission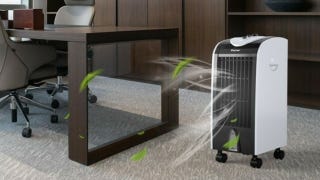 Save $10
Evaporative Portable Air Conditioner Cooler with Filter Knob
But as Gizmodo has pointed out more than once, the deal has some potentially bad consequences for customers. Though it was subject to a number of regulatory conditions, including a limit on data caps and an agreement not to charge streaming companies like Netflix special fees, these conditions are only in place for seven years. After that, it's anyone's guess what will happen.
Charter claims that it will maintain a "superior product set at highly competitive prices," but such a massive conglomeration can and should leave consumers feeling a little uneasy. This deal is no Comcast/Time Warner Cable merger—which would have seen one company control 60% of the broadband market—but it's still joining together a number of huge cable companies.
For an industry that's already a shining example of outsized corporate power, bad customer service, and shitty products, cancelling out competition is more of the same. Larger, more powerful companies, which Charter has just become, means less space for the small companies—and that, of course, means consumers will no doubt get screwed over in the end.