It's an inescapable fact that there are lot of zombies in the world. So what better way to practice killing the undead than to simulate it in game form? With enough training, we can easily overcome hordes of shambling brain eaters and turn nearby shopping malls into survivalist fortresses. Check out io9's guide to zombie gaming.Zombies!!! by Twilight Creations is one of the finest zombie games around. With the numerous expansions, you can fight for survival in a town, university, shopping mall, army base or spooky woods. Last Halloween we combined them all into one huge map that took up my whole living room and slaughtered the living dead in between trick or treater visits. Dead (again) zombies could be traded in for candy, so we had extra incentive.
Twilight Creations is a very zombie-centric company. They have a lot of zombie games, including Zombies!!! Soccer (unexpectedly fun) and this "What Would a Zombie Do?" spinner. Plod.
G/O Media may get a commission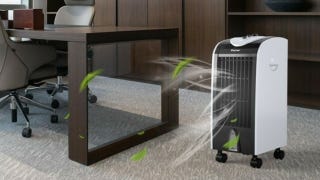 Save $10
Evaporative Portable Air Conditioner Cooler with Filter Knob
Zombie Fluxx by Looney Labs is the latest in their series of Fluxx card games. In any game of Fluxx, the rules and winning objectives change from turn to turn. Will you win by assembling a zombie baseball team, or gather your fellow survivors with a chainsaw and a can of gas and carve your way out? The word on the street is that Monty Python Fluxx will be coming out in the near future.
Last Night On Earth by Flying Frog Productions looks like an awesome game that I wish I'd had more time to demo at Origins last month. Each player plays a different character with unique abilities, making their way around the zombie infested town and trying to survive until sunrise. Expansion packs introduce new characters, while scenarios and a modular game board design make for huge replayability.
This lovely young woman allowed me to take a photo of her kick-ass zombie fashion while she was working at the t-shirt booth. Want. There's lots of other zombie games out there. How do the other io9ers roll?