Pocket Legends: Pocket Legends has long been one of our favorite 3D MMO games on iOS and now it's on Android. Which means:
The Android version makes Pocket Legends the first cross-platform 3D MMO, so iPhone users and Androiders will finally be able to peacefully coexist, launching campaigns and amassing inventory in virtual harmony. At least in theory. The app's free to download with a slew of in-game purchases for new campaigns and such, and it'll run on all devices running Android 2.1 or higher.
Can't wait until Android fanboys and iPhone lovers fight it out in virtual reality.

Chase Mobile: I don't bank with Chase, but with their snazzy (and finally released) Android app, I sure as hell wish I did. The app lets you dabble in the future by snapping a picture of a check to deposit it. I'll never get over how cool that is. If you're more old fashioned you can track down nearby ATMs, see how much cash you have, pay for bills and more. Unfortunately, it doesn't support Chase's new QuickPay feature like the iOS version (yet). But if you bank with Chase, download this app now.
G/O Media may get a commission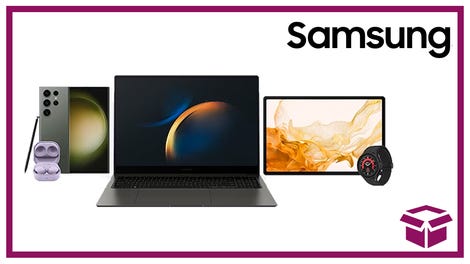 24 hour deals
Discover Samsung - Daily Deal

Opera Mobile 10.1 Beta: Opera Mobile 10.1 beta recently got released for Android and it's offering easy tabbed browsing and promising faster speeds, especially with Opera Turbo which compresses data by 80 percent. Additionally, 10.1 offers pinch to zoom, wireless bookmark sync with Opera Link and a decent-ish password manager. I ran into a few bugs but I guess I can't complain with that beta tag slapped on it.

Tether for Android: The popular tethering app on Blackberry has made its way over to Android, and impressively works with pretty much all Android phones (Android 1.5+). It's old school tethering—as in plug your phone into your laptop via usb—and it costs $24.95 (more than some other options: PDAnet, EasyTether, etc) but you're not paying a monthly fee to carriers!

Black Friday by dealnews.com: Get your money right cause Black Friday is coming up! Use dealnews.com's app to search for Black Friday deals by store or save future purchases in their neato shopping list. You better get started because if you're not preparing for Black Friday the Friday before, you're going to get smoked by middle aged suburban moms.

Black Flyday: If you want to have a little fun with your Black Friday-experience, Black Flyday might be better for you. It's a Black Friday app with a social slant, the location based app shows you where every Black Flyday user is (good for planning trips to stores). It's integrated with Facebook so you can share deals there and comes with a live ticker to show you what're the hot deals of the moment. Ideally, you're supposed to use Black Flyday with a "team" of shoppers and use Flyday to communicate with one another. And since it's mostly crowdsourced, it's only going to be good if a ton of people jump on it. But if you think of going out on Black Friday as something fun to do, Black Flyday probably is fun for you too.



Orbitz: It's just a simple port of Orbitz onto your Android phone but it's a good way to book hotel, flights and rental cars on the go. You get all the one-stop shop benefits of Orbitz, like booking last minute and combined deals, with some nice features like tracking your flight status and baggage claim details.

Realtor.com Real Estate Search: Buying a house, or I guess, trying to buy a house can become a long and tiring process the old fashioned way. So why not use an app to simply break it down for you? Take a look at houses in a certain price range or location, find the days of open houses, take a look at photos, or leave voice notes about each property. It even comes with a widget to stay up to date with everything! The app is backed by Realtor.com, so you know you're getting solid intel on what could be your next house.