As it stands now, there's no truly effective method of protecting against malaria. Vaccines are notoriously difficult to make, and it's almost impossible to detect the infection in its early stage—until now, that is. And it's all thanks to highly advanced, tank-fighting military hardware.
The bit of tech pulling double duty is called Focal Plane Array, a detector that was originally used as part of a heat-seeking, anti-tank missile launcher. But when researchers hooked the software up to an infrared imaging microscope, they were able to detect the unique infrared signature of the parasite's fatty acids in potential victims' blood. Meaning that a program once used to destroy could end up saving hundreds of thousands of lives by detecting the disease before symptoms even have a chance to surface.
It's not just the fact that early detection gives us a major advantage over the parasite, though. The new detection system comes with a whole host of benefits, as Vocativ explains:
It gives an automatic diagnosis in as little as four minutes and doesn't require the kind of specialist technicians that are often hard to come by in the developing world, where malaria often appears. It can also detect the parasite in a single blood cell—a true needle in a haystack.
Researchers are getting ready to start testing the potentially life-saving tech in hospital clinics in Thailand. And for a killer as deadly as malaria, those trials can't begin soon enough. [Vocativ]
Image via Shutterstock/Dmitrijs Bindemanis
G/O Media may get a commission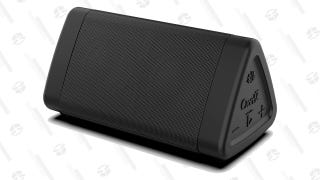 Save 31%
Oontz Angle 3 Portable Bluetooth Speaker