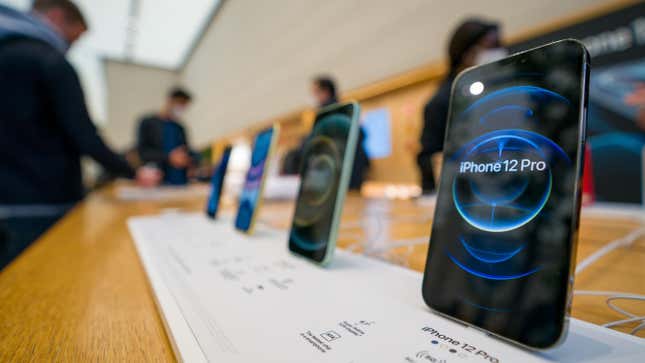 Trying to put a quash to all those rumors of high-radiation iPhones, Apple told French regulators on Friday that it would be issuing a software update to iPhone 12s that should put an end to the allegations the smartphones were emitting radiation levels above the country's legal limits.

The issue, as Apple put it, was due to the country's "specific testing protocol," and the company again reiterated that this was "not a safety concern." In a statement provided to Reuters, Apple left it vague what exactly this update would change on users' iPhones, but it should "accommodate" the protocol used in the country's tests. Gizmodo reached out to Apple for further comment, but we did not immediately hear back.
On Tuesday, France put a halt to all iPhone 12 sales after the country's tests found the phones emitted electromagnetic radiation above the limits set by the European Union. Specifically, the regulator said the phone's specific absorption rate—which tests the level of radio waves emitted by a device that can be absorbed by the body—was higher than the legal limits. The countries of Belgium and Germany followed up by announcing they too were reviewing the iPhone 12 for radiation issues.
Apple had been contesting regulators' findings since they were first announced. Now French Digital Affairs Minister Jean-Noel Barrot told Reuters that the country's regulatory agency, the Agence Nationale Des Frequences (ANFR), was preparing to test the update, further adding that the software change should make the phone compliant with EU standards. The minister had previously said all that was required was a software update.
Apple is very, very sensitive about its brand, and it did not want to take the radiation allegations lying down. Bloomberg's Apple aficionado Mark Gurman reported Thursday that the company had told its customer support staff to stay mum on any information regarding the radiation issue. Gurman said that support workers were supposed to tell customers that all iPhones go through "rigorous testing" to make sure they're safe.
The iPhone 12 was first launched in 2020, but Apple was already shuffling this older phone out to pasture, at least in terms of sales. The company just recently announced its iPhone 15 lineup at its Wonderlust event, and once France announced its demands Apple took the phone off its store page.