Like always, most of the rumors were random crap (except the leaked Chinese photos and our predictions.) The front-facing videoconference camera was wrong—as we know now—but Apple has a solution:
Turns out that Apple is re-introducing the iPhone 3G Videoconferencing Kit under a new moniker: The iPhone 3G S Videoconferencing Kit. Soooo pretty.
Apple introduces the iPhone 3G S Videoconferencing Kit

WWDC SAN FRANCISCO-June 8, 2009-Apple® today unveiled the Apple Videoconferencing Kit®, the world's first videoconference accessory for the world's best phone, the iPhone 3G S. Using a unique silicon-based mirror material and natural bamboo wood for its handle and base, the Apple Videoconferencing Kit measures an unprecedented 0.5 inches at its thinnest point. Its low weight and unique shape—developed following strict Human Interface tests and anatomical studies—will allow the user to easily hold it in front of the iPhone 3G S camera, allowing face-to-face video communication with users all around the world.

"Yes, I know" said senior vice president of Worldwide Product Marketing and Apple's Cool Guy at Large Phil Schiller, "we did it again. With this kit all the whiners will be happy. I know. We kick ass." The Apple Videoconferencing Kit ultra-shiny surface allows for an extremely clear image, the best in its class, and can be easily customized using any kind of materials, from stickers to Crayola. It will be available in June 19 for $29.

Apple ignited the personal computer revolution in the 1970s with the Apple II and reinvented the personal computer in the 1980s with the Macintosh. Today, Apple continues to lead the industry in innovation with its award-winning computers, OS X operating system and iLife and professional applications. Apple is also spearheading the digital media revolution with its iPod portable music and video players and iTunes online store, and has entered the mobile phone market with its revolutionary iPhone.
G/O Media may get a commission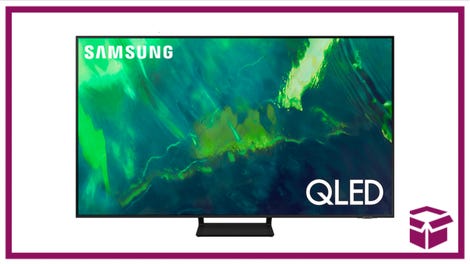 35% off
Samsung Q70A QLED 4K TV
Save big with this Samsung sale
If you're ready to drop some cash on a TV, now's a great time to do it. You can score the 75-inch Samsung Q70A QLED 4K TV for a whopping $800 off. That knocks the price down to $1,500 from $2,300, which is 35% off. This is a lot of TV for the money, and it also happens to be one of the best 4K TVs you can buy right now, according to Gizmodo.
Click to viewI can't wait to get my hands on one of these. And I'm not talking about the blonde.