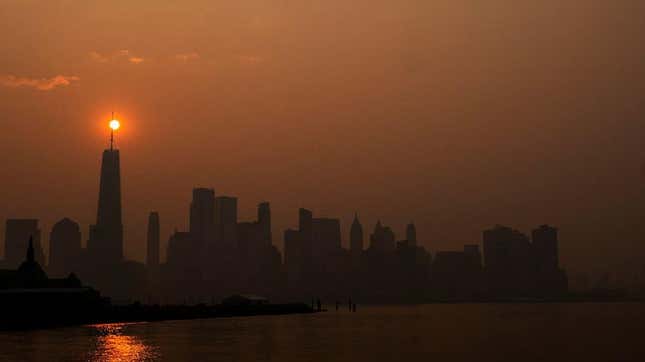 Canadian wildfire smoke hunger over the Eastern U.S. and throughout the Midwest last week. It darkened skies over multiple major cities, including New York City. The unhealthy air quality also increased the number of asthma-related emergency room visits throughout the city.
Mental Health Apps Are a Privacy Nightmare
Last Wednesday, the Air Quality Index shot above 400 in multiple places including NYC. This level is considered dangerous to anyone, regardless of their pre-existing health conditions. An AQI above 150 is considered unhealthy for the average person, and it is especially dangerous for anyone with a respiratory illness. Asthma is a chronic respiratory inflammatory condition that affects the airways. When someone with asthma is exposed to irritants, including wildfire smoke, their airways become inflamed and it becomes difficult for them to breathe. The condition can be managed by avoiding triggers, but it was hard to stay safe last week when indoor and outdoor air smelled like smoke.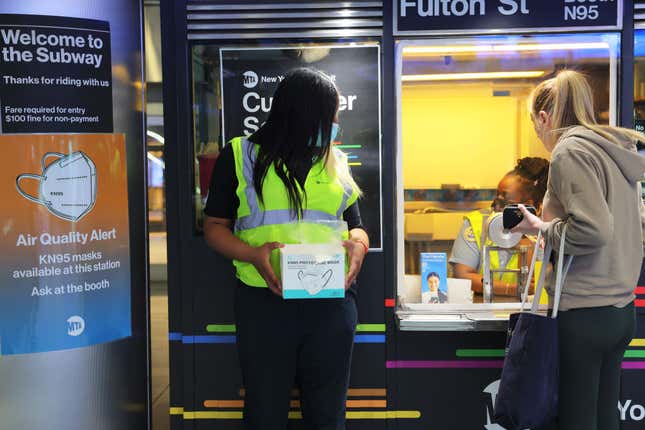 The heavily polluted air caused more people to head to emergency rooms throughout the city. A spokesperson from the New York City Health and Hospitals confirmed via an email that the network's emergency rooms saw more people last Wednesday and Thursday compared to the day before.

"As New York State's largest health care provider, Northwell Health saw a mild increase of respiratory illnesses in our emergency departments as the region's air quality index soared last week," a spokesperson for the Northwell Health network confirmed in an email to Earther. "But more significantly, at Lenox Health Greenwich Village asthma treatments more than doubled on June 7, from an average of 12 to 26."
Data from the city's health department also pinpointed an asthma-related emergency room visits spike last Wednesday. This year's 23rd week, which is the week starting Sunday, June 4, saw a sharp increase in asthma-related emergency room visits compared to the week before. There were around 1,500 reported emergency room visits under asthma, but only 475 recorded asthma-related emergency room visits the week before. The city's health department data also showed how on June 7, the city saw more than 300 asthma-related emergency room visits. That's a large increase from less than 200 asthma-related emergency room visits the day before.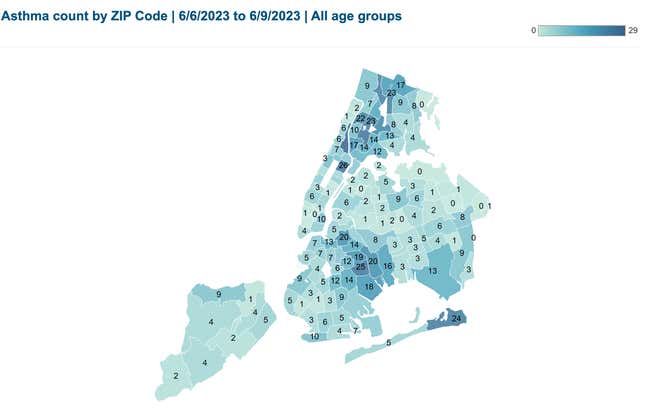 And though the wildfire smoke shrouded the entire city, different demographics were not affected equally. Parts of central Brooklyn and the lower part of the Bronx saw the highest rates of asthma-related emergency room visits last week, Gothamist reported. Many of those communities have some of the highest rates of poverty in the city. Communities of color and people in lower-income neighborhoods in New York City are disproportionately affected by higher asthma rates and higher asthma hospitalizations. Black and Latino children in the city have higher rates of asthma, according to a 2021 report from the city's health department. Most of the zip codes that saw high rates of asthma-related emergency room visits are predominantly populated by Black and Latino residents.
Should the city's network of hospitals be on the lookout for future smoke-related events? Canada may be seeing its worst wildfire season ever. There were 446 wildfires burning throughout the country as of June 14, 2023, according to government data. More than 210 of those fires are currently categorized as out of control. If fires continue to burn at this rate, cities across the Northern U.S. might see another round of incoming smoke if the weather conditions push wildfire smoke further South.
Want more climate and environment stories? Check out Earther's guides to decarbonizing your home, divesting from fossil fuels, packing a disaster go bag, and overcoming climate dread. And don't miss our coverage of the latest IPCC climate report, the future of carbon dioxide removal, and the invasive plants you should rip to shreds.