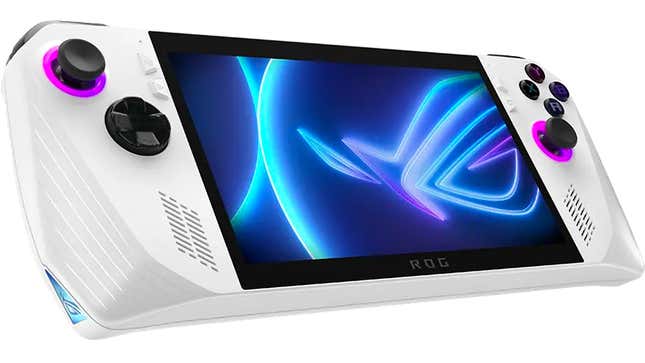 The Steam Deck was a groundbreaking device when it arrived last year to change what everyone thought handheld gaming could be, and while many competitors' devices claim to outperform Valve's handheld, Asus' ROG Ally could be the first true Steam Deck killer, especially if this leaked pricing info proves to be accurate.

Asus ROG Flow Z13 Gaming Tablet Review
First revealed on April 1 as what many people assumed was an April Fools' Day prank, Asus confirmed the existence of its ROG Ally handheld just a few days later. Powered by an AMD Ryzen Z1/Z1 Extreme process0r, the Asus ROG Ally features a 1080P screen with up to 120Hz refresh rates, support for up to 16GB of RAM and 512GB of SSD storage that's promised to be easily upgradeable, and it runs Windows 11—the full desktop version of the OS. Unlike the Razer Edge or the Logitech G Cloud, the ROG Ally is not a handheld designed exclusively for game streaming, it's spec'd to be a handheld gaming PC, and can even be docked to Asus' ROG XG Mobile eGPU for improved graphical performance and greater resolutions on larger screens.
Hands-on impressions of the Asus ROG Ally have so far been favorable, with the handheld apparently feeling thinner, lighter, and less bulky than the Steam Deck. A few questions still remain about the device, including if its thinner design comes with a trade-off in battery life. But the biggest question is how much will it cost? Valve has been able to price its Steam Deck very competitively because it's a device that pushes new users towards the company's Steam store, which happened to generate around $10 billion in revenue last year, of which Valve gets a cut. Asus does not have that, and many have worried that higher spec'd versions of the ROG Ally could potentially cost over $1,000.
But according to The Verge, who says it was shown data by Roland Quandt, a gadget leaker with a reliable track record, as well as screenshots from Best Buy's website shared by Khumail Thakur and SnoopyTech on Twitter, the AMD Z1 Extreme version of the ROG Ally with 512GB of storage will sell for $699.99, or about $50 more expensive than the $649, 512GB version of the Steam Deck. As The Verge also points out, that pricing could very well be a temporary placeholder, as Asus is promising to officially reveal the pricing for all the ROG Ally models on May 11. But $699.99 seems to be a very specific number, and while not cheaper than the Steam Deck, still very competitive given what the new handheld offers.
Hopefully, Asus can be just as competitive with pricing for the entry-level model of the ROG Ally, as one of the reasons the Steam Deck became so popular was its $399 price point for the base 64GB model, which is the same price as devices like the Razer Edge which are far less capable. If these leaks are true, Asus could finally deliver mobile gamers a true Steam Deck competitor, and one that can even occasionally boot up Microsoft Word when you need to be productive instead.