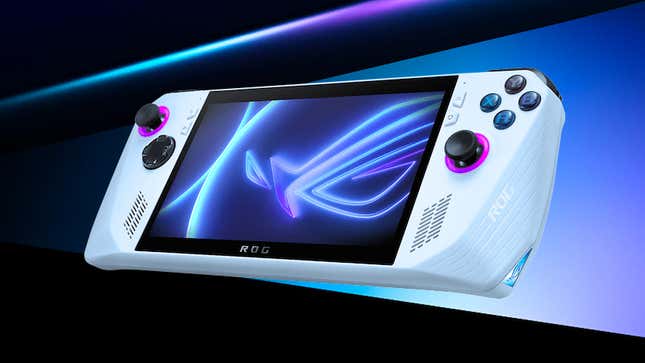 Late last week, reliable leakers revealed that a higher spec'd model of the Asus ROG Ally, a handheld gaming PC that's shaping up to give the Valve Steam Deck some stiff competition, would sell for $700. But the leaks keep coming, and this week we have more details on what lower-end versions of the handheld will sell for. It's looking like good news for those considering Asus' portable PC.
Asus ROG Flow Z13 Gaming Tablet Review
According to The Verge, and several leakers sharing screenshots from removed listings on Best Buy's website, a higher-end version of the Asus ROG Ally with an AMD Z1 Extreme processor and 512GB of storage would arrive with a $699.99 price tag, positioning it as just $50 more expensive than 512GB version of Valve's Steam Deck, which still sells for $649. That pricing is actually quite competitive, as many suspect Valve is actually subsidizing the price of its handheld gaming PC to get more people to use its online Steam store, where Valve gets a cut of billions of it dollars of revenue every year. Additionally, the ROG Ally's more recent processor is likely to be more powerful than the Steam Deck's, and the ROG Ally's screen is targeting a higher, 1080p resolution and a 120hz refresh rate.
Asus has promised to reveal the full pricing info for its entire ROG Ally lineup during an event it's holding on May 11, but yet another leak means we may not have to tune in for all the details. A tweet by SnoopyTech, which The Verge says it corroborated with data from gadget leaker Roland Quandt, revealed that a 256GB version of the Asus ROG Ally with a non-extreme version of the AMD Z1 processor will sell for $599.99, which puts it at about $70 more expensive than the 256GB version of the Steam Deck.
What still remains to be seen is whether or not the 256GB version of the ROG Ally will be the entry-level model, or if Asus plans to also match the $399 version of the Valve Steam Deck, which trades an SSD for 64GB of cheaper, but slower, eMMC storage. According to an interview Valve co-founder Gabe Newell gave to Edge Magazine a year ago, the 512GB version of the Steam Deck, the most expensive option available, was, surprisingly, the most popular model at launch. So Asus may not even need to offer a competitive model at that $400 price point to still take a bite out of Valve's handheld gaming PC sales.