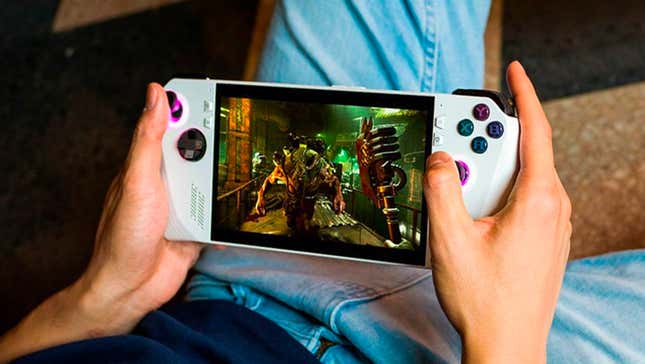 Although the handheld gaming PC market doesn't necessarily need an alternative to the Steam Deck, competition is never a bad thing. The Asus ROG Ally is shaping up to be the first real competitor to Valve's handheld, coming from a major hardware manufacturer and thus able to hit a lower price than more boutique options like the Ayaneo Geek. The Asus ROG Ally is officially available for pre-order today, with pricing that confirms the leaks over the past few weeks.
Asus ROG Flow Z13 Gaming Tablet Review
If you head on over to Best Buy's website, you can find the Asus ROG Ally configured with an AMD Ryzen Z1 Extreme Processor and 512GB of storage now available for pre-order for $699.99, which is what leaked screenshots from the online retailer indicated late last month. That positions the handheld gaming PC to be a little over $50 more expensive than the 512GB version of the Steam Deck, which still retails for $649 a year after its release.
What we're happy to see confirmed is that the $699 version of the ROG Ally will also be joined by a $599 version featuring a non-extreme AMD Ryzen Z1 processor, which confirms leaks from early May, although today Asus confirmed that the cheaper model would still come with 512GB of built-in storage, while earlier leaks seemed to indicate it would instead have 256GB. That will help justify the $70 price difference between this cheaper model and the $530, 256GB version of the Steam Deck, although Asus won't be making this version available until later this year.
On paper, the ROG Ally seems like a clear winner over the year-old Steam Deck, with its larger, seven-inch full-HD 120Hz display. It's also able to connect to the Asus ROG XG Mobile eGPU for improved performance and graphics when playing through a larger external display, whereas the Steam Deck dock does nothing to improve its performance. But with the official availability and pricing details revealed today also came full reviews of the handheld, and while most confirm the ROG Ally can outperform the Steam Deck, concerns have been raised for its disappointing battery life. There's also the question of using the full version of Microsoft's Windows for its operating system, which helps with game compatibility but can be a challenge to navigate using just joysticks and buttons. Unlike the Steam Deck, the Asus ROG Ally doesn't come with touchpads for easily moving an on-screen cursor around. But for certain games, like Destiny 2, the ROG Ally is looking to be your best bet.