It not's surprising right after its 40th birthday, AMD's trying to recall the better days: The Athlon II X2 makes an official sequel out of the Athlon name for its cheap 45nm chip, starting at $87.
Versus the previous generation Athlon X2, it starts at 3GHz, supports DDR3 memory and is part of the new AM3 packaging (which is backward compatible with AM2+). Also in the bag is the Phenom II X2 550 Black Edition, which is their first dual-core Phenom chip—so it can hit $100—but it's overclocked.
Sadly, that's it from AMD for Computex—no Atom killer or new hotness from ATI either.
AMD Introduces Next Generation AMD Athlon™ II Processor, Adds Dual Core to Record-Setting AMD Phenom™ II Processor Lineup

− AMD Athlon™ II processor delivers new native dual-core architecture, efficient 45nm technology and 3 GHz performance at an affordable price −

− AMD Phenom™ II X2 Black Edition processor combines value and unlocked potential for gamers and tuners on a budget −

COMPUTEX 2009 (TAIPEI, Taiwan) - June 2, 2009 - Bringing its acclaimed 45nm technology to new high-volume processor designs, AMD (NYSE: AMD) today announced two new dual-core desktop processors. Building on 10 years of AMD Athlon™ processor innovation, the new 45nm AMD Athlon™ II X2 250 processor gives mainstream consumers exceptional performance, efficiency and value. For enthusiasts and overclockers, AMD also announces the AMD Phenom™ II X2 550 Black Edition processor, the first ever dual-core AMD Phenom II CPU.* With this latest addition to the AMD Phenom II processor family, users can now experience the power of AMD platform technology, codenamed "Dragon," with dual-, triple- and quad-core configurations.

AMD Athlon II X2 Processor Details
The AMD Athlon II X2 250 performs exceptionally well when combined with AMD chipsets and integrated graphics solutions to create an all-AMD platform. Platforms featuring all-AMD technology can deliver up to twice the graphics performance of those with Intel integrated graphics.¹

Windows® 7 is optimized for multi-core processors like AMD Athlon™ II processors to give consumers an amazingly fast, simple and engaging PC experience.** For example, Windows 7 is tuned to make the most of the these new processors' power management features, such as AMD PowerNow!™ 3.0 technology. AMD power management technologies, in combination with Windows 7, can help OEMs and partners to build exceptionally green, cool and quiet PCs.
Based on AMD's acclaimed 45nm process technology, the AMD Athlon II dual-core processor has a TDP of 65W and can slash power consumption by up to 50 percent when doing basic tasks, up to 40 percent when running heavy workloads and up to 50 percent when at idle.²

AMD Phenom II X2 550 Black Edition Details
AMD Black Edition processors, like the AMD Phenom™ II X2 550, help users to take control and unleash the maximum potential of Dragon platform technology's unprecedented performance tuning capabilities.* The same massive headroom that set world records in recent months is at users' finger tips, offering impressive performance at a price the competition can't beat.³

Users can also maximize their overclocking experience by utilizing the new features and capabilities of AMD OverDrive™ 3.0, designed to enable quick and effective tuning of their PC experience for optimal performance.*
With dual-, triple- or quad-core processors, AMD provides platform level solutions at multiple price points, each of which exceeds expectations for virtually any user.
G/O Media may get a commission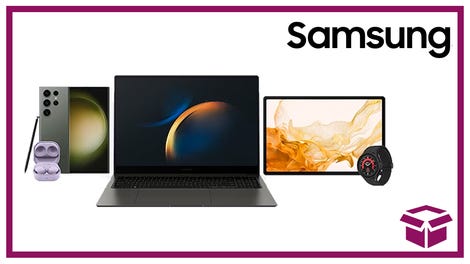 24 hour deals
Discover Samsung - Daily Deal
[AMD]